11-12-2018
Stag Do Checklist: The Ultimate Cheat Sheet for 2019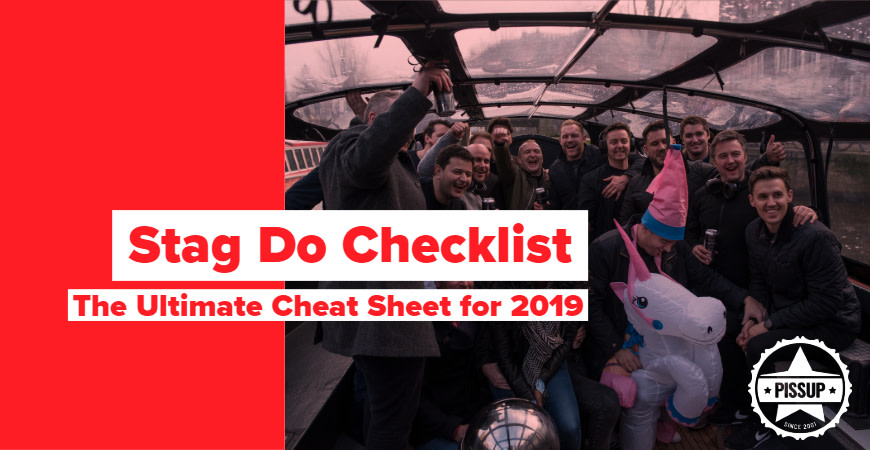 What the hell is a Cheat Sheet? Stag Do Checklist for your 2019 trip!
What is the Pissup Stag Do Cheat Sheet anyway? Well we live in afast-paced world where none of us has the time to really plan things…at least without a little help. The Cheat Sheet is not about cheating per se, it's about shortcuts to make your life easier. Think of the cheat sheet like a framework, an outline, information about how to plan a Prague Stag Do in 2019 the easy way. And if you're trying to get 6+ guys together to book a trip abroad you'll need all the help (and ideas) you can get.
What's in the free Stag Do Cheat Sheet? We've broken it down into two main sections. The first we talk about the Stag Do Checklist, and how to plan, the second covers things that could go wrong if you don't plan properly (see below!).
The Stag Do Checklist: let's start with the positives. You're going on a weekend away with the lads (hooray!). You've landed on a site, like Pissup, with a great range of destinations and activities. Now you need to get down to the important things...
1) Who to invite - a tough one when you've got friends (old and new), family, work colleagues...
2) Budgeting - the reality hits where you might be able to afford a weekend of 'what happens in Vegas stays in Vegas' but the other lads definitely can't.
3) Booking the perfect stag destination - there's a lot that goes into the "perfect" destination, but all you need to do is find a city that appeals to everyone, not just you.
4) Activities and nightlife - i.e. what you'll do on your hangover, and what you'll do to create that hangover!
5) Stag Prank - some ideas about that essential feature of the stag do…humiliation for him: big laughs for you!
The Stag Do Cheat Sheet covers this all in a lot more detail, with links to apps at the end of every section, and at the end of the cheat sheet. Download the Free PDF now!
Why you need a Cheat Sheet! AKA Things that could go wrong…
What ever can happen, does happen…as the saying goes. And on your stag do that includes pleasant surprises and crazy adventures as well as mishaps (and worse!). In our cheat sheet we have a Stag Do Checklist of things to avoid. Most of these things that could go wrong can be mitigated, or eliminated, by a bit of common sense planning in advance:
1) Don't plan the stag too late - this is something you'd apply to booking a table at a restaurant, or going on holiday…things get more expensive and harder to arrange the closer you get to the time! So don't leave it too late!
2) Tourist Traps - again this comes down to a bit of planning, you can easily find out if an area is bad and/or a honey pot…get Googling or talk to one of our party planners!
3) Paying all together - paying individually is of course more practical, but you'll need a way to collect all the cash…and pay all together on time. We show you how in the Cheat Sheet.
4) Doing activities that don't involve everyone as a team - this should be obvious!
5) Losing the groom - this might happen even if you plan, but it's a bad sign for your stag planning skills if it does!
No one likes to thing of things going wrong. But it's important to make sure you avoid potential pitfalls and landmines. We cover these 5 things in more detail in the Cheat Sheet. Download it Now, and ensure your stag do goes like a dream…
Stag Do Ideas - we've got tonnes of them
Everyone has there own wants for a lads weekend away. Maybe you're a beer lover - so you want to go to a beer producing city like Munich or Prague for some ice cold brews. Maybe you're a competitive s'o'b who fancies himself as the best at everything? You'll want a trip filled with go-karting and AK-47 shooting and anything where you can win a medal! Maybe you've got budget considerations to think about (or maybe you've got a notorious tightwad in your group?). Maybe you want a trip to a beachside location in the spring and summer months so you can parade round in a Borat g-string and work on that tan (believe me, we know you're out there). Maybe you just want to get p--sed, go out on the town, and then prank the stag?
All of these things - and more - will come into consideration when you're organizing a stag do in 2019. Differences of opinion are inevitable. You'll have lots of ideas about what you want to do, which will have to be measured against what you can do. (And if you need help about ideas and inspiration then we have a great Stag Ideas page). There you can plan your stag do in 2019 around activities and destinations free (at the moment) from any budget constraints.
The Cheat Sheet (get the PDF here) has some great practical ideas, with links to apps, that will help you plan an amazing stag do that satisfies everyone in your crew - especially the groom!
Pissup Stag Dos - we're the O.G. Stag Do experts!
Planning on a booking a stag do in 2019? As we've explained downloading our Pissup Cheat Sheet & using a Stag Do Checklist is a must. But what about a getting helping hand to guide you through the process? In fact, we'll go further: how about we do the thinking, you sit back and concentrate on the drinking. Get in touch, and one of our expert party planners will help you organize a stag do that will go down in legend.
At Pissup (clue is the name!) we really know how to organize a stag do. Don't believe us? Our TrustPilot reviews are at an average of 9.6 - we nearly always get those 5 stars. The numbers don't lie. We've got 17+ experience (that means we started in '01 for all you budding maths whizz kids out there), we offer 1000+ activities, over 26 destinations. That's an amazing numbers of stag activities to choose from, to suit all tastes.
Don't forget to Download the free Cheat Sheet. You'll thank us afterwards!
What should you do now...
Serious about your Stag Do? Want to take yours to the next level? Head over to destinations, choose, and book your stag do with Pissup.

Avoid Common mistakes to which most Stag Dos fall victim DOWNLOAD our FREE Stag Do Planning Cheatsheet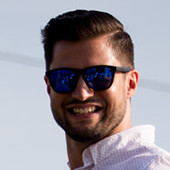 Written By Patrick