20-10-2016
13 Stages of Organizing a Stag Do
Overview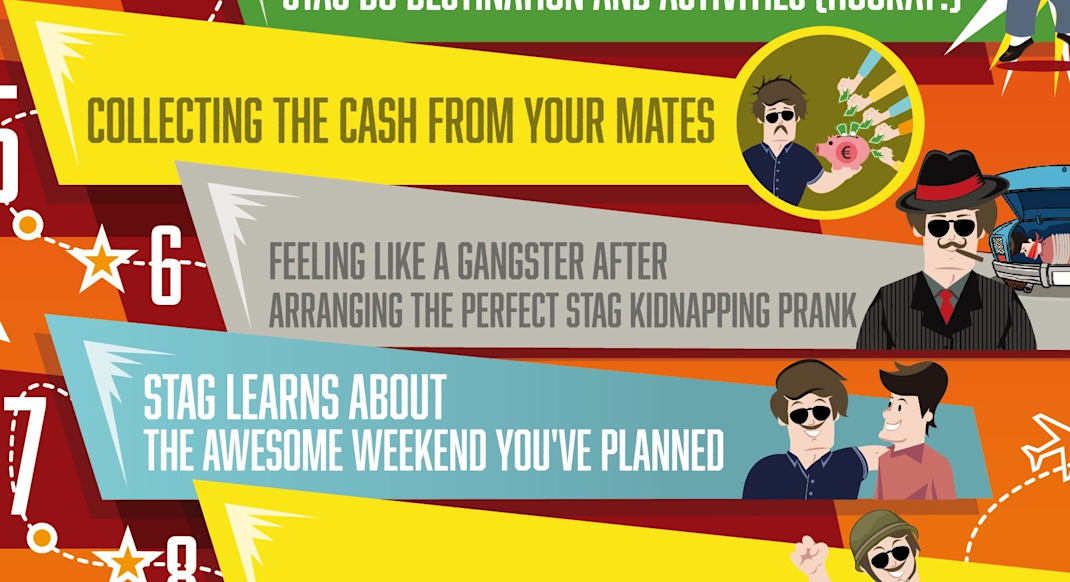 Organizing a Stag Do: all about Preparation, Preparation, Preparation
We all know of Shakespeare's 5 ages of man from infancy to old age. The stages of grief - denial, anger, acceptance. And even the 5 key turning points in a successful movie script. But what about the 13 Stages of Organizing a Stag Do?
Going on a stag weekend is a uniquely fun experience (especially if you book a Budapest Stag Do with us, cough cough). It will involve the expected - drunkenness, and strippers - to the unexpected. And with all these extreme, and extremely fun, situations leading up to and during the stag do you are bound to feel a heady mix of excitement and nerves…
That's why we've brought together the 13 stages of organizing a stag do - check it out!
STAGE 1:

Mood: Excited.
Your mate has given you a call. He's already popped the question to his bride-to-be (and she's said yes, natch) and now he's got to ask you. Unless you're a fool you'll say yes. How do you feel? Excitement! It's an honour to be asked of course. Organizing a stag do isn't going to be easy but you're determined to give your mate a right royal send off!
STAGE 2:

Mood: Anxious
Now you've come back down to earth a little bit, and stopped fantasising about all the ways you're going to prank the groom - anxiety has replaced excitement. As Spiderman's uncle says, 'With great power comes great responsibility.' And it will be your responsibility to make sure the groom gets the send off he deserves.
STAGE 3:

Mood: Overwhelmed
'Oh my fur and whiskers!' - the white rabbit says in 'Alice in Wonderland'. At this point you should be feeling real sympathy with him. How are you going to choose the destination? How many lads are going? What are you going to do? All these questions flood into your mind at once. So much so you're probably thinking it's time for a lie down…
STAGE 4:

Mood: Giddy with Anticipation
Now you've managed, with the help of your mates, to choose a destination. And a set of activities you and the lads are going to do. This is when the anticipation starts to ramp up: you begin to compare your dreary workday life now, to the awesome fun you'll have on your Barcelona Stag Do.
STAGE 5:

Mood: Strained
Money makes the world go around and all that - fantasising about midget stripper pranks and hummer limos is all well and good, but the lads who are going will have to cough up. It's time to extract that dough from your mates, and you'll have to find a way of doing it without them thinking you're Scrooge McDuck. Or it could risk straining your friendship. Time to be stern, stern but fair.
STAGE 6:

Mood: Godfather Part II!
Wow, you feel like a gangster who has pulled off the perfect heist now you've sorted out the Stag Kidnap Prank. Soon the stag will be bricking it in a trunk while you and your mates laugh hard. You've got through the hardest part, choosing somewhere to go, getting the program sorted and - most difficultly - getting the moolah. Now you can look forward to pranking the stag like a true G.
STAGE 7:

Mood: Smiles all round
This is one of those surprises which is guaranteed a big smirk from your mate. He's probably dropped hints like a mad man, or maybe made some suggestions, but now you've made it official by letting him know it's all booked up and sorted out. Expect pats on the back for making it happen, and now he can start imagining the awesome stag weekend you've organised for him.
STAGE 8:

Mood: Pure Adrenaline!
So you've booked up a Riga Stag Do or any other country with looser gun laws than England - this is the perfect opportunity to book up a shooting activity. And it's time to try one of those big beast guns you've seen in the movies: the AK-47. Shooting one of these bad boys will give you a literal kick which will make sure your shoulder is sore as well as an adrenaline kick like you've downed 10 Red Bulls in one.
STAGE 9:

Mood: Elated!
You'll all be wishing the night could last forever! You'll get led through the party district by a local expert guide on a Prague Bar Crawl, stopping off at the best night spots with the best atmosphere.  Then you'll hit the clubs and the strip clubs to see some local girls get down and dirty. Make sure you take plenty of photos (but don't show the bride!).
STAGE 10:

Mood: Death
'Oh god', you moan, 'have I just been speared through the head by a rhino'? No dear, that's just a result of the sheer quantity of booze you consumed the night before. Remember when your Mum and Dad told you, 'do everything in moderation'? Well you didn't. And now you have to pay the price. Anyway, you can relax - it's the morning of your last day, stay in bed a little longer…
STAGE 11:

Mood: Panic
It's isn't the morning after all. There are loud bangs at your door, and your phone is buzzing and it has infinite missed calls all over it. No time to lose you stuff your costumes, beer stained t-shirts and random items picked up at the club in a bag - and then you run downstairs to the cab. Didn't you remember you were supposed to be the responsible one? In any case it's a Sunday and the roads are quiet. So you are surely going to make it (a little hair of the dog wouldn't go amiss either).
STAGE 12:

Mood: Monday Morning Blues
'What evil person invented Monday mornings?' You ask yourself as you lurch into the office at 9am clutching a triple espresso. You badly wanted to call in sick, but realise that it isn't an option. Especially after weeks of regaling your colleagues with tales of what you were going to get up to during the stag weekend. They want to know all about your experiences organizing a stag do (or more precisely what you did on that stag do!). Now all you can do to survive is fill yourself up with caffeine, and eat as much greasy sugary food as possible - while kind colleagues try not to ask you to do anything too taxing.
STAGE 13:

Mood: Hercules! Hercules! Hercules!
'Oh my god - I don't remember doing that', you'll be thinking as you scroll through the pictures from the stag weekend. Then you get the phone call from the groom himself telling you what an awesome weekend it was (well, the bits he can remember). Before hanging up he tells you what a legend you are for organizing such an awesome stag do. Now you feel like a true hero for pulling the whole thing off without a hitch…result!
To refresh your mind...here are the full 13 stages again!:

---
Like our 13 stages of organizing a stag do? Contact us now and we can help shoulder the burden, helping you organise a stag weekend that will go down in legend.