05-09-2018
What should the Best Man wear?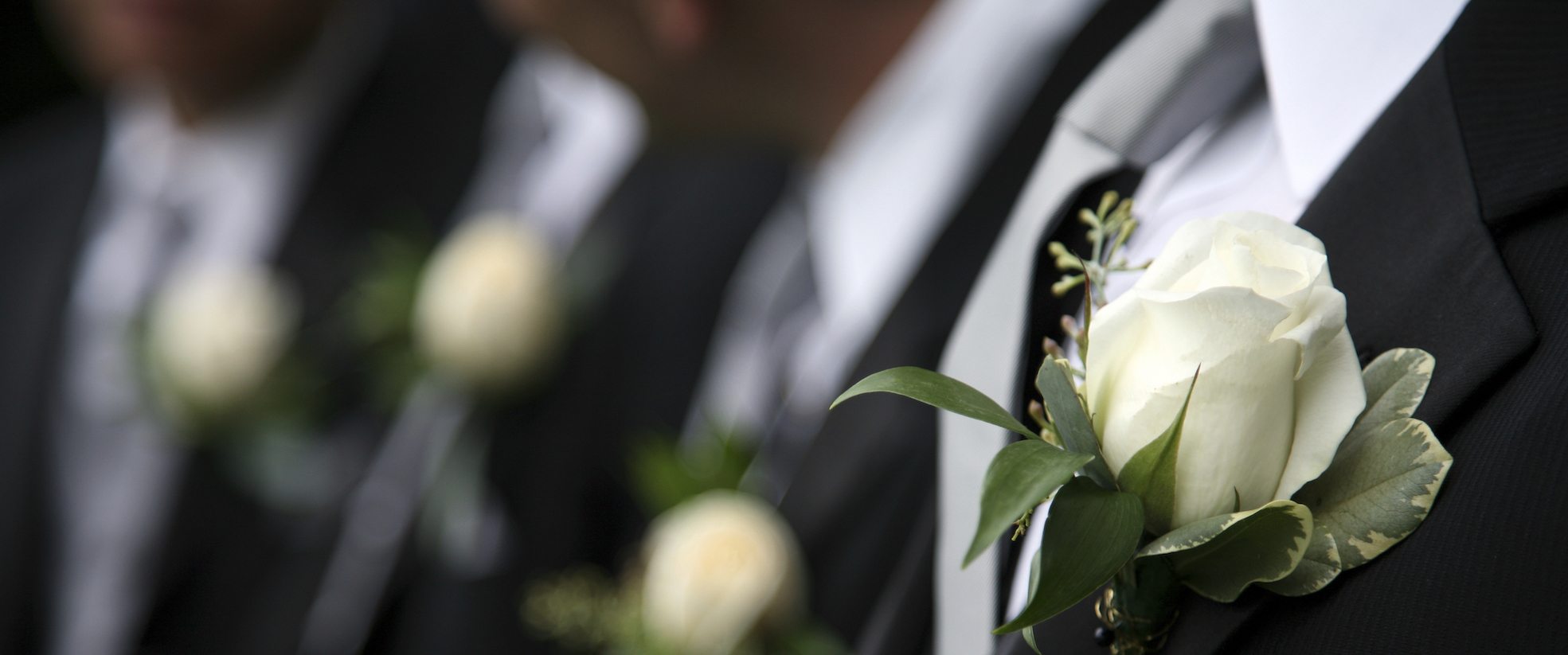 What should the best man wear? - Advice on wedding attire:
'Clothes maketh the man' - you know that saying, right? And as a best man you'll have to live up to that moniker. This is no time either to come dressed like a slob to the wedding OR peacock like some 1970s pimp. Unlike the Riga Stag Do you've organised Luckily (or unluckily depending on how Super Fly you are) this decision will be taken out of your hands. So the question 'what should the best man wear?' - Will involve a hive mind of the groom, the bride, and various assorted friends, tailors and family members who love to stick their oar in.
But our guess is that you will at least have a say on the 'best man suit' and even on the outfit that the groom will wear himself. So in actual fact the question: what should the best man wear? - should be extended to what should the best man, groom and ushers wear? So we've decided to put together some best man suit tips and ideas that will ensure you at least have 'an idea' about what kind of choices you need to make. No we won't be going into minute discussions of pattern. But we will offer general tips to make sure you don't dress like a fool.
What is the Setting of the Wedding/Party?

These days more and more couples are shooting off abroad to have their weddings. According to the Daily Mail it's about 1 in 4 couples. Of course abroad can mean very different things: the wedding could be on a beach in Cuba; or it could be in a little church in the shores of Lake Geneva. It could even be knee deep in snow on a weekend in Prague…whatever the weather it's important to know what kind of setting the wedding will be in, before you starting thinking about what outfit you're going to wear. A thick double breasted suit might work on a chilly windswept moor in Yorkshire but you and the groom will be dying if you're on a beach somewhere.
It's not just about material you have to think of the style. You want your style to match the setting. If it's hot and the wedding guests all dressed in Hawaiian shirts and white chinos, you don't want to be all dressed up like Edwardian explorers in the antarctic. Of course the whole purpose of dressing up is to stand out and look good, but in terms of style and substance their is 'good' and 'bad' standing out. Make sure you opt of the former - and save the crazy outfits for your Prague Bar Crawl.
Coordination is everything (but not too much)

We know, we know - Reservoir Dogs (or insert favourite gangster flick) is your favourite film, and you want to come into the church with the 'Clowns to the Left of me/ Jokers to the Right' blasting out of the speakers…but hold on a second. Coordination does not mean you have to wear matching outfits. If you want to practice being in a boyband from the mid nineties then that's up to you. But wearing the same outfit is definitely a no-no. For two reasons: the first is that groom has to stand out, the second is that, you need to be able to separate yourself stylistically from the ushers.
That isn't to say that you shouldn't choose something similar to wear, but rather that it should coordinate well. There's nothing worse than a complete clash of colours, especially when you're supposed to be in a 'team' with the ushers and the groom. That means things like tie-colours can be the same, or may be even the waistcoats or suit jackets that you wear. But you should add something to distinguish you from one another, be it the pattern or colour shade of your suit or the flower that you have pinned to your lapel.
What if I'm just a regular friend attending the wedding?

Hey, you - non best man or usher (or groom) - what about you? What the hell are you going to wear to the wedding? In many ways the same rules apply. Not so much the coordination because that is out of your hands, and anyway you don't want to be mistaken for the best man. You need to think in more broad terms about style and comfort. Such as: am I going to sweat my arse off in this suit? Or: will I feel like a slob if I wear this? There's also the setting to think about (see above) in terms of how posh you should go. You might want to consider splashing out a bit if you're going to a reception in a castle, or if the bride's in laws are a bit Home Counties.
You should also think about the impression you're going to make on the bride/groom and their family. Okay you might to be that 'important' in their eyes: but if you're a good friend or a relative you should make sure to look the part. More than anything how you dress is a sign of respect. And if you just show up wearing a suit last worn by your late uncle Monty smelly 70s-style suit, they might think you can't be bothered because you don't care. And although we lads are a bit more easy about this kind of thing, it might count against you if you want to invite your newly married mate down the pub to watch the game (browny points etc!).
Like our what should the best man wear advice? Get in touch and we'll help organise a stag weekend that will go down in legend.
Related and Featured Posts