14-09-2017
Top 10 Stag Do Destinations - hot babes, crazy activities, cheap beer!

Top stag destinations - ten of the best
Choice, choice, choice - these days it seems there's too much of it! And that's especially true with the ever-expanding number of stag do destinations available for British lads. There's never been a better or easier time to organise an Amsterdam stag do or a Hamburg stag weekend.
But deciding what kind of stag do you want is the tricky part. Do you want to go for a dirt cheap weekend away in an Eastern European city? Or do you want a classic no-holds barred experience in the Dam? Is your group more into hard partying or adrenaline-rushing madness?
Each of Pissup's top stag destinations will offer some, if not all, of what you're looking for. In this blog we've decided to pick ten top stag destinations. This is based on four different headings - cheapness of the place, number of things to do, nightlife, and babes! Hopefully, this will help you choose!
(*Note: All average beer/alcohol price data has been sourced from www.pintprice.com and www.numbeo.com.)
1. Prague

Prague - top stag destination
Prague Stag Do: King of stag do destinations!
Cheapness - Booze prices in Prague are very reasonable compared to in the UK. It costs just over £1 for a pint, and about £3+ for drink and mixer.
Things to do - Besides great sights like Prague Castle and Old Town Square, there are daytime activities a-plenty in Prague. You can sail down the attractive Vltlava River and watch the world go by on a Strip Ship. If you're a potential Rambo then try out AK-47 shooting (there are other cool Uzi-like weapons available, for extra, as well!).
Nightlife - Nightlife action in Prague is centred around the Old Town. There's plenty to choose - probably too much! - so we'd recommend booking a Prague Bar Guide for at least one of your nights here. Also the mega-club Karlovy Lazne, open till 5am, which has everything from disco to house classics - on 5 floors!
Babes - The ladies are smoking here, you'll do a few double-takes! But pulling-aside if you're on a look don't touch weekend then Prague has lots to offer. Book a Tottie Tour and see hot babes take their clothes off for reasonable prices.
2. Budapest

Budapest is crazy - top stag destinations
Budapest Stag Do: ruin pubs, crazy nightlife, and the epic Danube!
Cheapness - Cheaper than Prague, a pint will set you back just under £1.
Things to do - Like Prague, Budapest is bisected, into Buda and Pest, by a river...the mighty Danube. So, to get a real sense of the city you really should book a boat trip (TiTanic is a must!). Aside from all the crazy shooting activities, paintballing and airsoft - something unique to Budapest is Arnie's Commando Shootout. All you budding action heroes have to try it!
Nightlife - Nightlife is centred around District 5, and downtown Pest. Book a Budapest Bar Crawl and one of our guides will navigate the huge array of bars and pubs. A ruin pub - Szimpla is the most famous - should be high on your list for the things to do while in Budapest.
Babes - Budapest used to be known as the Paris of the East, and it hasn't yet shed that reputation for sin. It has some crazy VIP-style strip clubs, full of Hungarian honeys. Plenty of eye-candy in sophisticated Rock Star clubs.
3. Krakow

Krakow is a top stag destination
Krakow Stag Do: Party town with tonnes of fun-loving students, and raunchy strippers!
Cheapness - A pint in Krakow might set you back around £1.50. Food and drink are both pretty cheap here so - generally - you won't feel scammed even in the touristy areas.
Things to do - This is ancient Polish city is packed with history, all of which has been remarkably preserved. If you want to see what life was like, up until recently, we'd suggest a Commie Tour. Aside from all the things you'll learn - vodka is included!
Nightlife - Krakow is a student town, with a population of around 120,000 swelling the numbers during term time. And lots of students means one thing: cheap booze and great parties! There are tonnes of bars and clubs to choose from in the city's winding medieval streets. A Bar Guide and Nightclub tour is well worth booking.
Babes - If you want to see really crazy strip shows then Krakow is the place for you. To make sure you see the hottest Polish girls - and they are oh so very hot here - in a safe and fun setting, book our Tottie Tour.
4. Amsterdam

Amsterdam - check out our guide to this top stag destination
Amsterdam Stag Do: The Red Light District…need we say more?
Cheapness - On average Amsterdam is probably closer to London in terms of booze prices. A pint here could see you back between £3 and £5. Not cheap - but there are happy hour-style deals to be had.
Things to do - Take advantage of all this water and book a trip down Amsterdam's canals. There are plenty of different styles of canal tour - from Canal Boat Bar Crawl to Pedalo Tours. This is a great, fun, way of seeing the city!
Nightlife - Three words: Red Light District. This area alone makes Amsterdam a top stag do destination. But there is more to the Dam than a city of sin. It is packed with a wide range of cool clubs and bars to get your groove on in. Book our Red Light District Bar Crawl and see for yourselves!
Babes - The Dam has a huge number of strip clubs and sex shows (and more!) for you to enjoy. The Red Light Area, of course, is where most of the action takes place. Book our Live Porn Evening to "sample" some of the best!
5. Barcelona

Barcelona - fun in the sun on this awesome stag destination!
Barcelona Stag Do: sun, beautiful beaches, great nightlife and hot latin babes!
Cheapness - Things aren't that cheap in Barcelona, compared with our Eastern European destinations. Pint prices are similar to Amsterdam, on average, between £3+ and £5.
Things to do - Barcelona is packed with beautiful beaches, most of which can be reached via the excellent Metro system. If the weather's good - i.e. between June and August - we'd recommend trying your hand at Wakeboarding or Parasailing.
Nightlife - Barcelona nightlife is centred around the Gothic Area and El Born (avoid Las Ramblas if you can help it). There you'll find a number of cafes, bars and nightspots that cater to all music tastes. This is a town made for night owls: the locals like to start late and finish early…in the morning that is! Book a Pissup Bar Guide and we'll take you to the best spots in town!
Babes - This city is packed with hot latin babes who'll make you wish you were single! If you want to go to one of the best, and see some crazy erotic shows, then come to Bagdad for a Live Show you won't easily forget.
6. Riga

Riga - top stag destination
Riga Stag Do: Adrenaline-fuelled madness, sexy girls and a great Baltic location.
Cheapness - Riga is somewhere in the middle in terms of booze prices - not as cheap as Budapest or expensive as Amsterdam. A pint will set you back around £2.30-3.00.
Things to do - This Baltic city has plenty of great daytime activities on offer for adrenaline-junkies. Try out the unreal and fantastic Jet Pack, for a sci-fi style experience on water. Or if you want a team-building experience book the Olympic Bobsleigh — crazy speeds guaranteed!
Nightlife - The Old Town in Riga has a number of different bars and clubs to go to. Everything from the sophisticated Skyline Bar to more old-world dives. Things are a little spread out, so a Bar Guide is a must, even just for the first night - and our expert tour guides will show you the best the city has to offer. For a unique experience a Boat Party should be high on your list!
Babes - Baltic babes are known for their beauty (you'll see for yourself!). Though the city hasn't got that city-of-sin reputation like Amsterdam it can still hold its own for wild nights out. For the complete Riga babes and partying night out book Beers, Babes & Boogie.
7. Hamburg

Hamburg - top stag destinations
Hamburg Stag Do: The Reeperbahn is an eye-opening experience!
Cheapness - Considering Hamburg is a wealthy city in a wealthy country, the beer prices are fairly reasonable. A pint will set you back between £2 and £4.
Things to do - Hamburg is an old port city, so is a great way of seeing the sights (while not having to do too much walking!). For all you adrenaline-junkies out there Hamburg has the classic stag activities such as paintballing and rifle shooting and more!
Nightlife - The Reeperbahn is a must if you're coming to Hamburg. It gets seriously wild at night. A way to navigate through this huge thoroughfare is a sightseeing tour. Book our Reeperbahn Sightseeing Tour and see some of the areas best strip clubs, bars, and more!
Babes - Hamburg is like Amsterdam filled to the brim with wild strip clubs and sex shows. Book a Bar Crawl and Strip Club and we'll take you to the best spots with the hottest babes.
8. Bratislava

Bratislava: a top stag destination
Bratislava Stag Do: Value-for-money partying and sexy Slovak babes.
Cheapness - For beer prices alone Bratislava is the place to go if you want a budget stag weekend. A pint will set you back, on average, around 92p!!
Things to do - The Slovakian capital has a wide range of activities you can do, at great prices. If you're adrenaline-mad, then the 110 metre Action Jump is a must! Like Prague and Budapest, you can also try out a huge variety of different guns on shooting activities here. So we'd recommend booking Special Forces shooting.Nightlife - Bratislava's nightlife is centrally located, with many bars and pubs in the Old Town district. It might not have the range of nightspots as Amsterdam or the wildness of Prague. But Bratislava can holds its own - with everything from cool cocktail bars to local old school bars.
Babes - Slovakian girls are smoking hot! Seriously. Come and see for yourself. For a full-on night filled with hot babes book our Partyslava Night.
9. Berlin

Berlin stag destination guide
Cheapness - Berlin is not bad - compared to central London at least! - in terms of pricing for beer and food. Expect to pay around £3.50.
Things to do - The German capital is packed with history, having gone through two wars and divided in the Cold War. We'd recommend seeing the city's sights on foot with a guide. So book our SightBEERING tour for beers and knowledge! There are a huge amount of daytime activities in Berlin too, everything from House Running (jumping off a building) to Arrow Tag.
Nightlife - Oh man, this is the big one. Out of all the cities on the list Berlin has to be the king of clubbing destinations. If you love techno music and wild nights out, then this is the place for you. Some of the clubs are notoriously strict however, and might well turn you away, so best book with a Nightclub guide.
Babes - Hamburg may have the edge when it comes to debauchery, but Berlin comes in a close second. This city has a fantastic range of strip joints and erotic clubs. We'd recommend booking Strip Club Entry with us, to make sure you don't get ripped off.
10. Munich

Bavaria: Home of Germany's best beers!
Munich Stag Do: Party hard - Oktoberfest-Style!
Cheapness - A little better than Berlin, but compared with others in the top-ten Munich is neither cheap or expensive. A glass of beer could set you back between £2.50-3.00.
Things to do - Beer lovers of the world: a trip to Munich is a change to, ah, expand your knowledge…and drink! Oktoberfest may be just once a year, but Munich is a beer-drinking location all year round! Book a Munich Brewery Tour and see how the good-stuff is made. Likewise if you are football mad then a trip to the famous Olympic Stadium is recommended - plus Olympic Stadium Flying Fox you can jump off the building too!
Nightlife - If you're into VIP table-style nights out then Munich is the place for you. Our Munich Crawl & Clubbing tour will make sure you have an action-packed Rock Star-style night out.
Babes - While the city doesn't come close to having the vast number of strip joints that Berlin or Hamburg has, you won't go without in Munich. Book a Lapdance Club Entry and we'll get you into a hot club with some saucy German blondes!
---
Like the sound of our ten top stag destinations? Get in touch and one of our expert party planners will help you book a stag weekend that will go down in legend!
What should you do now...
Serious about your Stag Do? Want to take yours to the next level? Head over to destinations, choose, and book your stag do with Pissup.

Avoid Common mistakes to which most Stag Dos fall victim DOWNLOAD our FREE Stag Do Planning Cheatsheet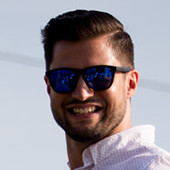 Written By Patrick Burmeier
Related and Featured Posts