17-11-2015
Be the best Best Man with our 5 dos and don'ts
Overview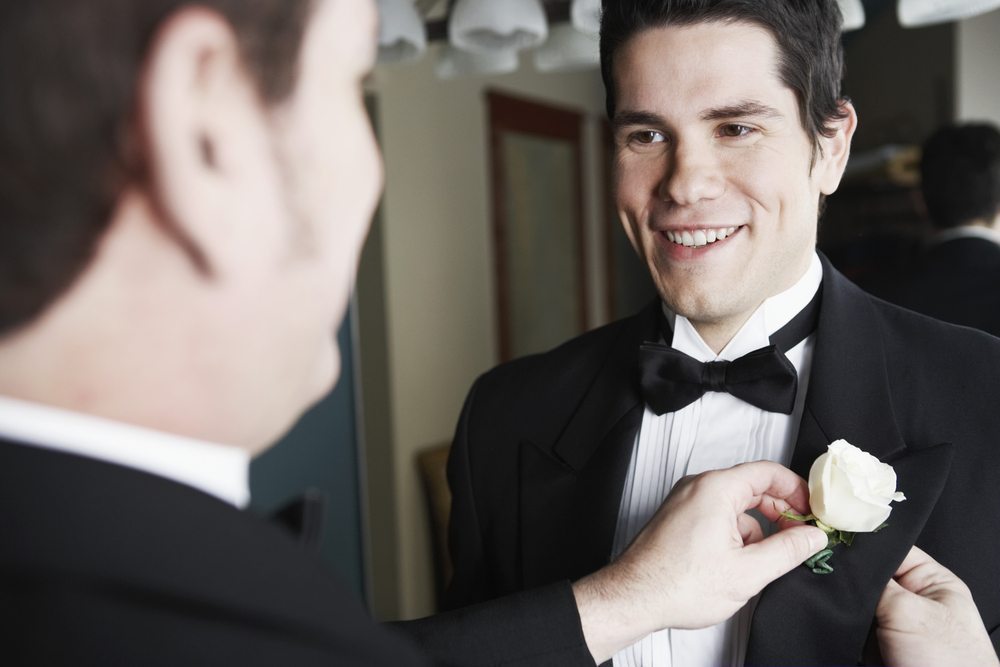 Best Man: there's more to it than the speech 
So your best mate has made it official, he wants you to do the job for him. Like Don Corleone it's an offer you really can't refuse. He's asked you to be his best man. Guaranteed the first thought in your head is 'Speech - I have to give a speech. In front of all those people.' Well the speech is only part of it, and there are plenty of places you can find tips on what to say. But being the best man is much more than giving a speech.
The origins of the best man have variously been attributed to ancient Germany and medieval Scotland. Legend has it that if the bride to be, or her father, got cold feet then the best man would go out and literally bag another. Back then all you had to be was handy with a sword and a net. Nowadays your job requires more finesse and less brute strength (except on some stag activities of course).
According to expert Chris Dicken in his book 'How to be an Awesome Best Man', Bridesmaids can relax but a best man's job has 'barely begun' after the wedding ceremony has concluded. And he's right. Some of the key duties might be obvious, like making sure you have the ring, or crafting a great speech that makes people laugh but upsets no one (harder than you think).
But doing it right, rather than half-arsed (or worse), will help sear into each wedding goers mind that you were the best Best Man they'd ever seen.

So check out our top five dos and don'ts for the Best Man who has the speech memorised and the ring safely in his pocket:
1. DO:
Be a Leader
Okay so Dead Poets Society is not a film at all associated with weddings, let alone best men. But the 'Oh Captain my Captain' scene has garnered many a motivation-seeking YouTube hit. Don't worry about the school room setting: all you need to know is the captain is you.
Whether it's organising the ushers, lost vehicles, location changes and minor panics - the groom, however alpha he is, will be focussing on the bride on his wedding day. Your job is to be the glue that holds the ship together. This isn't another opportunity to wear silly clothes and get hammered - that's for the trip away - people will be looking to you for guidance.
2. DON'T:
Steal the Limelight
Most best men know to keep their egos in check. Yeah, you may be able to bench press your own weight. You can probably out dance the room and banter with the best of them. You may even be able to drink the groom under the table. But this day isn't about you.
While there is a trend called 'thunderstealing' where men propose to their girlfriends at weddings - which should be a big no no - we're talking here about pranks, put downs and general idiocy that could shine a negative light on you.
You are the captain yes, but if you act the fool or humiliate the groom it could have bad consequences. Especially when the groom's future wife to be is deciding whether he can come to the football away day with you.
3. DO:
Be the voice of reason
So you and the guys are in the centre of Prague, it's 5am and your stag looks a little worse for wear. When you ask him if he's all right he mumbles incoherently. The rest of the gang want to head off to continue the party. What do you do? Well you do the sensible thing. Although it's his last weekend before the real handcuffs come on, don't leave him handcuffed to a lamppost in a strange city. Feel free to prank him but know where to draw the line.
If he's standing at the bar getting chatted up by some young thing, and after a night of carnage he might well be, then pull him away before it all goes wrong!
4. DON'T
Be late (ever)
Those masters of etiquette De Brett's suggest that it's the best man's job to know everything back to front. They say you should think of yourself as a 'floor manager', but perhaps a general deploying troops might be a better analogy. You need to know when the driver is turning up. How long the bar opens, when the limit in booze has been reached. Once the guests realise you're in the know they'll want info on when the food is served, when the speeches begin.
And with all of this time is of the essence. Your lateness might be something minor like arriving at the groom's house on the wedding morning, or even before that just showing up to the venue - your timekeeping will all reflect on your character. You think anyone's going to care about the rip-roaring speech you've prepared if you roll up to the church late huffing and puffing your sorries to the bride and groom's family and friends?

5. DO:
Look the part
You might imagine this one is out of your hands. Of course, you don't get to choose what you wear as the best man. If the groom wants you in Miami Vice-style suits that's the way you'll have to go. If like Mark in The Only Way is Essex he wants you to ride into the party on a horse dressed up like Willy Wonka then so be it.
But as has been pointed out on realsimple.com you should be doing everything you can to take the weight off the groom's shoulders. You need to organise the fittings, help chose the suits and - most importantly - coordinate with the bride. You don't want to look like the bride and groom are in a silly pop-duo.
Finally, scruffiness is not a good idea, leave that till all your duties are done and dusted.
More Info
The above five are our top tips - but there's a couple more things to consider which will come in handy after you've been asked to be the Best Man.
Don't forget that your primary goal is to advise, rather than meddle. And while you may have hated the bride ever since you laid eyes on her, leave your grudges to yourself. Your mate has asked you to be his Best Man and you need to live up to that honour. If she wants to get married in a castle and your mate wants to tie the knot at your local pub - don't unnecessarily side with him. You may have had a bromance for over a decade or more, like some of the guys on that show 'Don't Tell the Bride', but those times will be coming to a close soon. So man up and get into role - it might be you who ties the knot next.
In Short...
...to be the best Best Man: Give him a great send-off at his awesome stag weekend, get him suited and booted and make sure everything comes off right on the day - as well as the usual rings and speeches business. If you do all that you'll be a hero to the groom and have his future missus on your side for the near future: result!
Related and Featured Posts