22-01-2016
The expert's guide to popping the question on Valentine's Day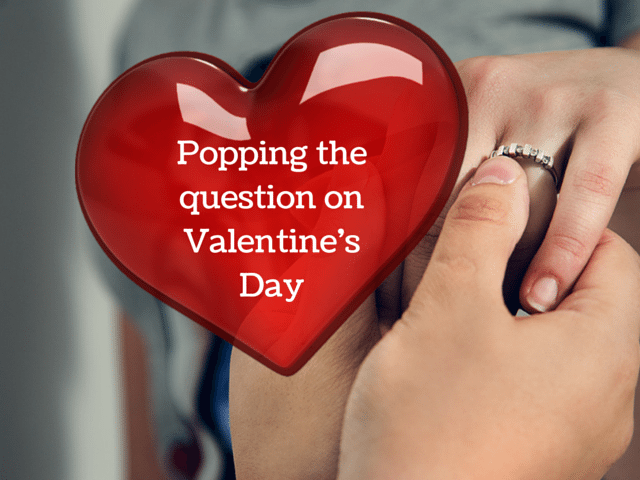 With Valentine's Day just around the corner many lads across the UK turn their thoughts to a proposal.
Proposing on Valentine's Day is one of the most popular times of the year to get down on one knee, but whilst proposing to your other half means that you hopefully will marry the love of your life and will be able to organise an incredible stag do in Krakow or to some other European destination, it can also be an extremely stressful and nerve-wracking experience.
The pressure of making a Valentine's Day proposal a romantic and a memorable one can be too much for some, but do not fear as here at Pissup we have gathered together the best tips from a range of proposal experts to ensure that your proposal is an unforgettable one that will impress your mates just as much as your missus!
Don't forget 2016 is a leap year – meaning that your missus could end up proposing to you! We've got you covered here too with advice from experts.
Proposal tips
=========================================
Get your timing right!
Ben Parker from Groom Power, a website that gives advice to grooms, said, "Ideally you need to have been with your girlfriend long enough for her to say 'yes', but not so long that the surprise has gone when you get down on one knee."
Do the unexpected
The Heart Bandits, who are dubbed as one of the top proposal planners in the world, suggest doing the unexpected.
They said, "Since proposing on Valentine's Day is already somewhat expected, you are going to have to propose in an unexpected way.
"Simply proposing during dinner (especially by dropping the ring in a champagne glass) is very played out and 1980s. Do something more personalised for her."
Make it personalised
Another of the world's biggest proposal planners and experts, The Proposers, say it is important to make your Valentine's Day proposal personalised.
They add, "There's no point proposing at a sports bar if your partner hates sport. It doesn't need to cost the earth but make sure you put a little effort into it."
Include friends and/or family
If it's your stag do in Budapest then you would want all your best mates and close family members there, so why not do the same for your proposal?
The Proposers, said, "You may want everyone you know there to celebrate, but first you need to make sure you A) know that the answer will be a YES B) Practice what you want to say – just saying those four famous words is pressure enough without worrying about what the family think."
Don't pretend that you're not doing anything for Valentine's Day
The Heart Bandits say that if you are trying to completely throw your girlfriend off the scent then don't. They added, "Don't pretend that you're simply not doing anything for Valentine's Day to try to throw her off.
"You want her to know that you are doing something for her, not just catch her completely off guard when she's not dressed or done up. Let her know you're planning something but tell her it's a surprise."
Have a ring ready
Groom Power's Ben Parker says that nowadays lads don't always propose with a ring, so instead he advises purchasing a 'stunt ring'.
He adds, "Lots of guys these days prefer to propose without a ring, because they know their girlfriend will want to choose it themselves.
"This is where the 'stunt ring' comes in.  For £30 or £40 you can arm yourself with something that looks the part, but you can tell your girlfriend it's a stand in. Then she gets the fun of a ring on her finger straight away and a shopping trip a few weeks later."

Build up anticipation before your proposal
The Heart Bandits say that building up your missus' anticipation before you propose does not ruin the surprise.
The proposal planners, who have a dedicated section on proposal ideas, added, "Many women want to wonder if 'this is it' so it's good to build anticipation.
"Throughout the night you can keep adding elements that show off your feelings to her. For example, you can bring up stories or look at old pictures of how you two have grown and have had great times together. This doesn't ruin the surprise, it only adds anticipation to the actual moment.  The anticipation then only makes the actual proposal moment more impactful."
Hide the ring
Another useful tip to make your proposal even more special and romantic on Valentine's Day is to hide the ring and leave a trail of clues.
The Wedding Spot, one of the biggest wedding-related sites on the internet that shares advice with brides and grooms, added, "Leave clues all over the house as if it were a treasure hunt, so that they have to spend a while thinking about how to find the next clue and especially how to discover the final location, which they are probably not expecting to be the start of your new future together."
Another great idea is to hide your ring in a shell on a particular beach that you both love and to point out the beautiful shell that contains your ring. As she picks it up and realises there is something in it, this is your cue to get down on one knee. This won't just be remembered by your partner for the rest of her life, but will impress your mates that inside that laddish exterior there is an old romantic inside!

Invest in documenting your proposal
The team at the Heart Bandits suggest documenting this day as you and your partner can remember the day for the rest of your lives and you can show all the boys how you did it.
The expert proposal planners, said, "Ideally, you should at least have a photographer to capture the moment you are on bended knee. If your proposal idea also lends itself to having a videographer as well then go for it too.
"You will be happy you did down the road when you look back at your pictures or video and retell your engagement story."
The Proposers agree, "In this day and age, everyone loves pictures and adding their special news to social media. Make sure you capture this once-in-a-lifetime moment so that you have it to share with your friends and family (even grandkids) time and time again."
Be confident
Being confident when proposing on Valentine's Day is important, even though you will be absolutely bricking it.
Groom Power say, "Think what you want to say, speak clearly, look into her eyes, and smile.  Lots of guys mumble or fluff their lines, which is understandable.
"But your girlfriend is going to remember this exact moment for the rest of her life, so try to get it right."
Get on one knee
They say romance is dead and in today's society more and more of us lads are not getting down on one knee. If you really want to impress your other half then proposing the traditional way on one knee is certainly the way to go.
The experts at The Proposers simply say, "It's traditional and ladies love it. Not to mention, it will make an amazing photo."

Proposal ideas
==========================================
Propose abroad
Wedding Spot, said, "You could plan a weekend getaway and choose the perfect moment to ask them, imagine how nice it would be to do it whilst up the Eiffel Tower with the city of Paris at your feet."

Do a Friends-style proposal
If you have a girlfriend that is a big fan of Friends and want to get the rest of the lads talking about it then The Proposers have a great idea for you.
The Proposers recently helped a man with his Friends proposal idea. The planned proposal involved West End singers to play the TV show's iconic theme tune, a sofa and lamp to recreate the famous opening credits of the show.
The genius of a man that proposed to his partner had planned to go to the Shard after the proposal and therefore the Red Cross Gardens, which looks over the Shard, was chosen as a destination.
It was pretty obvious that when the guy dropped to his knee in front of the fairy lights, lanterns and furniture that his missus was always going to say yes (and she did)!
Relive their favourite movie
The Wedding Spot, who have previously written about how to propose in an original way, suggest proposing and reliving your favourite movie at the same time.
The Wedding Spot, said, "You probably have a romantic movie that you both like and in which there is an extremely romantic scene. Make the script your own and recite it to them whilst embracing them and take out the ring."
Advice for guys being proposed to
2016 is a leap year, meaning that your missus can ask you for your hand in marriage. It is best to consider that this could potentially happen, especially if your other half has been dropping hints.
Be prepared
Groom Power adds, "It's not just advice for cub scouts! If it's February 29th and your girlfriend is making dinner reservations, then a big question might be on the cards."
Propose back
The team at The Proposers suggest that if your girlfriend proposes to you on Valentine's Day, then you should propose back.
The Proposers added, "Usually if a woman proposes to man, she is desperate for him to propose to her, but he just won't get the hint or perhaps he's just ignoring them. If she does propose then he should propose back. It will make the story a lot more romantic to say that they are both involved.
"Things to do after are to tell the parents, get pics, announce it on Facebook, and meet friends in the pub to let them know."
Do you want to get married?
Lads should seriously think about whether they actually want to get married. If your other half has been dropping hints about potentially proposing to you and you're not ready, then you need to make this known before the deed is done.
Ben Parker of Groom Power explains, "If you're genuinely unsure then it might be better to discuss it with your girlfriend in advance rather than let her pop the question and not be able to say yes."

She will probably be nervous
Men across the world get nervous thinking about proposing to their other half, so when your girlfriend is thinking of proposing she will be even more nervous as it is not considered normal for a woman to propose.
Mr Parker, adds, "Everyone who proposes thinks they'll get a yes, but has a small fear of an unexpected 'no'.  If you know you're going to say yes, then say so quickly and give her a kiss."
Can you handle being proposed to?
The experts at The Heart Bandits say that guys need to think about whether they are happy switching this gender norm.
They said, "Some men consider themselves to be more progressive in their ideas of gender roles and would be comfortable with this. But many men feel that proposing is an important part of their role as boyfriend/fiancé, and would be put off by the woman asking the question."
Don't lose the opportunity to get a joke in
Ben at Groom Power, says, "It's more or less compulsory to say 'So I assume you've bought your own engagement ring?'
Image Credit: Michelangelo Carrieri, Isabelle Acatauassú Alves Almeida, Tommie Hansen (flickr.com)
Related and Featured Posts