24-11-2015
Krakow: things to do and see
Overview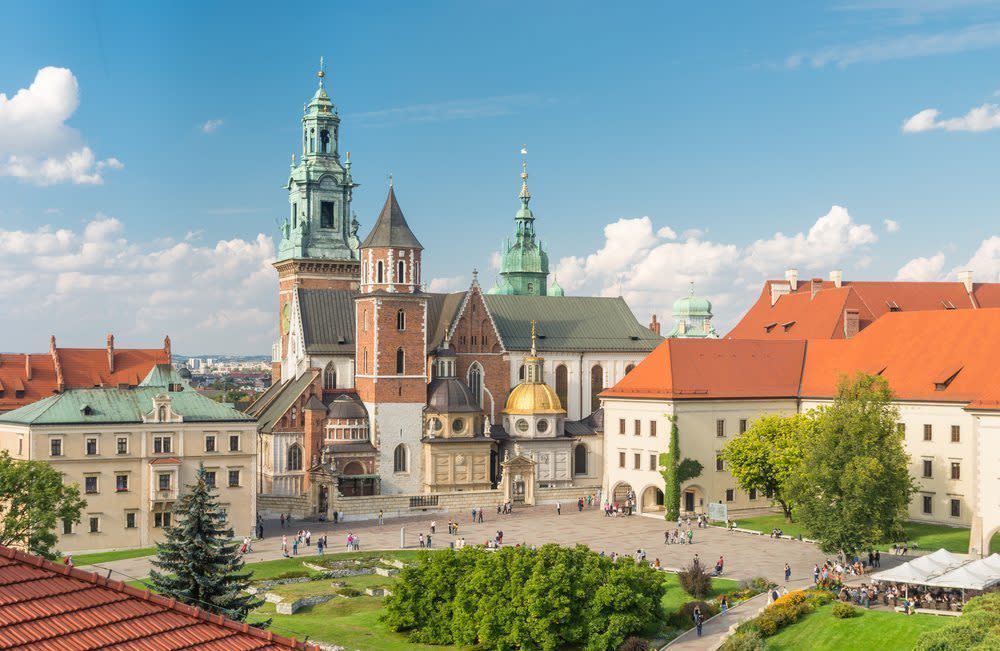 )
Krakow is one of the most popular destination for British guys coming to celebrate their mate's last weekend of freedom. Poland's second city is far and away more popular than its capital, Warsaw. Maybe that's because when you think of Warsaw as a holiday destination you're more likely to think of it as a place of history rather a city for partying. But while Krakow has a fantastic history all of its own, there is a reason why lads want to come here for a weekend away.
This blog is here to show you why that is!
Kraków is one of the biggest party cities not just in Poland but in the region. A beautifully preserved medieval city it has in recent years morphed into a town filled with over a hundred thousand university students - and you know how fun college girls can be. The average price for a beer in a bar here is £1.18. And the club culture is one where locals usually roll up to the club just before midnight and party till the wee hours. Sound good? Read on!
Below we'll give you the low-down on Krakow: things to do and see on a stag weekend. With a run down of a few top nightspots, some awesome daytime activities and finally some sights to see. By the end of it you'll want to book a carnage-filled stag weekend in Kraków.

Nightlife
By common consent Old Town is where all the party action is located. If you come to Krakow and book a guided tour, and at least for the first night we'd recommend this, you'll probably end up here. But Old Town isn't just good for nightclubs, it has a whole variety of venues. Kraków has everything: whether you want to sink vodkas in an old world spot or start the night slow sipping beer at a sophisticated bar.
Krakow is famous for its cellar bars (piwnice in Polish), so you could start off your weekend's partying it up in Kraków at one. Try Alchemia: in Kazimierz neighbourhood which is south of the main part of Old Town. This place might remind you of a hipster bar back home. But don't run away! This is an authentic cellar bar free of posers: a great chilled place to listen to live music have a few locally brewed beers, and a bit of food, before heading off to somewhere harder.
If you're looking vodka then check out the Wodka Café Bar. Located close to the main square it's filled with every type of vodka, and every flavour, imaginable. After you've got over the shock of being like a kid in sweet shop, you'll want to hit the clubs. While the centre of Krakow is chockablock with clubs, if you want that classic nightclub experience you'd do no worse than coming to Cien Club. Recently refurbished this cosy but lively club hosts EDM DJs and is open till 6am. Perhaps you want to turn up the heat even more? - then head to a strip show, we can even guide you to the best ones.

Activities
Okay so even we at Pissup have heard of this thing called 'daytime', where you're supposed to 'do' things. Well Kraków has more daytime activities than you can shake a stick at. And best of all they are located in and around this great city. Whether you want to unload a Kalashnikov in an ex-Military bunker, or get the adrenaline flowing by flying round a go-kart track then this city has it all.
There's nothing like racing down rapids in a man-made white water centre to get the blood flowing and create a bond between you. White water rafting in Kraków is held at a location used by the Olympic Team. Though it can be arranged this is not one for the winter months, though it might be refreshing after a hard night's boozing. If you're sick of team work and want to show the other lads you're the best, then why not exercise your competitive side by riding Quad Bikes? Only located an hour away from the centre riding round this purpose built off road circuit will help you get your chi up ready for the evening ahead.
Perhaps you're looking for something a tad more gentle. Maybe you want to have a pint and a bit of exercise at the same time? Well we'd definitely recommend SightBeering. That way when your missus asks if you've done anything but drink and look at boobs you can tell her you've been on a cultural biking tour of Kraków!

Things to see
Kraków has more than 1,000 years of written history, but settlement here goes way back to prehistoric times. It is one of those cities which has changed hands to different Empires over the centuries. But it became the capital of Poland in about 1038 (but is now the second city after Warsaw). Named after a legendary King, Krakus, who vanquished a dragon (hello Game of Thrones!) this city has plenty of historical sites and buildings to see. And if you're interested in mythology then go see the Wanda and Kraken mounds, the oldest structures in the city.
When you're here you'll have to visit sites like the Wawal Castle, historic home to the old Polish kings. Maybe Word War 2 is your thing, then be sure to visit Oskar Schindler's factory, made famous by Spielberg's harrowing, classic movie. Even if you're short of time on your stag do weekend in Krakow, take a walk round the main market square and you will have ample chance to see and take photos of great-looking buildings (and other pretty things!).
But our advice is if you're coming on a stag weekend in Kraków, then a guided tour is a must. And if you know anything about Poland you know that not long ago Kraków was under Communist rule. While that awful business is over, many of the landmarks and some of the culture remains.
So why not join a Communist tour for an afternoon? If you book with us you'll get a bit happy tasting local vodka and fill up on pickles at a historic restaurant.
Whatever your budget or tastes (in birds or booze!), Kraków has it all. And if you're coming for a stag do weekend then Pissup can fill it with great activities and nightlife to make it an unforgettable experience.
Related and Featured Posts