30-05-2016
A stag night out in Prague vs Berlin & London
Overview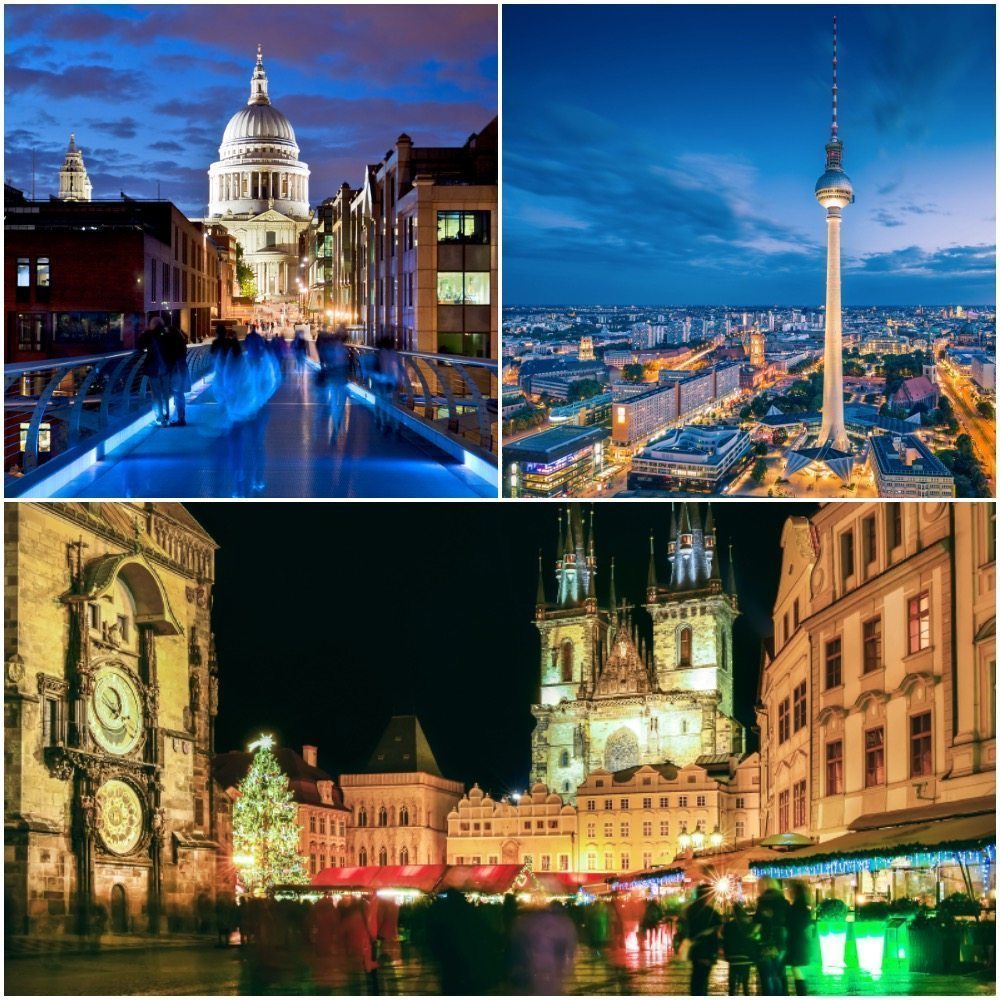 Prague vs Berlin vs London - costs of going out
Conventional wisdom states that the richer the country, the more expensive it is to visit. While that might be true when comparing, say, Zurich with Saigon - when it comes to Europe things are a bit more nuanced. That means what you get for your money, in terms of quality and quantity, can vary wildly. Plus if you want to splash out - or budget - then there are always options to do so. But in this blog we'd like to compare average prices for a night out - in Prague and Berlin and London. We love all three cities, and a Prague stag do and and Berlin stag do both offer different experiences that can't be boiled down to hard economics alone. Likewise a stag do in London offers a wide variety of clubs and bars to get happy in. So we'd like to give you an idea of what you will spend for a night out in all three cities!
Getting around on Metro

Yellow subway train in Berlin
Berlin is a fairly large and sprawling city compared with Prague. The former is home to over 3 million people and is 891.8 km² in size. The Czech capital in contrast, is home to over 1 million people and is almost half the size, at 496 km². London takes the biscuit with a population of 8 million and growing - and its tube system is famously labyrinthine and hard to navigate. In contrast Prague's metro system, which is almost is large as Berlin's, is much easier to navigate with everything laid out in a triangle formation.
But as Michael Caine once said 'it isn't the size, it's what you do with it that counts'. And if you're in a large group of lads then getting the metro is a must. It's a great way to move about, and, if the city is large - as with say London - it's usually the cheapest and most efficient option.
A quick bite to eat

If you're on a mission to get leathered you've got to get some grub inside you, even if, as the saying goes, 'eating is cheating'. Unlike in London, continental cities in Europe retain something of a local and regional culture. And while Berlin and Prague aren't foodie cities, there are local foods you really have to try. In Berlin its the 'currywurst', which has a museum dedicated to it, is a steamed then fried sausage which is cut up and served with curry ketchup. In Prague they go for something a little heavier, veprˇo-knedlo-zelo, which are heavy dumplings with roast pork and sauerkraut. But sticking to street food there are also delicious pancakes Bramboraky, which are a perfect snack before hitting the beers.
Beers at the Pub

It's party time - and you and the boys want to hit the bars. London has a varied nightlife with places to have it large in all over - from craft beer pubs in the East End for the creative set, to more grimy locations in South London. Berlin's nightlife is legendary, with potentially some of the best clubs in Europe. However the bars and pubs are awesome too with a unique range of hipster hangouts and classic German beer gardens. The big nightlife areas are Mitte and Prenzlauer Berg, which are located in the Eastern side of Berlin. But you'll find places to grab a beer all over the city, though we'd have to recommend a bar crawl to make sure you get to the best places!
If beer is your thing then Prague will be like heaven for you; they've been brewing the stuff in the Czech capital since medieval times. And just to show how much they love beer - the Czech Republic consumes more per capita than any other with 1.5 billion litres consumed between 2013 and 2014. There are plenty of places to consume the stuff, from microbreweries, to traditional Beer Halls.
Club entry

Ah, the night is young, and full of possibilities - and London, Berlin and Prague are all packed with late-night venues where you and the boys can throw shapes on the dance floor. Berlin, the spiritual home of techno, has more outlandish and eccentric clubs than you can shake a stick at. However getting in to some of them, such as the infamous Berghain & Panorama Bar, will be very hard (if nearly impossible), especially if you're in a stag group. But don't worry, you won't end up on the streets - there are a huge range of clubs to choose from without such snobby door policies. In comparison Prague has an unstuffy, take all comers, nightlife scene. Famously Prague is home of the Charles Spa club, or Karlovy lázně, which spans five floors which play every kind of music from club classics to disco anthems.
Strip Clubs

One of the reasons Prague is the most popular stag do destination is cost - things are cheap here, and not just the beer - the strip clubs too, especially when compared with London. Prague is full of strip clubs, located around the central districts. In terms of quality there is everything from the 'budget' to the luxury end - some will even pick you up and take you to the club. Though things are pretty safe here, we would suggest booking strip club entry with us. That way we can guarantee you entry to a tried and tested club that doesn't have any bad vibes. Berlin has a reputation for being a city of sin, which still continues to this day. As in Prague there are many clubs to choose from, with over 600 'erotic' venues that show everything from classic erotic cabarets to lap dancing clubs and even sex shows.
If you like the sound of Prague or Berlin, get in touch and we can organise an action-packed stag do that will go down in legend.
Related and Featured Posts