13-08-2015
The Perfect Budapest Stag Do Experience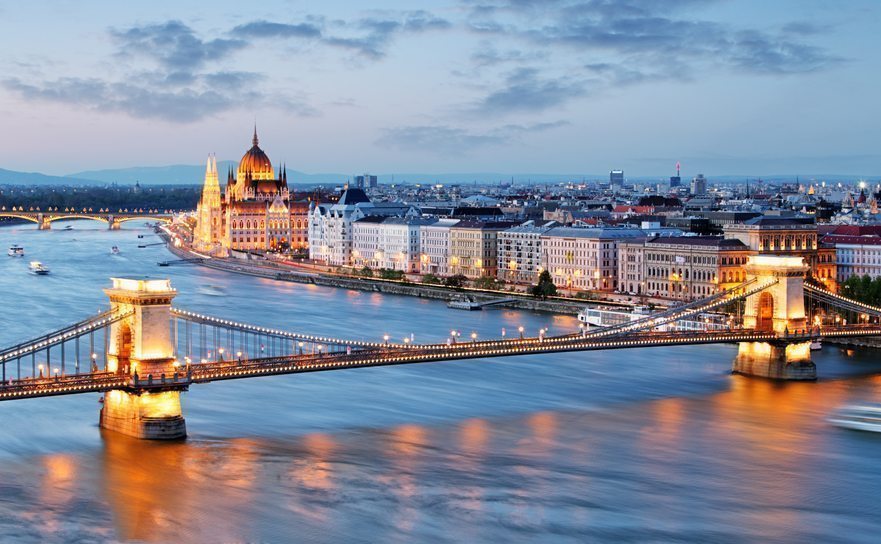 Here it is, what you've been waiting for. After plenty of... let's call it field research, we've put together this guide to the ultimate Budapest stag do.
From pre-partying to Budapest nightlife and the best ways to recover, it's all here.
So before you dive into the party scene, take a look at this run-through of a truly excellent 24 hours of a Budapest stag weekend.
Check-in: Your Budapest Stag Do Adventure Begins
You're setting off from your room in the Danubius Hotel Gellért. Why? Because it's a classy place and most importantly, comes equipped with natural mineral springs — something, you suspect, which will prove an essential tool of recovery come tomorrow morning.
It may be your first weekend in Budapest, but you're no amateur.
First You Need Some Food and Beer: Paris, Texas and the Pink Cadillac

Welcome to Paris, Texas, Budapest
After a short walk across the Danube, you're already in the thick of things. Going past the grand covered market you're seeing places like the "For Sale Pub," or as some locals refer to it the "fire hazard."
But, you don't allow yourself to get distracted. You need two things — food and beer — and you certainly need them together in a proper Budapest bar.
So, after hanging a right on the pedestrian Ráday Street, you come to perhaps the best bar in the area: Paris, Texas. You walk past the strange old photos and into the basement for a game of pool. Fortunately for you, the pool is free and the beer comes by the litre.
Of course, you may realize something is missing — you're starving, and there's no food! Not to worry, the next-door Pink Cadillac restaurant will bring your food right into Paris, Texas, so you can enjoy drink and nourishment at the same time.
Time for Things to Get Strange: Pubs in Budapest... Never Disappoint

Welcome to Instant, don't mind the rabbits.
A few beers and a few pizzas from Paris, Texas and you're ready to really start the night. This being Budapest, it seems appropriate to go for something different. That's why you head straight to arguably the best ruin pub in a city famous for them: Instant.
You'll want to get a taxi or take the 4/6 tram line to Oktagon, but worry not, Instant is never hard to find.
And did we say it was merely strange? We meant really strange... from the disco boar to the murals of copulating foxes and half-owl, half-human overseer, Instant has everything you never knew you wanted in a club. It's the kind of place nightlife in Budapest is famous for.
The music will be pumping and if you don't like a room, simply go to one of the many, many others. At this point, your main challenge is keeping your mates together. Just please, don't resort to matching t-shirts for this purpose. It's not worth it.
Midnight Comes: Trust in Morrison, He Will Show You the Way
Maybe you're going for the karaoke (after all, you've got a stag to humiliate), or perhaps for the foam party. Either way, you're there for the wild atmosphere and very, very cheap drinks. Welcome to Morrison's Opera.
Always filled to the brink with an attractive and fun-loving crowd heavy on erasmus students, Morrison's just about guarantees a wild time, stag do weekend or not. Best of all, it's a 5 minute walk from Instant.
When It's Time to Change Venues: Think Inside the Box

Welcome to Doboz, don't be afraid
James G. Milles / Foter / CC BY
When you've had your fill of whatever it is you may have encountered in Morrison's, it's time to think about your end game.
About 1km from Morrison's is Doboz, Hungarian for "box." This eccentric ruin pub is always an excellent choice. Assuming you're not intoxicated enough to get freaked out by the giant King Kong-style tree climber in the courtyard that is...
Survive the intimidating sculptures, and you'll be ready to take things to the next level.
The Grand Finale: At This Point, It's All Montenegrin
Usually, a place being open non-stop is good enough when the sun's getting ready to rise. However, Montenegroi Gurman offers so much more when it comes to finishing off an amazing night of Budapest nightlife.
Granted, you've probably never heard anything about Montenegrin food, but locals know that some sizzling Ćevapi with onions and cheese curd is just what the doctor ordered. To top it off, it's just a 5 minute walk from Doboz. Enjoy.
When the Sun Gets Too Bright: Get Some Sleep
It's got to happen eventually, or so they tell us.
Be Prepared for the Next-Day Hangover: Hot Spring Recovery

Recover in style at the Gellért Baths
Andre Vitor Mackevicius / Foter / CC BY-NC-SA
Sleep alone is not enough to calm your raging hangover. You'll need something else after that. Now comes the moment when your careful planning all comes to fruition. Just a few steps from your hotel room are the warm healing waters which seem to have bubbled up from the depths of the earth for the sole purpose of easing you through your hangover.
Life is good...
Remember to Keep it Together for the Flight Attendants
After a good hour or two of aquatic recovery, you're ready to face the trials of air travel. The time has finally come to fly home.
Just remember Budapest stag do warrior, tip your waiters and be kind to the flight attendants. Try to hold yourself together and keep a stiff upper lip.
At least until you get home.
Featured image by Nenortas Photography / Flickr / CC BY-NC-ND
Related and Featured Posts