02-11-2015
Pálinka: A Guide for the Uninitiated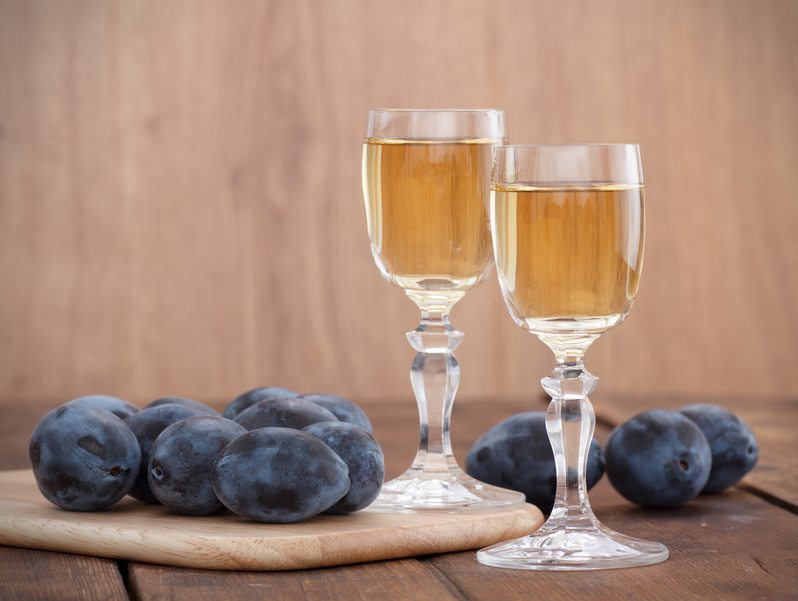 When in Rome drink as the Roman's drink, as the old saying (almost) goes. And when you're in Budapest you have to try pálinka at least once. In fact if you find yourself a guest at a Hungarian's house they will insist you take a shot of this hardcore spirit.
Yeah, yeah, I know what you're going to say: "It's a girly drink" or "I tried ouzo in Greece and it was easy."
But take it from a seasoned visitor to this great city: when it comes to booze Hungarians don't mess about. Pálinka may smell like the perfume you hastily got your girlfriend for Christmas, but this stuff could power NASA's next moon landing.

Pálinka - the gold standard for stag dos in Budapest
So I've got together five things you need to know before you embark on your first pálinka-fuelled adventure (with us!):
1. Why the hell does it smell so good?
Mainly pálinka is made of fruits from the Hungarian plains like grapes, apricot, plums and cherries. But although it's sweet no genuine Hungarian palinka has sugar added to it. But don't be fooled by the smell and initial sweet taste...
2. It burns, oh god it burns!
Drinking pálinka has been described as a slap in the face, but more accurately it's like a someone shooting a cherry-flavoured flame thrower down your throat. It tastes good, like tiramisu, but then you feel the burn all the way down.
But like any booze the real hardcore stuff is homemade. And when you have the real deal it can feel like two homeless guys have lit a campfire in your stomach. That's because officially according to EU law pálink has to be minimum 37.5% and up to 86% alcoholic volume. But luckily for you - or more specifically your head - the average stuff at restaurants and bars will be between 40 and 50 per cent.
3. There is a gold standard, but just ignore it
Okay so you've decided to do a shot (or three), but now you want to know your cheap lager from your blonde hipster beer. You see bottles behind the bar and your eyes fall on the gold label. Yes, you think, I'm on holiday so I'll get the best. Calm down dear, the gold label doesn't mean it'll be the best. It just means it has scored the most points across the board.
My advice is to ask the waiter and barman what you want. Go for taste over strength because drunk-wise they are all guaranteed to get you smashed.
4. It's cheap and (very) cheerful
Okay: for the average British tourist everything in Budapest seems like good value - and you've got the best deals through us - you'll still want to do shots with all your friends on the cheap. And I know British guys (I am one!), if we're getting a round of shots as a crew we want the strongest thing on the menu, without leaving a hole in our wallet.
At a bar or restaurant decent quality stuff should be no more than £1.50-£2.00 (700 forint) a shot. And, if you really like it, a bottle from a shop should set you back around £6 (3,000 forint).

5. When and where to drink it.
Hungarians tend to - on paper at least - have a shot before dinner and after dinner, as an apéritif. But I can attest from personal experience (15 hour country wedding, very like the Godfather - don't ask) that they use it for all occasions. They are proud of their national drink, and rightly so.
When it comes to where to drink palinka, the answer is simple: everywhere. It's a bit like asking an Irishman where to drink Guinness in Dublin. If in doubt, head to any ruin pub worth its salt.
Last word: the stuff is like marmite, you will either love it or hate it. But unlike marmite palinka makes everyone pull a face after a shot: the worse face you pull the better it is.
Photo credits: uselessfishy.blogter.hu  / Rena Effendi / velenceito.info
Related and Featured Posts