25-01-2019
Top 31 Bars in Amsterdam 2019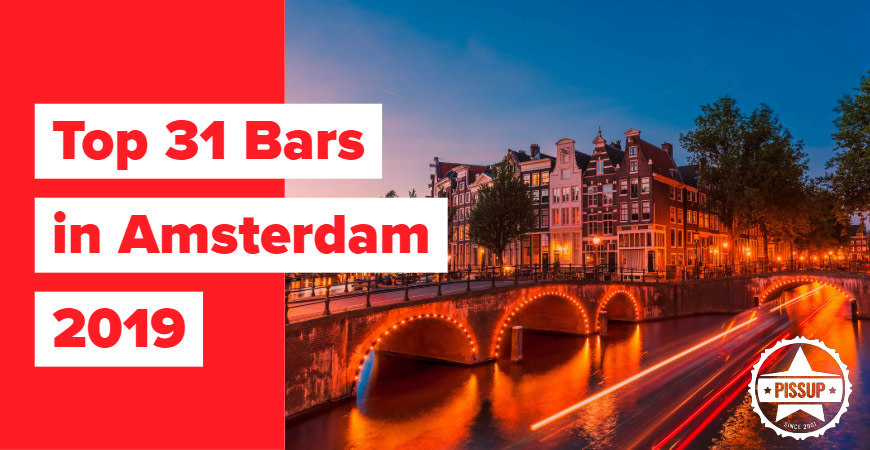 The new year is time when you make lists. We've made our own, P-ssup style: Top 31 Bars in Amsterdam 2019. Our blog on the Top 30 Bars in Amsterdam is one of our most popular posts. So we've decided to give it a bit of a 2019 update for all you potential Amsterdam Stag Do weekend warriors. Some of the bars are still on our list...but we've added some more.
Looking to come party in the Dam? Get in touch and one of our expert Amsterdam stag party planners will get back to you with tips and advice ASAP.
Read on to find out the top 31 bars in Amsterdam. This list isn't exhaustive, and its not in order of rank. But we promise all the bars & pubs (below) are well worth a visit!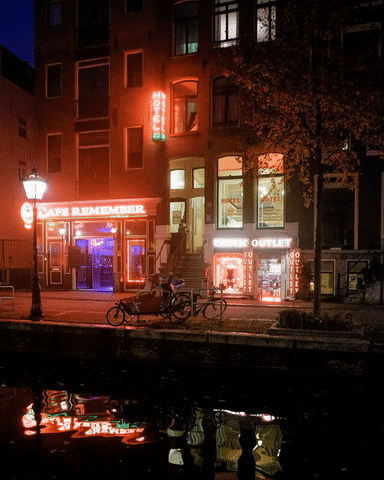 1. Vesper Bar
The Vesper Bar - think James Bond's saucy love interest in 'Casino Royale'. Or better yet, the sleek Italian moped. Either way this cocktail emporium is one you should check out. Especially the Vespa Martini!
2. Biercafe Gollem
Calling all true beer fans! This bar is famous for the variety of brews on its beer menu, Biercafe Gollem offers tonnes of craft beers. Taste before you buy!
3. Hanneke's Boom
With a history that dates back to Amsterdam's glory days of 1662, Hanneke's Boom is essentially a shack, located on an island close to Centraal Station. Watch the footie, enjoy live music, a cold beer. Relax and watch the canal boats as they drift by...
4. Louis Bar, The Tasting Pub
Louis Bar, The Tasting Pub: Formerly known as Cafe de Dam, Louis Bar, by Feb 1st this bar is relocating to from its old location on Damstraat 4 to a venue located near Central Station. Based on its old TripAdvisor reviews this new bar is sure to be friendly, quirky, football-loving and have a selection of reasonably priced beers.
5. Black Tiger Cafe
Super close to infamous Red Light Area the Black Tiger Cafe is perfect for Pissup stag party weekend warriors. Heineken on tap, plus a great selection of spirits, and according to a great number of Trip Advisor reviews, very friendly staff. Has no website so here is a link to its location.
6. Cafe Smalle
Traditional 'brown cafe' according to their trip advisor blurb. Located in the Jordaan district, Cafe Smalle is one for a relaxing beer and a snack after a hard night on the town. It's close to the Anne Frank Museum.
7. Bubbles & Wines
Located off of a central Amsterdam alleyway, a couple of minutes from Dam Square, Bubbles & Wines, offering wine lovers over 50 wines to choose from. If you want to pop a bottle of champagne or enjoy a fine wine then come here.
8. The Tailor
The Tailor is a straight-up Bond-style bar. This high-end is bar located in Dam Square where you can enjoy a bespoke-cocktail (shaken or stirred) and a Cuban cigar. Don't come here unless you intend to be chill, and spend some dosh.

9. Brouwerij 't IJ
You've heard of a p-ss up in a brewery, well how about a P-ssup in a windmill? The pub closes early (for party animals, anyway) at 8pm so make sure you check out Brouwerij 't IJ in the daytime.
10. Arendsnest Dutch Beer Bar
Arendsnest Dutch Beer Bar - their website subheader says it all, "Dutch Craft Beer Only"...so don't expect to be throwing back Jaegar bombs here. This is a place for pure beer lovers. According to the site they have 50 beers on draft, and 100 bottled beers. The bar includes a tasting room, and a terrace along the canal.
11. Floor 17
Fancy a drink on a rooftop terrace? Located in the west of the city - 85 meters up in the sky on the roof of Ramada Apollo Amsterdam Centre, Floor 17 offers cocktails and some stunning views.
12. Butcher's Tears
Butcher's Tears based on a canal side on the outskirts of the city, Butcher's Tears (and we're not talking Pat Butcher for those East Enders fans) is a small independent brewery that specialises in hand-crafted beers.
13. BRET
BRET is housed in a remarkable looking bright red building near Sloterdijk Station. Built from shipping containers, you literally can't miss it. Serving some the top craft beer bars in Amsterdam.
14. The Waterhole Live Music Bar
This centrally located live music bar, has a great variety of genres and styles in their lineup. Including 80s nights, Rock Nights, and Live-Band Karaoke. That plus draft beer, what more could you ask want?
15. Bar Americain Amsterdam
This Modernist-style bar isn't a place to go mad, it's definitely a day-after-the-night-before spot. Bar Americain is located in the American Hotel, and while the alcohol is priced, you might spot some celebs while you drink!

16. Cafe Hoppe
Cafe Hoppe is one of the most famous 'brown bars' in Amsterdam. Don't forget to sample the aged jenever, a very potent drink, or try one of their beers - they have an extensive range.
17. Cafe de Wetering
Cafe de Wetering is located in the heart of Amsterdam. There is a good selection of beer available, including Heineken, Amstel and Palm - and you can't visit Holland without sampling the classic local brews.
18. Café Int Aepjen
Café Int Aepjen is according its website housed in 'one of the last two wooden buildings in Amsterdam'. This unique bar, once a haunt of sailors, is located at Zeedijk number 1 - near the centre of the Red Light District. It has plenty of wines, beers, and spirits to quench any salty-sea-dog's thirst.
19. Bar Bukowski
Named after the hard drinking, hard-living, writer Charles Bukowski...this cool bar is In the eastern part of the city is Bar Bukowski. It stocks a wide variety of beers as well as Bukowski/L.A. themed cocktails.
20. BeerTemple
American Craft Beer bar in Amsterdam...according to to the BeerTemple site they're the only one! With 35 beers on draft on 200 in bottles & cans, you'll be spoilt for choice.
21. Molly Malone's Irish Pub
If you're up for the craic then head to Molly Malone's! Close to the Red Light Area, and not far from Central Station. This pub has the typical Irish feel of live music, friendly staff, and, of course Guinness on tap.
22. Café Luxembourg
For those of you looking to sample some real Dutch beers then Café Luxembourg is the place to go as it has an abundance of of beers available.
23. Tales and Spirits
Tales and Spirits serves...you guessed it, spirits and a great range of hilariously and wittily titled cocktails. Locatedd in the heart of the Red Light District...you'll be able to continue on the party from there.

24. iDock
No it's not a place to charge your iPhone, iDock is a stylish restaurant/bar with its own marina. DJs play here every weekend; you can enjoy the music with one of its expertly crafted cocktails.
25. Bar Oldenhof
Bar Oldenhof is based in the Jordaan district, and if your stag do crew is into scotch then you have to visit! The bar offers a massive variety of single malt scotch as well as craft beers, cocktails, wines and spirits. Open 7 days a week!
26. Cafe Scrapyard
Cafe Scrapyard is a great place for a pre-party beer or cocktail and/or a hair-of-the-dog drink the following day. If you can't face the booze it also does great coffee and well-packed burgers.
27. Whiskycafe L&B
Whiskycafe L&B is true to its name, with 2000+ whiskys to choose from! Gain some knowledge of whisky, in all its varieties, while you get "happy". Don't come here if you're after a Heineken!
28. Café de Dokter
Calling doctor booze! The tiny and very old Café de Dokter is housed in an a Rozenboomsteeg alley that houses. This old bar specialises in beers, whisky, and gin 'n' tonics.
29. The Old Bell
The Old Bell is a traditional English pub, located in the Rembrandtplein area. Open till 3am on weekends its beer selection includes Amstel, Guinness, and Strongbow!
30. Cafe Chris
Cafe Chris was opened in 1624 is the oldest bar in Jordaan, and is one of the most popular 'brown bars' in Amsterdam. For those of you who want to go back in time, while enjoying some of their selections of beers and spirits, you should definitely make sure you visit!
31. Door74
Door74 is Amsterdam's very own Speakeasy. With atmospheric 1920s-style decor, a hidden entrance, vintage-style barware, and expertly made cocktails.
---
Now you've read our Top 31 Bars in Amsterdam 2019, you'll hopefully have built up a bof a thirst. If you're planning an Amsterdam Stag Do don't forget we have a great range of Amsterdam nightlife activities on offer, including an amazing Red Light District Pub Crawl where an expert guide will take you round the best night spots in that infamous area of sin!
Related and Featured Posts