16-08-2016
Barcelona Beach Activities - fun in the sun!
Overview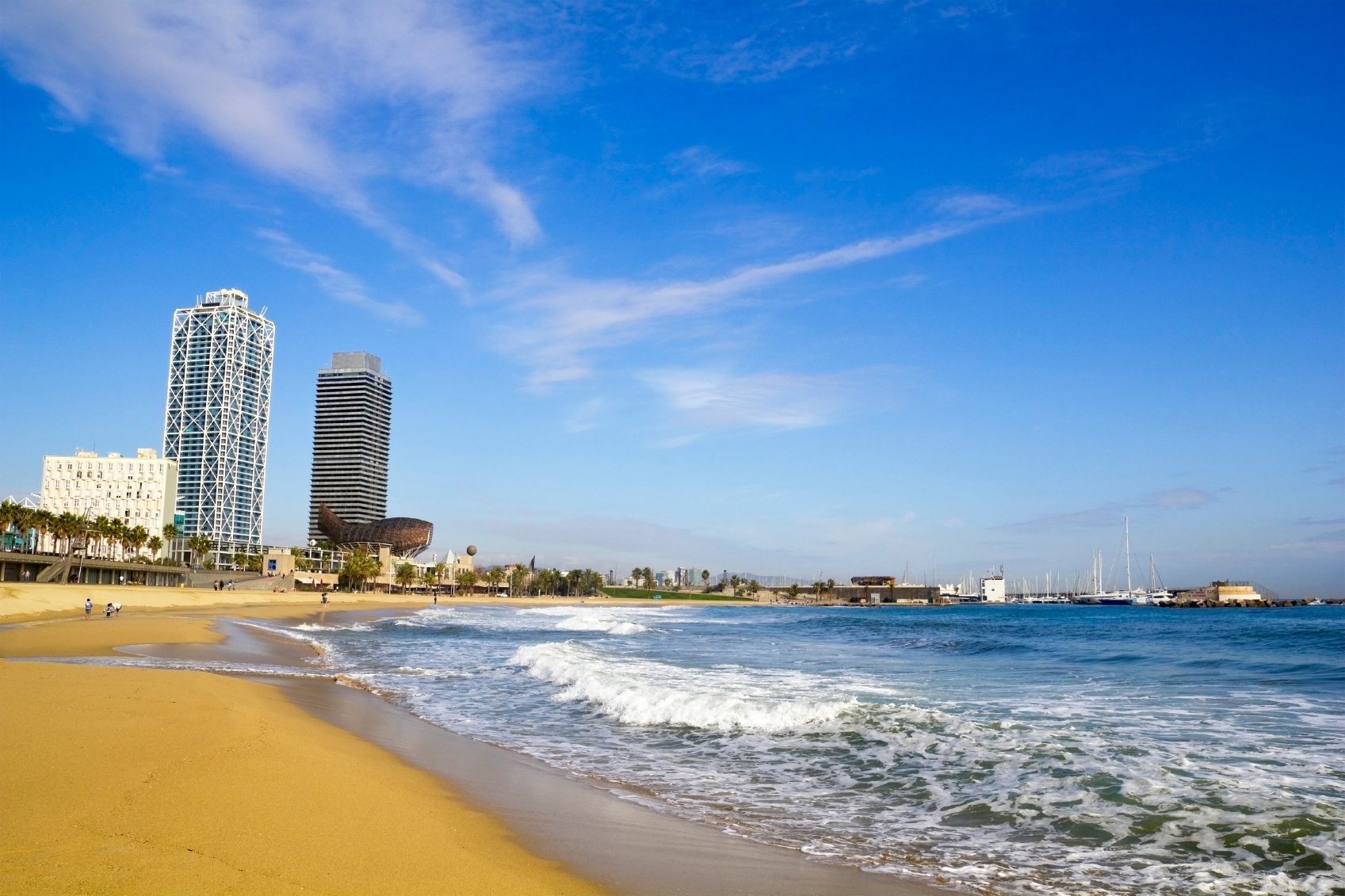 Barcelona Beach Activities
Oh I do like do be beside the sea-side, oh I do like to be beside the sea…so sang some old English chap long ago. And by sea-side he meant spending a day on one of those stony, uncomfortable English beaches, where you get burned to a crisp and then freeze to death in the cold waters. But we Brits have long got the message that if you want a decent beach holiday, on the cheap and not so cheap, then the Costa Del Sol in Spain (or Benidorm for the unfussy) and the South of France (for those looking for something more suave) are the places to be. But what about if you're on a Barcelona Stag Do? While sunny, sandy beaches aren't what we Brits think of when we think of Spain's second city, the place is full of them!
Barcelona's proximity to water, and more specifically its nice beaches is something you should definitely if you're coming here for a last weekend of freedom. Yeah, yeah - we know what you're going to say: you want to concentrate on getting three sheets to the wind in party areas such as Las Ramblas and the Gothic Quarter. But trust us - take advantage of the Barcelona Beach Activities that we have on offer, and we're certain it will make your stag weekend in the Catalonian capital extra wet and wild.
Where to Go?

The great thing about Barcelona's beaches is that you can reach them in a very short time, using the local metro services. All of the beaches in Barcelona are located on the metro line for (the yellow one). In total there are over 4 km of beaches for you to choose from, but their close proximity to the city does mean that a lot of the more conveniently located beaches are packed in the Summer. Nevertheless, whether you're looking for something more deserted and picturesque to beaches that are vibrant and fun (and full of college chicks) then Barcelona offers a great range. And if you're willing to go outside the city you can head to Sitges beaches, located 30 minutes from the centre.
Barceloneta beach is the closest from the centre, and therefore will be the busiest in the Summer months. With over a thousand metres of beach, it boasts plenty of places to get a beer as well as to enjoy some tapas. If you want a bit more of a relaxing time in the Summer months, then go a bit further away from the centre to Icària Beach. This might be just the place to relax after a hard night boozing and partying it up in Barcelona. So if you come here expect a chill out, rather than a party vibe. However that's not to say it's isolated: there are a number of restaurants and bars dotted around. And if you fancy getting your kit off there's even a a nudist beach, Sant Sebastia, located at the southern end of Barceloneta.
Adrenaline-Fuelled Madness

But what if you're one of those adrenaline-mad lads? What Barcelona beach activities can you try out to get your blood pumping? We'd recommend Wakeboarding at a Wakeboard Cable Park. Located close to the centre on one of Barcelona's many beaches (see above) you will get to have a go at Wakeboarding without the need to be dragged along by a speedboat. Instead you'll be pulled around by an electric cable which is suspended in the air above water which makes for a different experience to being pulled by a power boat. However that's not to say this is in any way a dull ride…far from it. You'll be flying off the seat of your pants, guaranteed!
For the Adventurous

Why not take advantage of the wild attractive places located outside of Barcelona? Come on the famous Costa Bravan coastline. You and the boys will get taken via coaches to a beach in Barcelona. There you'll explore around the beautiful coastline with its jagged cliffs and crystal-clear water. You'll also get a chance to see some of the marine life, with stops for snorkelling. After you've had your hit of 'Under the Sea'-style adventures you can enjoy a nice picnic lunch on the beach - and you'll have worked up an appetite after that, trust us!
Chill out on the High Seas

'Oh no', you'll say, 'all these Barcelona Beach Activities are so much effort…can't I just enjoy the waters and do nothing?' Well, yes you can. On our Public Catamaran BBQ you can really relax for an afternoon (it lasts 3 hours), with stops for swimming in the warm sea. Kick back with a beer and enjoy a barbecue which is included in the price - and you can get more booze on board. The best thing about this activity is as its a public catamaran you'll get to meet other revellers. Plus there's a DJ on board to get you into the groove while you sail around the coast of Barcelona.
When the Sun Goes Down

But what if you want to seriously hit the beers and enjoy beach life at the same time? Well Pissup has you covered. There are a load of bars located around the beaches of Barcelona - but if you book our Pissup Bar Guide we can take you to a party on the beach! That's right: after you've experienced some of the liveliest bars that Barcelona has to offer, you can top it off by taking you to a nightclub located on one of Barcelona's beaches.
---
Like the sound of the Barcelona Beach activities that we have on offer? Then get in touch today and we can get you booked up for a Barcelona stag weekend that will go down in legend!
Related and Featured Posts