27-09-2016
5 Amazing and Fun things to do in Barcelona
Overview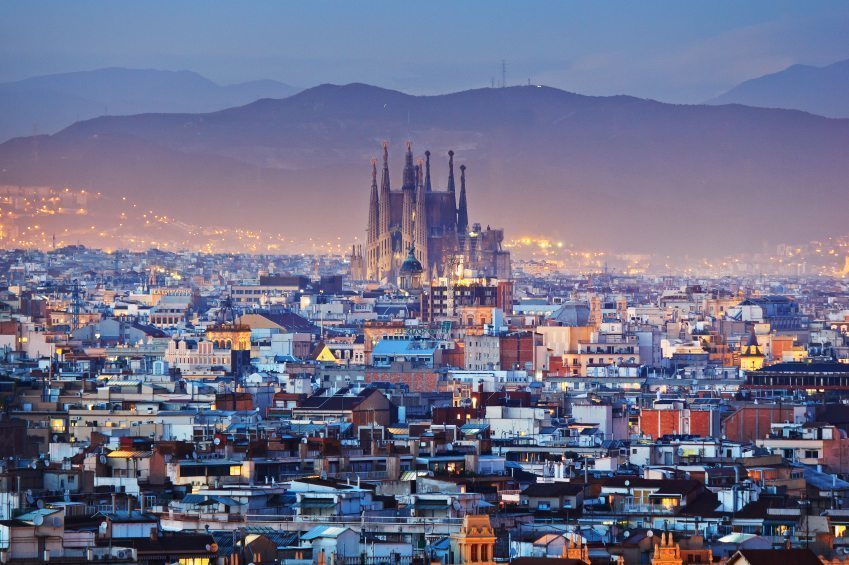 Q: What's so great about Barcelona? A: A lot!
Ahhhh, Barcelona - in the words of the late Freddy Mercury: 'Barcelona - how could I forget?' And believe me if you book a Barcelona Stag Do with Pissup you'll never quite forget what an awesome city this is after visiting it. There are plenty of fun things to do in Barcelona - trust us.
This unique-looking vibrant city located in the North East of Spain has ancient beginnings. As the capital of Catalonia, an autonomous region, historically Barcelona it has been part of the Kingdom of Spain for over 500 years. And many of the locals still feel themselves to be different from the rest of Spain (and many want independence, like the Scots)…so make sure you don't start a sentence like 'Well, you're Spanish' because you might get back 'No, I am Catalan!'. But enough with the politics: you are here to have fun - and we're going to show you the best things to do in Barcelona.
So check out our blog on five awesome things to do in Barcelona!
1. Go all Gaudi

The first thing that you'll notice about Barcelona is its beautiful architecture - Coventry post 1945 this is not. While it has its fair share of modernist concrete monstrosities it seems it has retained many of its attractive medieval architecture, which can be found in the Gothic quarter - the heart of Barcelona's Old City. But the most iconic building of Barcelona were designed by one man: Anton Gaudi famous for his unique styles which took inspiration from organic shapes.
His legacy is the Sagrada Família, a basilica church, and the focal point of the city. The building (even if you don't get a chance to see inside) is a must see for anyone visiting the city. Construction started in 1880s and the final phase of building only began in late 2015 - 133 years later! If you want to see some beautiful buildings and learn about the history of the city from an expert guide, book out Barcelona walking tour (you won't be disappointed!).
2. La Boqueria (the Market)

If you love food and drink (and who doesn't?) then a trip to Barcelona's most famous market, Le Boqueria is a must. Located in La Rambla, Barcelona's slightly seedy answer to Oxford street, it is the main produce market for the city. Open between 8am and 8.30pm every day except Sunday it houses stalls selling every kind of food and local delicacy. As well as bars where you can grab stool and enjoy a glass of local wine plus some seafood, tortillas other classic local dishes for reasonable prices. Want to combine a bit of sightseeing with some drinking as well? Our sightbeering activity is the perfect way to get rid of your hangover.
3. Bums and Boobs in Bagdad!

things to do in Barcelona - go to Bagdad!
When day turns to night the southern part of Las Ramblas comes to life! At a whopping length of 1.2 km its southern most end starts at the Port Vell (where cruise ships stop). A word of warning about the area: It's probably somewhere you want to avoid. A least by night as it has a (deserved) reputation for being a spot filled with street prostitutes, pickpockets and scam artists. While we here at Pissup like a bit of red light area fun occasionally, getting robbed isn't our idea of fun! But if you want a bit of fun-but-not-dangerous-seediness, then we can get you into the Bagdad club. There you'll get to see a hot and sexy show performed by some local stripper girls (not to be missed!).
4. Tap some Ass

Well the science is in guys, and it proves what your Mum etc told you when you were a plucky 18 year old about to hit the town…yes: you should eat a decent meal before you start on the beers. And if you're a food lover then you've certainly come to the right place. Spain is famed for its food but Barcelona, and Catalan generally, has a reputation for being delicious. They really know how to make things tasty here. Butter on your bread? Forget it! Locals prefer to spread tomatoes, oil and garlic on their bread!
Thanks its location on the Mediterranean you can also get great fresh fish and seafood. Alongside this you can except the thin salami-like sausage and pungent cheeses that seem to typify every country that isn't in the British isles. But what about that quintessentially Spanish idea: tapas? Well actually that isn't native to Catalonia, but the tradition has long since been established in this part of Spain. And for you lads we have a treat: our Spanish TapASS activity combines a nice tapas meal with a hot private strip show for dessert.
5. Go Gothic (till the wee hours)

As we mentioned above the southerly part of Las Ramblas has a deserved reputation for being a wee bit dodgy. But there are other areas (barrios) to party it up in Barcelona. For night owls there is no better place to be than Barcelona - things open late here, and stay open late. The two main areas aside from Las Ramblas are Raval and the Gothic Quarter. Imagine partying it up in medieval area with atmospheric buildings and ancient winding streets - surely better than Leicester Square on a Saturday night?! There are plenty of places to choose from…almost too many.
That's why we'd recommend a bar and nightlife guide. Our Pissup Bar Guide and Night Club entry is perfect for lads who've just touched down in Barcelona. You'll get taken round top nightspots by a fun and friendly local. And if you're coming here for a weekend you'll know where to go on your own on the second night!
---
Did you like our top 5 things to do in Barcelona? Contact us and we can help organise a stag do weekend that will go down in legend.
Related and Featured Posts