20-10-2016
German Beer Festivals: A Guide to the Best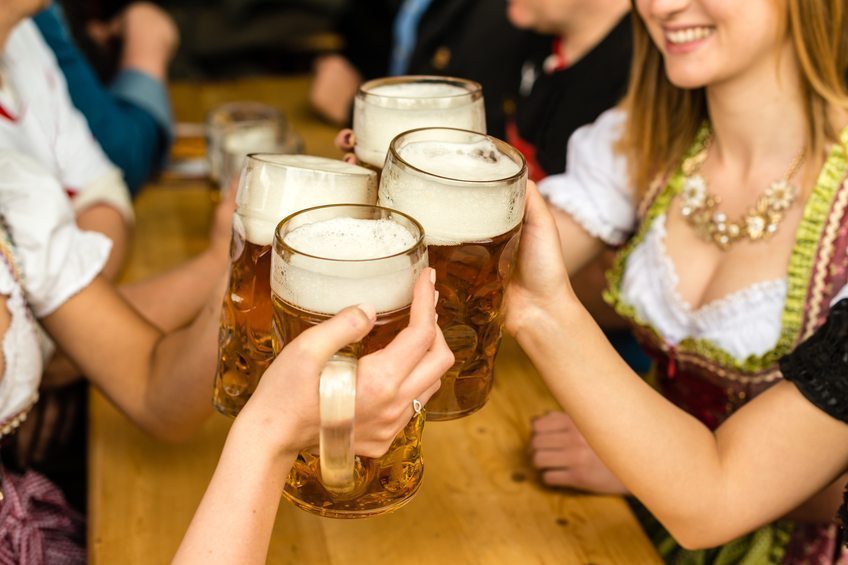 Beer is the ultimate stag do fuel
Oktoberfest may be over, but beer drinking in Germany is a constant throughout the year! If you and the boys are going on a Hamburg Stag Do, for example, you'll want to down tonnes of liquid gold. And why not some local stuff? Germans brew some of the finest beers in Europe. Beers that, unlike that Dungeon's & Dragon's ye olde ale-p--s we serve in Britain, actually tastes good…okay we're exaggerating slightly. UK ale isn't that bad. However when it comes to crisp, refreshing and tasty lagers the Germans really know their stuff. We all know about the generic brands like Becks, but the range of German beer goes well beyond that! And there is no better way to gain knowledge of beer than drinking it - and a German beer festival is the perfect place to improve your palate.
You can find great beer in all German cities. And great beer-based activities too. So check out our favourite German beer festivals to get the low down on where to go and what to expect. Plus some cool trivia and tips on fun beer-based activities. You can do these even if you're in any of our destinations when a beer-festival isn't on.
There are good historical reasons why German beer is so tasty...

Amazingly those crisp lagers that German's are so famous for, have only been brewed for 150 years. Considering it has a thousand year history of brewing beer that is quite a short time. And remarkably, up to the 16th century the Germans strictly brewed ale! But then again we in Britain only got Christmas trees in the C19th so…who cares, right? Well there is another important historical fact that tells us much about the present-day quality of German beers.
The oldest food & drink regulation in the world is the Purity Law (Reinheitsgebot). Enacted by the Duke of Bavaria in 1516 it stated that beer could only be brewed using 'barley, hops and water'. Because of this Bavarian beers became the nonpareil of German beers, and other cities and principalities in German soon followed suit. Thus the quality of German beer was assured from that moment!
What of the German beer festivals? Well there are plenty to choose from, all with tasty lagers available and offering a traditional (and modern) feel.

'But what of Oktoberfest,' we hear you ask? Well that 'OG' of all German beer festivals has been going since 1810. It started in Munich as a festival to celebrate the Crown Prince Ludwig of Bavaria and Princess Therese of Saxony-Hildburghausen. Nowadays they're on to their 183rd Oktoberfest. The festival is held in Munich in late September/early October, and attracts over 7 million visitors who consume over 6.9 million litres of beer! The next Oktoberfest is 1 year away, but don't worry if you're coming to Munich for a stag weekend in the meantime. Book our Beer Garden Tour and come and have an authentic beer drinking experience!

The International Berlin Beer festival may only be in its 20th year, and over a hundred and fifty years younger than Oktoberfest, but it has a well-deserved reputation. Reflecting the fact that Berlin in a cosmopolitan city, a range of breweries from 87 countries serve their wares to thirsty festival goers. The festival is located in the Friedrichshain district on Karl-Marx-Allee between Strausberger Platz and Frankfurter Tor. Admission is free, and visitors can enjoy live music played on 20 different stages. But what about beer-based activities if you're coming on Berlin stag weekend? Well come check out Berlin's burgeoning craft-beer scene and come on a Microbrewery pub tour. Learn about how the beer is brewed…then try the stuff (result!).

While the Hamburger Dom is not strictly a beer-festival, it is instead one of the biggest fairs in Germany. Because it's held three times over the year, in Spring, Summer and Winter you'll (hopefully) get a chance to visit it. Far older than Oktoberfest, it began in 1337, founded by a collection of performers and merchants. It is held on the Heiligengeistfeld fair ground in central Hamburg. So rather than just sitting in a beer tent, drinking out of mugs and trying to join in with some local beer songs - at this fair you can drink beer and go wild on fun rides. If you want more of a traditional beer-drinking experience in Hamburg come on our . Learn about the history of the brewery then enjoy a couple of cold ones afterwards!

The Cannstatter Volksfest, known simply as 'Wasan' to the locals is a bit like a combination of the Oktoberfest with the Hamburger Dom fair. It is the second largest of all German beer festivals and attracts over 4 million people a year. The origins of the Stuttgart Volksfest are less romantic compared with Oktoberfest. It was founded by William I of Württemberg after a long famine and crop failure, as a celebration of a bountiful harvest.
This three-week festival is held between September 23rd and October 9th. As with Hamburger Dom and Oktoberfest there are lots of fair-ground attractions, with the ferris wheel being the star attraction. Unlike Oktoberfest this festival is far less touristy and therefore more "German" and traditional. Another bonus is that if you miss Wasan, there is also a Spring beer festival which is on between April 16th and May 18th. And even if you miss both festivals we also offer a Stuttgart Beer Hall Tour and German Meal and Beers. Both these activities are guaranteed to give you the hit of authentic German beer experience that you need!
---
Like our German beer festivals guide? Planning a stag do in a German city - well contact our expert party planners today and you'll help create a weekend that will go down in legend for years to come.
Related and Featured Posts