08-02-2019
Budapest wins best European destination for 2019
Budapest has just won 'European Best Destinations 2019 - 15 best places to visit selected by travellers' from a shortlist of 20 cities.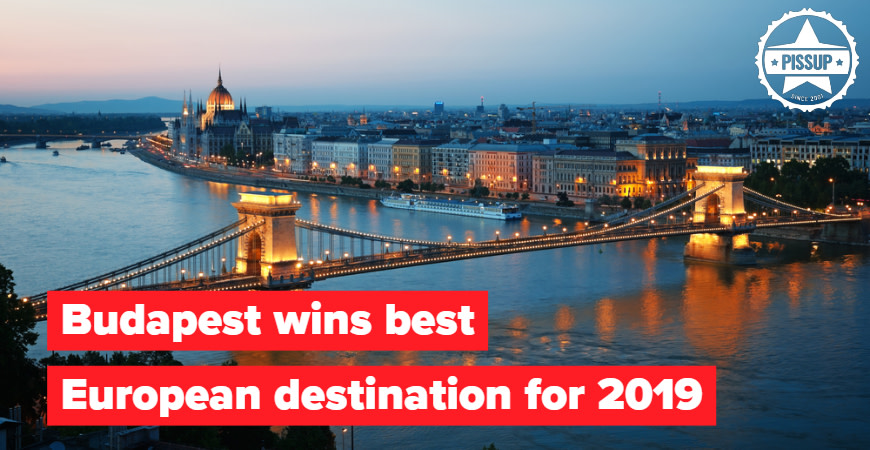 Damn it, the secret is out! We've been organising KICK A* STAGS in Budapest since waaaaay back...AKA the good old days of '04. Also, WTF? It took the travel experts, and the non-stag do going public, all that time* to find out what we've known for years: Budapest is hands down one of the best European destinations to visit.
A Budapest Stag Do has consistently been one of P-ssup's most popular stag destinations for UK lads.
To put it in simple terms: Sod the rest, stag dos are the best…in Budapest (hey, that rhymed!).
Read on for more on: i) THE AWARD itself; ii) Why BUDAPEST IS A WORLD CLASS DESTINATION, which has won serious awards before; iv) OUR VIEW of why Budapest is not just one of the best European destinations, but is one of the best European stag destinations.
THE AWARD (IT'S LEGIT)
Budapest won the top spot in the European Best Destinations (EBS) contest to find the best city to visit in 2019. The competition to find the best European destination has been going for a whopping 10 years - and Budapest only joined last year (it came 8th!).
The EBS is an established company who work with the EDEN, a network set up by the European Commission, and city and tourist offices across the Continent. That means they're legit. This year, according to an article in We Love Budapest, over 62,000 travellers voted. That's a lot of clicks for Bud. NB: 77% votes were from outside Hungary, so for all you cynics, there's been no funny business. Budapest won fair and square.
It's easy to see why Budapest came top in the best places to travel in Europe 2019. Its bars, clubs, spas, and festivals are world class...
BUDAPEST IS A WORLD CLASS DESTINATION (& MULTI-AWARD WINNING!)
Budapest's bars and nightclubs have been winning awards for years, and by awards we mean world class awards. The A38 Club, the barge turned bar/club/restaurant on the Danube, won the Lonely Planet's best club in the world award back in 2012. And the famous ruin pub, Szimpla kert, came 3rd place in the same competition! Ruin pubs are the ideal place, uh, to get ruined...
As well as an award-winning nightlife scene, Budapest has held the title of 'City of Spas' since 1934, with more spas than anywhere else in the world. There are 118 springs in the city, which provide over 70 million litres of thermal water every day. If you can't get rid of your hangover here…it must be a bad one. But if you need a hair of the dog there are also Spa Parties - AKA Sparties - where you can get wasted and boogie on down at night...in the thermal waters. Oi, no p--sing in the pool!
Sziget Festival is one of the biggest festivals in the world, with amazing line-ups that cover all popular genres over 9 stages. Held once a year, during in a week in August on Obuda Island, Sziget has a beach, an amusement park, plus chill out areas - it has something for everyone. And by 'everyone' we mean the 500k+ revellers who come each year. For the truly hardcore, the party animals among you, combine a stag do with a trip to Sziget. Your liver won't thank you, but your brain will!
BUDAPEST IS A TOP STAG DO DESTINATION - HERE'S WHY:
The EBS award is all about finding the best places to travel in Europe 2019 - voted for and by the travelling public. Now, here at P-ssup, we're a bunch of knuckle dragging barbarians (mostly), so our criteria when it comes ranking a stag destination is going to be a little different from finding the best destination in Europe...
We prefer the three B ranking method - AKA Beer, Babes, and Bullets - and looking at it from that angle, it's clear to see why Budapest is one of the best stag do destinations in Europe!
Beer - Budapest is a great budget European destination. It may look a bit like Vienna, but the beer prices won't blow a hole in your wallet. Pints in Budapest cost on average £1! That's right. You'll have more money for booze if you choose a Budapest Stag Weekend.
Babes - EBS didn't factor in the babes. Well we have! Hungarian women are hot, and there are some crazy strip clubs here to see some t-ts and a--. We can even take you on a Bar Guide & VIP Strip Club entrance. It's the most hardcore stag night out ever!
Bullets - Budapest has some awesome shooting ranges where you can pull the trigger on a crazy range of guns…some of which you know from those classic 90s Hollywood action movies. The AK-47, the Glock 9mm, the Magnum 357, and the Mossberg pump-action shotgun. Try all of the above on our AK47 Full Metal Jacket activity. It's time to go full Rambo!
---
Have we convinced you that Budapest is the best destination in Europe, and a top stag destination to boot? Want to book? Get in touch and one of our expert Budapest party planners will get back to you ASAP.
P-ssup: we'll help organise a stag do that will go down in legend for years to come. Book today!
Related and Featured Posts