05-10-2016
Five Cool and Exciting Things to do in Copenhagen

Beer, Adrenaline and Bond-Style Nights in Copenhagen
Copenhagen is a great destination for all you guys out there who love adrenaline-fuelled and other wild activities. If you're thinking of a coming on a Copenhagen Stag Do and you love to try things out of the ordinary then this is the city to come to. Finding things to do in Copenhagen, or any city like it, is obviously not a chore - but to find insane and amazing things to do in Copenhagen is another matter. That's why we decided to put this blog together to give you 5 insane and amazing things to do in Copenhagen. Check it out!
For the stag do weekender there are plenty of things to do in Copenhagen…
…If you love lager then you can indulge in your love of Carlsberg till your heart's content. Or if you love water-based activities then the coastline around Copenhagen is only, at the most, around 50 km away. If you're an extreme-lad you can get your adrenaline kicks in a variety of ways. And if you like the finer things in life you'll enjoy this city's cool and sophisticated vibe. We also have the activities to help create a the luxury stag weekend that even James Bond at his most snobbish approve of. And if you are a bit of an adventurous type who likes the idea of alternative lifestyles (and all that hippy stuff) then there are plenty of places to go explore, including the infamous Free Town Christiana.
1. Swimming in Beer (not literally)

Things to do in Copenhagen - beer o'clock!
Denmark has long been dominated by two main breweries, Carlsberg and the Royal Unibrew. They reflect a tradition of brewing great beers that stretches back through the centuries. You can see echoes of this old tradition in Christian IV's brewhouse that was first constructed in 1608 (though it was originally built as a medieval fortification, and only later, briefly, became a brewery). In recent years that has been something of an explosion in microbreweries in Denmark, and Copenhagen specifically. So that beer lovers can find a variety of Danish beers and lagers - not just the big two - in the bars and clubs of the city.
But if you're coming to Copenhagen you'll want to see some classic sights (there's plenty of places to have a hipster brew at home), so we suggest booking up a with us. You'll get a tour of the brewery, some history, and after your afternoon 'lesson' is over you can try some of the stuff (two beers included in the price).
2. Walk on Water (literally)

Things to do in Copenhagen - zorb suits allow you to walk on water!
Copenhagen is the ideal place for water-sports and water-based activities. To repeat what we wrote above in the Danish capital you are only ever around 50km from the coast. Copenhagen itself is located on Zealand, the largest and most populated island - there are 406 - in Denmark . And even if you stick to the city centre you won't be able to avoid the water! One of the most picture-perfect spots in Copenhagen is Nyhavn area, which is the waterfront and canal district (like Covent Garden even if you haven't been there you'll know it when you see it).
But what about Walking on Water? Surely that's just hyperbole? Not at all! Book our Walk on Water activity and you roll across the water in a zorb ball (like an inflatable hamster's wheel). If you're looking for something a bit more chill to do on water (and it's warm) then book our private boat cruise. You'll get to enjoy two hours on the seas, the perfect way to relax and unwind before a big night out.
3. Adrenaline kicks - Viking Style!

There's no denying it, those Vikings were the badasses of the Dark Ages. Even though their descendants are much much calmer! We've all seen the show (and yes they did love to invade Britain). And while they didn't actually wear horned helmets, they were just as vicious as legends say they were. While we at Pissup cannot offer you the chance to ride in a Viking longboat and invade the coats of Britain and plunder some churches, etc. We do have some Copenhagen adrenaline activities that will get your blood pumping Viking style!
Forget Vikings why not dress up as Sumos? We have two hilarious Sumo activities including Sumo Relay and Sumo Wrestling. Whether you want to beat each other in a race or beat each other up: the choice is yours! If you have an absolute need for speed then book our RIB speed boat and race along with the wind whipping in your faces (make sure your toupee is stuck on properly). For the potential (and real) Robin Hoods' among you, who want to prove your marksmen skills, try our Copenhagen Archery activity.
4. My name is Stag, Drunk Stag - licensed to thrill.

things to do in copenhagen - Bond style fun
Denmark is one of the richest countries in Europe, nay the world. And it shows. Walk through its chic squares, exclusive shopping district, and past its luxury restaurants - and you'll see Copenhagen certainly isn't wanting for cash! But obviously, unless you really are James Bond, a 007 style weekend is going to set you back a lot of cash. Even if you want a simple pint of lager its going to cost around £5. But we have some James Bond style activities to do in Copenhagen. Activities that will make you at least feel like you've had a luxury night out.
Ever wanted to learn how to open a bottle of champagne with a sword? Well on our champagne tasting and opening with a sabre you can. For those who want to be a sophisticated classic male of times past then learning how to smoke a cigar is a must. Book our and you'll enjoy some fine cigars plus a whisky help it go down (and in the Bond books, rather than the movies, he drinks far more whisky than he does vodka martinis shaken-not-stirred!).
5. Have a Helluva Happy Time in Hipster Hangouts!

things to do in copenhagen - cool pubs and strip clubs!
When it comes to trendy/cool/hipster/boho places Copenhagen has an abundance of them. So if you like to be in the cool neighbourhood whichever city you go to then you'll love it here! There are two main hipster areas: Vesterbro, which used to be the "seedy" part of the city. And also Nørrebro which has a mix of newcomers to the city, and hip locals. As with many cities in Europe these places were once working class districts that have recently gentrified. So they retain the sort of edgy feel you get in London's Soho and Fitzrovia.
The best way to see any city, especially on an action-packed stag weekend is to book a walking tour. But as a stag you'll want to see the nightlife spots first: so why not book our Copenhagen Pub Crawl? You'll get taken round the kind of pubs and bars you want to go to. Lead by a fun, friendly local guide! And to top if off you should book a . See some hot Copenhagen girls get down and dirty just for you.
---
Enjoyed our 5 Amazing things to do in Copenhagen blog? We can make it happen for you! Contact us today and we'll help create a stag weekend that will go down in legend.
What should you do now...
Serious about your Stag Do? Want to take yours to the next level? Head over to destinations, choose, and book your stag do with Pissup.

Avoid Common mistakes to which most Stag Dos fall victim DOWNLOAD our FREE Stag Do Planning Cheatsheet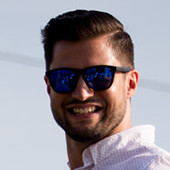 Written By Patrick Burmeier
Related and Featured Posts