18-04-2016
Interview with Pissup's Budapest stag guide Keni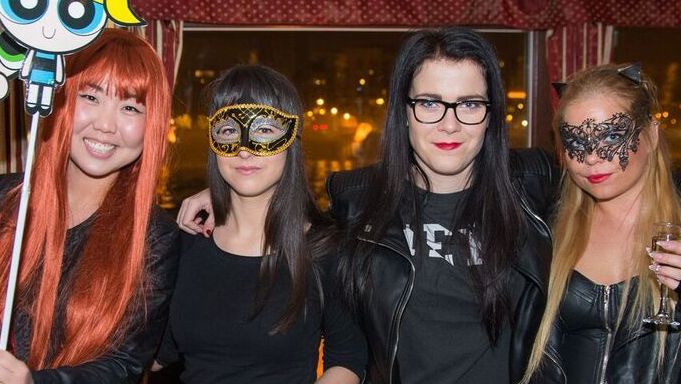 Fun insights from a top Pissup Budapest stag guide...
A Budapest stag do is a classic choice for lads all over, and we at Pissup have been organising awesome weekends there since 2001. But what makes a great stag do in Budapest? It isn't just the amazing range of activities that we offer, it's also the guides: they are with you from the moment you touch down into the airport, taking you to your hotel via (Hummer Limo) transfers around the city, right to the end of the weekend. But it takes more than 'nannying' to lead a group of lads round Budapest, and that's why we thought we'd interview our top Budapest stag guide, Keni!
In the interview below she gives us the low-down on what it takes to be be a great Budapest stag guide, drinking, how she deals with flirty guys, and how she crafts awesome bar crawls.

So tell us about yourself: what's your background? Where are you from? Do you do other things as well apart the guide job, ...? How long have you been a Budapest stag guide?
Hey, I am Keni, from Pissup and I am 24 years young! (: Keni is my nickname, everyone calls me that, ever since childhood. My real name is Kinga, traditional hungarian one (so that covers that I am 100% percent hungarian), but rolling with Keni is so much easier, especially when you are dealing with tons of guys from different countries, who have to know your name better than their own because they depend on you like crazy, at least for a weekend, anyway. They are usually surprised to see me, being a girly girl waiting for them at the airport or at the hotel reception, because judging by the name, they always expecting a man. It is a pleasant surprise for them, I guess (: It is easy to remember the name because it is just like the hoodie-guy from South Park.
I went to uni in Budapest and I have been living there for the past six years. Love it, amazing city. Taking on the guiding job was a perfect opportunity for me to take care of myself financially throughout uni.
Me "doing other things" is also associated with Pissup. I finished my studies and since January, I am now officially a full time member of the crew as an after sales consultant and inner tour manager. Climbed the ladder so to say. I have been a guide for four years, kind of a veteran. Now doing both jobs is overwhelming sometimes, but I would not have it any other way.

What's a typical day like for you, as a Budapest stag guide?
I pick them up from the airport, welcome them, take them back to the hotel, make sure that everything is okay while they are checking in, then I let them be for a couple of hours, until the next activity. They usually book a pub crawl but beforehand, I like to take them out to dinner as well. If you consume alcohol on a regular basis, you must know, it is immensely important to have quality food in your system. The drinks are at least third of the price here in Budapest than for instance in London. So the guys are usually so happy about it, they try to drink their monthly amount of liquid in the first hour. Being a good nanny, I have to look out for their best interest and take them out, to have proper food, usually steak, or some sort of Hungarian specialty.
Once they are fed, we begin to explore our possibilities in the fabulous nightlife of Budapest. Here, we are quite lucky. The variety of places to go are crazy, as well as the amount of them. I take them to four-five bars, to mingle with strangers, change stories and phone numbers. I love this part. They enjoy each others company usually just as much as complete strangers'. Then we go to a club to show off some moves.
The next day, usually some activities are booked, like shooting or a cruise on the Danube. These are good, team building activities, help them to get back on their feet after the mother of all hangovers. They compete, make fun of each other and collecting memories.

 What kind of qualities should a guide have? (What makes a guide being a good Budapest stag guide?)
That is a good one. When I think of our crew, we all have totally different personalities and methods on have we like to do our job. Still, we all considered to be best of our kind, at least I hope, our fabulous boss thinks of us that way. When I think about how I ended up being a tour guide, it always makes me smile. Back in the day, I was not going out, like the rest of my friends did, I was kind of a stay-at-home person. So when this opportunity came, I told my mum and she was flabbergasted that out of all things that I could be doing, I want to take a handful of strangers to party.
Even my boss was not sure to hire me at the first place, since I started my job interview by stating "I am a total geek" and that is not the best line to throw in, when you are applying to deal with a bunch of total strangers who tend to be drunk throughout the whole thing. I learned everything on the road. And by everything I mean literally everything about being good at my job and how to evolve as a person.  I am a completely different person than I was when I applied for the position. I always make this joke of being the 3Fs, fierce, fearless and fabulous.
You have to be confident, loud and clear on everything, but funny and easy to get along with, at the same time. People might think, that doing this job is all glitters and champagne, which it is, right after you have dealt with every task at hand, granting them safety and their money's worth. It comes with enormous responsibility on the guide's part.

Do you sometimes get a beer with the groups?
I do not drink. I used to, one or two were a must, just to get in the mood. The guys always encourage us to drink, which is a good thing, because they consider us as one of them. At Pissup we do not operate with the "You must not drink on the job."-policy. We rather use the "You can drink as long as you know what you are there for" one. So yes. I used to get hammered with them, then I got committed to fitness, so no empty calories for me! (: Doing it sober is a completely different ball game and I love it. Gives me a different perspective on the whole thing. Sometimes it is harder than it used to be, but that is how it is.
 I could imagine that it's hard for a woman to accompany a men's group. How do you think about it?
It is definitely not as easy as it would seem to a lot of people. As I mentioned earlier, it is not always champagne and glitter. They will try to make their way to you, flirt and try do do more on occasions. Flirting is fine, it is all natural given the circumstances we are in, but yes… sometimes they tend to be rude and act like they can do whatever they want, "because they paid for it". I consider myself lucky, I learned how to deal with these situations and have the upper hand. I lay down the rules regarding my role in their extravaganza quite early, so they know where they need to be. It is all the matter of firmness and confidence.
How do you react if the stag group try to "flirt" with you?
It depends on how they approach me. If they are gentle and polite about it, I obviously take it as a compliment. When they are physical and rude, I just shut the whole thing down very quickly. I am not all rules and regulations all the time, of course I flirt. Sometimes quite hard to be honest. But I never take it further than that.
What activity from the Pissup site do you like most and would really recommend?
The Bar Guide for sure, that is the coolest activity in my opinion. My personal favourite. Budapest Bar Guides tend to take friendships to a whole new level. Because you know, what happens in Budspest, stays in Budapest.
---
We hope you enjoyed that interview with Keni, our Budapest stag guide - if you like the sound of Bar Guides and wild times in Budapest then contact us today and our expert party planners will organise a stag do that will go down in legend!
Related and Featured Posts