27-11-2015
My Best Man Experience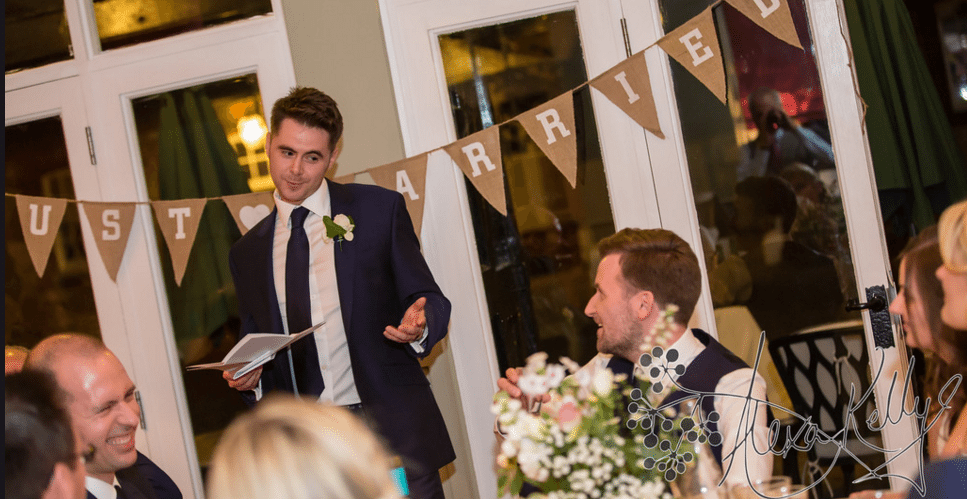 My Best Man Experience
In December of last year (2014) my best friend of 18 years got engaged to his lovely girlfriend whilst on holiday in Bali. They'd first hooked up in Berlin  9 years ago and therefore it wasn't much of a surprise when they announced it to the world on Facebook. In April he asked me to be the Chief Best Man with two of my other closest pals being asked to lend me their support as best men (confusing structure hey!). So with only 6 months to the wedding, I needed to get working on the stag do ASAP. I am sharing my experience with you to help anyone who may be looking for inspiration for a stag do or would appreciate some tips regarding the wedding day and the best man's speech itself.

"Hooves and Grooves" - our UK stag do
The stag wanted as many of his friends and family to attend his last weekend of freedom as possible. Therefore we decided to have two stag dos - an adventure abroad for his younger friends and for the older generations and those not able to travel - a "respectable" day out at the races. This latter event came complete with a Stevie Wonder tribute act playing after the last race and was geniusly titled "Hooves and Grooves". Amazingly the young Stevie Wonder sound-alike was led on and off the stage just like the real legend himself (the highlight of my day – even eclipsed winning £150!!).

Hamburg's famous Alster Lake
After whittling down possible dates with the list of invitees via Doodle (I strongly recommend this tool) it was time to get our adventure abroad all booked up. My fellow best men and I decided that Hamburg should have the pleasure of hosting our best friend's stag weekend away. Germany seems to be the country to visit right now and I'd heard that Hamburg had a lot going for it including a great nightlife and very acceptable prices – two essential components of a successful stag do abroad. So after selecting our accommodation and some activities that we thought he'd appreciate on www.pissup.com, I booked the group's return flights to Hamburg.
After weeks of excitement, the weekend of the stag had finally arrived. I was living in Copenhagen at the time and therefore I was headed to Hamburg by train. I hadn't seen my mates since Xmas and so I was buzzing en route to Copenhagen Central Station. This excitement was short lived as the entire Danish rail network had been shut down due to a bomb threat. Given the terrorist attack that had happened 6 months previously in the city, it was understandable that the police were taking this security alert seriously. So my door to door journey to Hamburg which should have taken 5 hours actually took 12! The security alert also resulted in packed out trains. Luckily I managed to score a seat in First Class next to an annoying American family who relentlessly documented their train journey with their digital camera. It made an irritating sound every time the flash went off. If that wasn't aggravating enough, the father kept repeating each announcement made by the train driver to his wife and daughter - almost immediately after it was made.  However, I was very lucky - the rest of the standard ticket holders were slumped on the floor of the carriage outside. Many had to stand for hours.

The stag makes his standard two metres before falling into the water
Even though I was 7 hours late to Hamburg and nearly an hour late to our first activity (waterskiing), I still managed to beat my friends to the venue. On arrival I was greeted with torrential rain and a rumble of thunder – perfect waterskiing conditions! Twenty minutes later the rain had stopped and the sun appeared. Another 10 minutes later and my friends decided to do the same! The girl on the reception was very understanding and told me not to worry about the rest of the group's atrocious timekeeping. After greeting my friends it was time to hit the water ... primarily face first! I knew waterskiing was meant to be hard but I thought I'd go a little further than I actually did. I took solace in  the fact that the majority of my group were equally as bad! Irrespective of our waterskiing abilities we all had a really fun couple of hours. The venue was uber cool and its German staff were very hospitable
Next up was dinner at an all you can eat Brazilian Rodizio BBQ ... heaven! The majority of the group had never been to a Brazilian restaurant and it is safe to say they thoroughly enjoyed the experience. We liked it so much that we went back the next night. Slice after slice of succulent meat was carved on to our plates accompanied by tonnes of chips and sides. This was the perfect way to line our stomachs in preparation for the night ahead! If you're in Hamburg and want to sample local German cuisine .... don't... just visit this Rodizio! Trust me!
After stuffing our faces it was time to hit the bars and as you would do on a stag break in Hamburg, we

headed to the Reeperbahn. I had been to Amsterdam a couple of months beforehand and it was only natural that I wanted to compare the notoriously naughty neon Red Light Districts! The area was buzzing – a lot livelier that I had expected. As we slowly walked along the bustling strip we were approached by various men in horrific animal print shirts, each asking us if we wanted stripteases (not from them thankfully!). We agreed to one and walked through a dark doorway for 10 Euros each. We were greeted with the most unarousing scene ever. We sat at cheap tin tables and on the plastic chairs you had at school. As for the women...well let's just say they weren't the youngest or the best looking in Hamburg! This place was awful but hilarious at the same time – definitely one of my highlights of the trip.
We decided to hit a couple of bars before trying our luck in another strip club. We had learnt our lesson and therefore targeted a more upmarket venue. Thankfully it was a lot cleaner and classier and the strippers were actually attractive! Amazingly they let us in for free and my day got even better as two of my mates each paid for me to have a private lap dance (one instantly regretted it and vehemently complained about his decision!!). One of our group estimated that we were in this venue for 3 hours. I think that he was slightly over exaggerating but we certainly had a funny time in there, predominantly watching a group of creepy Russian guys uncomfortably tipping the dancers on stage with notes fed from their mouth.

The strip club that was soooo bad - it was good
The next day we were up relatively early for a shower and a McDonalds breakfast before a at 1pm. Sitting in Maccy D's, I could tell absolutely nobody in our stag party liked the idea of even being close to alcohol - let alone consuming it. The venue was located on the Reeperbahn just around the corner from our hotel. Hamburg is a lovely city, characterised by its famous waterfront and canals. However, during the day the Reeperbahn is not the nicest place to be. As we waited for the venue to open in our hungover states, we were constantly approached by junkies, pushers, whores and homeless people. Luckily the bar soon opened and we were greeted by two of the nicest and coolest bartenders you could wish to meet. They made us some extremely sweet welcome shots before instructing us on how to make some seriously tasty cocktails. Our hangovers soon began to dissipate courtesy of the large amount of cocktails we were making and consuming (easily £300 - £400 worth) and we had a memorable start to our second afternoon.

Getting the most out of our cocktail masterclass

Relaxing in one of Hamburg's best beach bars
Whilst at the venue we were greeted by our tour guide for a . Over the course of two hours she took us to some of the coolest beach bars in Hamburg – overlooking its famous port. In the first bar we all lay back in a deck chair accompanied by a beer. The next bar was a little livelier and even had its own dance area. This venue was perfect for getting us in the frame of mind to party again. We bid farewell to our lovely tour guide and got ready for our last sample of Hamburg's nightlife.

*Hard to recommend - Hamburg's famous table dancing club
Once again we headed to the Reeperbahn and to a bar called Molotow which had been recommended to me by my colleague who is a Hamburg resident. I seriously rate this two storey venue which consists of indie music on the ground floor, with a house arena outside and a northern soul room on the second floor. There was something for everyone, however fatigue began to set in and we were struggling to enjoy ourselves on the three dance floors. Subsequently we headed for the infamous Doll House, Hamburg's most famous table dancing club. I was not impressed with this venue as it took them ages to seat us, serve us drinks and get dancers for our table. Interacting with the strippers also became a bit of an effort in our ever increasingly sober and tired states. Luckily we all got some enjoyment out of one stripper viciously belting the stag on his bare chest and back! After witnessing that and a half-hearted "lesbian show", it was time to return back to our hotel!
The next morning we had brunch by the scenic Alster Lake before a stroll around the Jungfernstieg. This was a nice way to conclude the weekend and bid farewell to my friends. Thankfully my journey back to Copenhagen the next day took the standard 5 hours. I got home, tired and rough but having had a great time. Most importantly of all the stag had absolutely loved it. I looked at some of the great memories that I had captured on my phone. The funniest memory of all was to surface a few days later. The security scare that had caused my 12 hour journey had been a hoax! A railway worker was found by his colleagues of ten years gagged up and bound to a chair. He informed them that two men had beaten him and tied him up. He specified that they were also going to plant bombs on the railway network! I don't think I will ever understand what this person aimed to achieve out of doing this. He is now serving time in prison and on several occasions I have wondered what he tells his fellow inmates as to why he is there! His stupid actions made an already memorable weekend that little bit more memorable.
8 weeks later and the day of the wedding had arrived. The days prior to it had been a bit of a whirlwind for me. I had moved back to London from Copenhagen and handed in my master thesis exactly 48 hours before the wedding ceremony. This meant I only had a day to perfect and practice my speech! As this reality dawned on me, my nerves started to kick and they never really subsided until I was at home the day after the wedding!

My "trendy" haircut
Now, my best mate is a laid back guy, but it wasn't until the day of his wedding that I realised exactly how calm he is! En route to our morning haircuts I enquired about how he was feeling. "Absolutely buzzing" he replied. From his excited demeanour and singing along to the radio he wasn't lying. The receptionist in the hairdressers told me that I looked more nervous than he did. She wasn't wrong – and the haircut that I had just received magnified my anxiety about tenfold! The young hairdresser had absolutely ----ed my hair! I looked liked a rejected member of One Direction. I kept being told it was "trendy". That word just made me resent it even more!
The ceremony and wedding breakfast quickly came and went. My nerves would be accentuated by small events such as one of the other best men accidentally decapitating my buttonhole with his elbow at the beginning of the service! A few drinks would calm the nerves and then they would return even stronger. The thought of my speech should have made me brim with excitement - just like the groom, however I felt as if I was about to go on a date with Jihadi John. Public speaking never used to phase me when I was at school - but that was  long time ago!
After 20-30 minutes of cringeworthy poses with the bridesmaids, ushers, bride and groom it was my time to shine. I had to follow two great speeches from the father of the bride and the most relaxed person in the venue - the groom himself. My written communication skills are much better than my verbal ones, hence the fact you're reading this! I 'm not Barack Obama, I never will be but the extent of my nerves really did surprise me.
What I delivered was more of a reading than a speech, however the guests did seem to appreciate my stories. I told of how we used to wash cars together whilst at school and of how he used to 'lend' me high calibre pornographic magazines from the newsagents that he used to work in. I told of how I saved his life in Barcelona when three local bandits tried to rob us! They had rocks and glass and we had two ridiculously drunk and irritating French girls. I received a good degree of laughter in addition to several compliments and drinks at the bar afterwards.

The crowd enjoying my speech!!
The next week I met up with the groom and one of my fellow best men to reflect on the wedding and the stag dos. The groom thought that everything had been a great success and that we'd played our parts very well. That's all a best man should want to get out of the experience - to do his best mate proud. I had done my job and learnt a few things about myself in the process.
If you have been given the honour of being a Best Man, here are my top tips from my experience.
Book the stag do through a company such as ours. In comparison to some stag parties, our group to Hamburg was relatively small. Additionally they were good at communicating with me. Organising a much larger group with poor communication would be a very stressful experience. Not only does a company like pissup.com give you ideas and inspiration for destinations, activities and themes but they also provide you with support at each step of your stag do journey. You get what you pay for and most important of all they provide structure to your trip. No walking around the city centre in large groups trying to get into bars - which is a surprisingly tricky thing to do independently.

Use Doodle to arrange dates for the stag break. This easy to use and accessible tool really is a godsend for organising events.

Even if it is a few drinks down the local, arrange an event for those who don't want to travel abroad or are unable to. This ensures you are able to include all of the groom's friends and family. Our day out at the races was a great success and I got to have a great time with several of those who couldn't make the Hamburg trip, including the father of the bride.

Practice, practice, practice your speech. Although I had started writing it 7 weeks prior to the wedding, I started practising it 48 hours before the ceremony. You need to refine it as you go along. As soon as you write a sentence, practice it out loud to see if it works. Practice in front of friends who are physically in the same room as you. I didn't have the chance to do this but it definitely would have helped. Like everything else, public speaking is a learnt skill. You WILL be shaky unless you are in a job or society where you do it regularly. People will be expecting you to be nervous, it's natural.

Enjoy the best man experience! Easier said than done but you need to repeatedly tell yourself that you're at a wedding NOT a funeral!
Related and Featured Posts