02-05-2015
The Ultimate Guide to Writing the Perfect Best Man Speech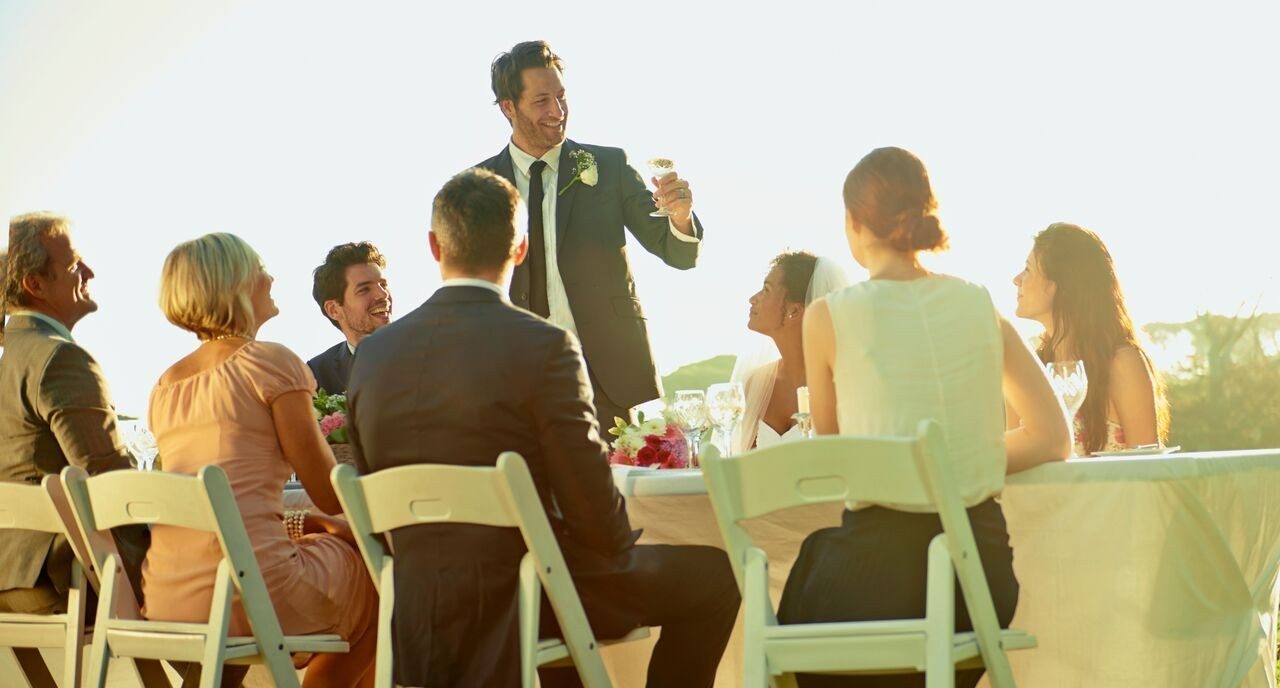 You're asked to be Best Man at your mate's wedding and before you've even written the opening line, you already feel under pressure to be funny, clever, and sober.
You could watch Stephen Merchant's Best Man speech from the hit 2013 comedy I Give It A Year to learn all there is to know about how not to do it, or you could read our comprehensive guide and join the ranks of successful best men.
We include all the things you need to know to save you from a Best Man's speech that goes down in history for all the wrong reasons.

Fundamentals
First things first, the Best Man's speech is not War and Peace, so you don't need to prepare more than seven minutes worth of content.
Any longer than this and your audience will be fiddling with their napkins, wandering off to the loo, and any children present will begin to ask loudly: "Mummy, why is that man still talking?"
In line with the common order of wedding speeches, you're up last. That means guests have already listened to speeches from the Father of the Bride, the Groom, and sometimes the Bride as well, before their gaze sits with you.
What does this mean for you? Well, it means that they're looking for something sharp and snappy, so do what you need to do and end the speeches on a high note.

Preparation
Delivering the Best Man's speech isn't the same as having a heart-to-heart with the Groom on his stag do. The people in the room aren't just his mates from work and some of from the rugby club — they're all the people who matter most in his new role as husband.
For this reason, give the Best Man speech your best shot until you know you've nailed it. You've been asked to deliver the Best Man's speech for a reason, which means you just need to be yourself.
By all means, look through examples of speeches given by others in this role. You'll find plenty of help online about writing your Best Man speech, so if you're not a natural writer or you're stuck for ideas, you can always nick a few from elsewhere. Nobody cares, so long as you make sure they're appropriate for the couple whose wedding it is.
The wedding guests won't judge you for checking your notes, but a long silence will be uncomfortable for everyone.

Key inclusions
Before you craft your winning speech, there are some basic rules to follow as Best Man.
Yes, it's your job to rib the Groom about not scrubbing up too badly, or his new wife being lucky to have him, but there are a few other vital inclusions:
**Thank the couple**, the parents, or whoever has played a part in making the day happen. You can do this without referring to the cost and who paid for what, by just complimenting the food or table decorations, or commenting on what a fine time you and the guests are all having.

It's also your job to thank the other key wedding party members, like the Maid of Honour, Bridesmaids, Flower Girls, Page Boys, and Ushers. You may be asked to give them gifts in return for their contribution to the big day and, whatever you do, write down their names correctly if you don't know them.

At the end of your speech you should toast the Bride and Groom. Ask the wedding guests to be standing and raise their glass to the happy couple, and use their first names; you're all friends now.

Opening line
You want to get off on the right foot with your opening line. If being the Best Man is your dream gig and you love to entertain a crowd, knock yourself out with one of your hottest lines to reel them in. The less confident (and therefore the majority), might prefer to stick to the expected thank yous, or steal a great opening line from the internet. And that's totally alright — there's no point reinventing the wheel, right?
Here's an example of each from a real wedding:
The Thank you
First of all, I'd like to welcome you all to this lovely wedding. On behalf of the Bride and Groom, I'd also like to thank the many of you who have travelled such a long distance to make this day so special.
Funny opening line
A wise man once told me that a best man's speech should last only as long as it takes the Groom to make love… so thank you ladies and gentlemen and good afternoon.

Introduce yourself
There's a third option for your opening line and that is to introduce yourself. Not everyone at the wedding will know who you are, so it's important you tell everyone how you know the Groom. You can keep it brief or go on to talk about your friendship, but an introduction needs to be in there somewhere.
Here are two examples of an introduction at the very beginning:
Simple introduction
Good afternoon ladies and gentlemen. For those of you that don't know me, I'm Dave and I'm Nic's Best Man today.
Introduce your friendship
Ladies and gentlemen, it's great to be involved on the happiest day of Craig's life, as he was involved in the happiest day of mine. That's right, Craig was there stood by my side when I was served my first pint in the Rose & Crown at the age of fifteen.
Now you've set the scene, it's all plain sailing from here.

Note to Self #1 – Express gratitude
Typically, weddings cost a bomb, so don't forget to offer thanks for the occasion itself.
Even if the bridesmaids are complaining about the fluorescent colour of their dresses, a begrudging group of teenagers would rather be at home playing their Xbox, and the Bride's Aunt Vivian complains about the wine, every effort has gone into making this one of the most memorable days of all your lives, so it's appreciated if you acknowledge it.

Note to Self #2 – Avoid sensitive topics
There are unspoken rules that can be forgotten in the bid to be the most entertaining, sharp-witted speaker.
Even if you speak in front of an audience for a living, this doesn't mean you should use your presentation skills to say anything that might embarrass the Groom, or that takes a cheap shot at his self-esteem to boost your own.
You want to stay mates once the day is over, don't you? Leave the cringe-worthy memories in the past where they belong.

Note to Self #3 – Compliment the bride
Your role as Best Man has been selected by the Groom, but it's just as important for you to acknowledge the woman he's married.
It's traditional to tell the bride she looks beautiful on the day, but appearance isn't at the forefront of every woman's mind. You can compliment the bride on how happy she's made your friend, what a wicked sense of humour she has, or what an inspiration she has been to you or someone you know.
By commenting on something unique and special to the Bride, you demonstrate that your friendship extends to her.

Note to Self #4 – Keep it clean
We get it, you're the Best Man, your speech is meant to be risqué and push a few boundaries, but take it too far and you'll alienate, not engage, your audience.
Run your speech by other people before it sees the light of day, just to make sure it doesn't miss the mark or receive a reaction you don't expect.
Lighthearted banter is fine, but a blue joke, swearing, or a drunken revelation rarely goes down well.Stay clean and sober, at least until the speech is over.

Using quotes
Another great way to add extra content to a Best Man speech is to use quotes about love, or indeed any famous quote that ties in nicely with what you have to say.
It could be a quote from a film, like this guy who quoted Independence Day; a line from a song, or a poem. You'll know what's right for you and your Groom.

Special effects
We advise you to go cautiously with plans for any kind of special effect for your Best Man speech. Unless you're a pro, there's a big risk your big moment will fail on the day, but good on you for trying if this is your choice.
These brothers created their own eighties pop band and even made a music video to deliver their speech, but lycra might not be your thing…
Top Tip
If you're struggling to come up with anything original, do a little research on the date of the wedding. Perhaps it's the same date a celebrity or public figure got married in previous years, or it marked the start or end date of an historic era.
If you can't find anything significant for the wedding date, search on the Groom's birthday or another relevant day for inspiration.
Now it's your turn
Once you've written and perfected your Best Man speech, leave yourself plenty of time to practice it. Memorise every word if you can, or at least key lines, and keep a printed copy with you on the day.
Whatever you decide to do as Best Man, or if there's more than one of you, the important thing is that you're comfortable with it. You don't want any extra pressure on the day or to step so far out of your comfort zone you're left speechless.
Equally important is that you remember to have some fun with it too, it's all part and parcel of taking up the honour of being the Best Man.
If you want to be the perfect Best Man for your buddy's wedding, make sure you not only get the speech right, but the stag party, too.
Hit us up and we'll help you organize a gents night out to send off the groom with crazy adventures worth the occasion.
Related and Featured Posts