03-03-2016
Shooting Guns in Budapest - my first time!
Overview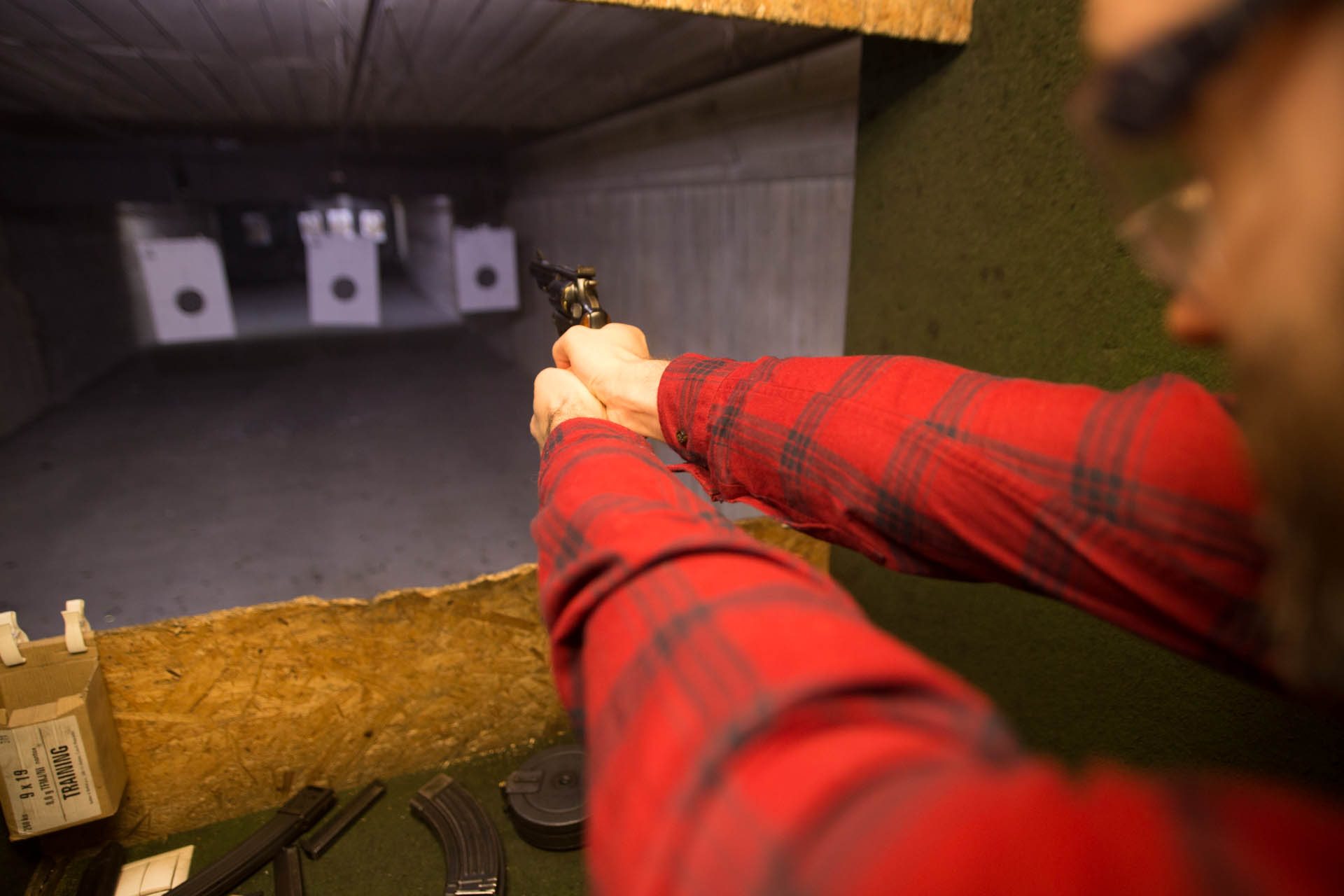 Scared of bangs? Check…
Out of all the Pissup staff I might be voted the least likely gun enthusiast, that's why, at first, I was less than keen on the idea of shooting guns in Budapest. First, I've have never had a desire to handle a weapon of lethal force (you can steal my lunch money later); second, I loathe the sound of loud, unexpected, bangs; third, I've tried archery and my accuracy was poor at best; and fourth, I'm not keen on losing. Ever. And if you add together my hatred of bangs and poor accuracy, it's clear I was never going to be the best marksman.
That's why I was in two minds when the bosses asked us to try-out one of our shooting activities in Budapest! But I'm glad I did: check out how my first time shooting guns went down!
Take a look at this video to see what Shooting with Pissup is like!
The Shooting Guns in Budapest Experience
Typically if you come to Budapest or Prague on a stag weekend, the shooting activity will happen on day two. Which means lads will arrive at the range feeling a bit fragile after a night out with a Pissup Bar Guide. In my case after I and some of the Pissup staff took the (super nice and comfy) minibus from central Budapest out into the suburbs (around 30 minutes) even though I was not hungover in the slightest, I was feeling serious anticipation anxiety. This was compounded after seeing that the range was located in a sort of underground bunker. Whenever I thought of shooting ranges, I always imagined the sterile American style FBI ranges you see in the movies. But the range we use definitely adds to the Noir-ish Cold-War era atmosphere when shooting guns in Budapest.
After settling in, we headed to the shooting area where we were shown how to handle the weapons by a very cool instructor. It's important to note: the instructor checks and loads each weapon before you fire (there's no Hollywood Lethal Weapon style re-loading!).
I imagined that when the instructor handed me the antique pistol and I started firing I would be crapping myself. But the opposite was the case: I felt a rush of - good - adrenaline - coursing through me. Yes the bangs made me jump a mile, and my accuracy was poor (the instructor told me, with a smile, to 'aim a little lower next time') but by the time I reached the Glock .9mm I felt confident enough at handling the weapons.
Soon we progressed to some rifles via an antique weapon that had been used in the Siege of Stalingrad - until I was handed the AK-47. This was one of the most intense experiences I've ever had. While the recoil from the Magnum .347 was strong, the AK-47 really felt like I was being shoulder-barged by The Mountain in Game of Thrones.
Movies VS Reality

Shooting guns in Budapest, or any destination for that matter, at a range is so far removed from how it seems in the movies that I won't able to watch an action film in the same way again! Pistols and revolvers are much heavier to handle, and require two hands not one (up yours Tony Soprano!). Also the Glock is far wilder in accuracy than it looks. And the bangs are super loud, even with the aid of ear protectors. But the AK-47 sounded like I was holding a industrial strength firework in my hand. Another thing is the cartridges: in the movies they sort of disappear, but when you're firing in real life they are flying everywhere which is why you have to wear goggles whilst in the shooting area.
All in all I have to say I was glad to try it out. Even if (like me) you're not a typical gun guy, shooting gives you an adrenaline-rush like no other. It's a definite must if you're booking a stag do.
---
Like the sound of gunfire (literally!!)? Then get in touch today and we'll book you up for shooting on a Stag Do.
Related and Featured Posts