14-12-2015
Top 5 Reasons to come to Riga
Overview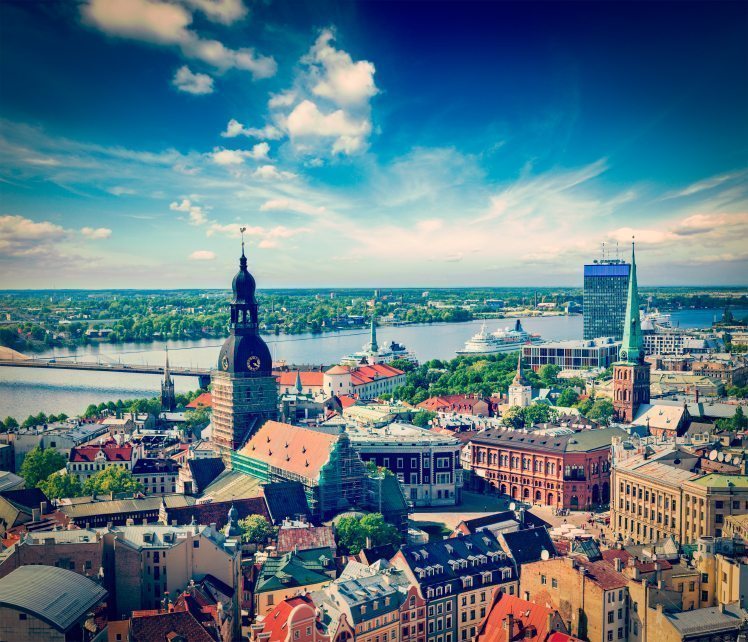 We love this city!
Riga is the perfect city for lads who want adventure and excitement in beautiful surroundings. Packed with sexy Latvian ladies, and with super reasonable prices this Baltic city has grown in popularity with stag dos over the years. While there have been a few scandals involving British stags gone wild, there is nothing to suggest we have 'ruined' Riga for everyone. And while there are special tourist police, these chaps are not there to watch your movements 1984-style. On the contrary, they are here to help rather than hinder travellers. So don't think Riga is some killjoy Eastern European backwater - this city was built for wild behaviour! That's one of the reasons why around 100,000 Brits come here every year and why it's a top destination for guys booking through us.
There's a lot of info out there on the negatives so we thought it's high time this city was given its due as a party capital. Just for you we've compiled the top 5 reasons to come to Riga on a stag do.
1. It's Cheap as Hell
Price wise coming to Riga is a no-brainer. The city may look like a Western European city but the prices are very low for Brits. Latvia uses the Euro, which has a decent enough exchange rate, but costs are just as low as non-Euro cheap cities like Budapest. The cost of a pint of beer in a pub is about 1 Euro or 75p. If you want to eat out in an average mid-range restaurant it would set you back around 6 Euros or £4. Flights from the UK in July as low as £50 if you book well in advance, and stag packages that include four star hotels for very reasonable prices.
Compare this to a night out in central London, where a pint is about £4 on average and a Pret sandwich costs almost the same as a Riga dinner - then booking flights to Riga is a must. Whatever your budget - if you just want a flat surface to crash on near the city centre or if you want a VIP weekend where you can play act being a Rock Star on tour then Pissup has you covered.

2. Intriguing History - Awesome Sightseeing
Yes we know if you're on a stag weekend in Riga looking at an old church is probably the last thing on your mind. But before you get beer goggles you should know a few things about the city you're going to visit.
A bit of history: Latvians (and Lithuanians) themselves are descended from Baltic peoples who settled the area around 2000 BC. While the Balts were initially divided along tribal lines after various foreign conquests, beginning with the Germans in the 13th century, tribal differences dissolved and the people became united as Latvian. The city became prosperous and for a time was fairly independent trading between Germany and Russia...but like a lot of key trading cities squeezed between big countries that was not to last. After the Germans came the Poles, then the Swedes and finally the Russians who controlled Latvia, off and on, until its independence after the fall of Soviet-communism in the early 1990s.
Okay history lesson over! All these invasions have left their mark on Riga's culture and the city definitely has both a Russian look and a German feel. The city boasts the largest place of worship in the Baltics, St. Peter's church which is Riga's Cathedral. If you're bored by old stone then you should check out Riga Central Market. Made up of 5 converted Zeppelin hangers this 1930s Modernist structure contains stalls selling local food, drink and knickknacks, perfect presents to take home to your significant other. If you're coming to Riga on a fun lads weekend away then you'll be stretched for time so you should definitely hire a guided tour. Our walking tour will cut out all the boring bits and take you to the coolest sites.

 3. The Adventurous Activities**
You can party in Amsterdam and Berlin surrounded by hot babes drinking ice cold beers. But if you want all that and some real excitement then the adventurous among you should head to Riga. Why? Because the quality of activities is high and the cost of doing them is low. After a hard night out in Riga's Old Town your head is probably pounding. What perfect way to get your chi up than by going to the gun range. There you'll get to try a range of weapons including the infamous movie (and real life) cop favourite, the Glock pistol. But maybe you are looking to get your endorphins as well as your adrenaline going: well we can take you to an outdoor rope-climbing centre, where you can act like George of the Jungle for an afternoon swinging from rope to rope.
Of course weather wise, thanks to its position in the world, Riga can get pretty damn chilly in January with, at worst, lows of about -8 degrees centigrade. There is also a chance of snow between December and March. That's why if you're coming to Riga in the winter months we have a number of fun, winter activities where you won't freeze your bollocks off in the snow (or not too much!) - including the awesome winter bobsleigh where you can act out your 'Cool Runnings' fantasies on an Olympic-standard track.

4. Baltic Nightlife
Like many great Eastern European cities Riga's nightlife is how concentrated it is on one area: Old Town. But that doesn't mean there is just one street full of pubs and bars dedicated to ripping off gullible tourists. Instead nightlife here is united with locals and stag do weekenders alike frequenting the same venues and all having a blast. One of the major clubs that everyone has to try once is Studio 69. This is arguably the centrepiece of Riga's nightlife, and is the biggest club of all Baltic countries. This club is housed in a former opera house which lends itself to the hard beats coming from the DJ booth. Perhaps you want to start off the night in rather more chilled surroundings then you will definitely be able to find a good spot in central district. More than anything we recommend booking a nightclub guide, we can only speak for our guides but local knowledge is essential. And our guides can take you to places where the action is hottest and the drinks don't burn a hole in your wallet.

5. Latvian Girls are Hot
Latvian women are rightly famed for their beauty. Which is a shock considering that a few years back there were stories coming out in the press about a 'man shortage'. And while we aren't a dating service, we can hook you up if you're on a look don't touch weekend away. Don't get short changed by going to some dodgy strip club in a back alley, if you come on one of our Beers, Babes & Boogie tours then we'll take you to a top club where there's no chance of being ripped off. Why not spice it up and hire your own private yacht - imagine you and the boys sailing on the Baltic Sea while a local hottie takes h clothes off just for you.
Whatever you want - sightseeing, adventure, booze and boobs - Riga has it all at great prices. Send an enquiry form today and we can get back to you ASAP.
Related and Featured Posts