28-12-2015
A Guide to Star Wars themed Stag Dos
Overview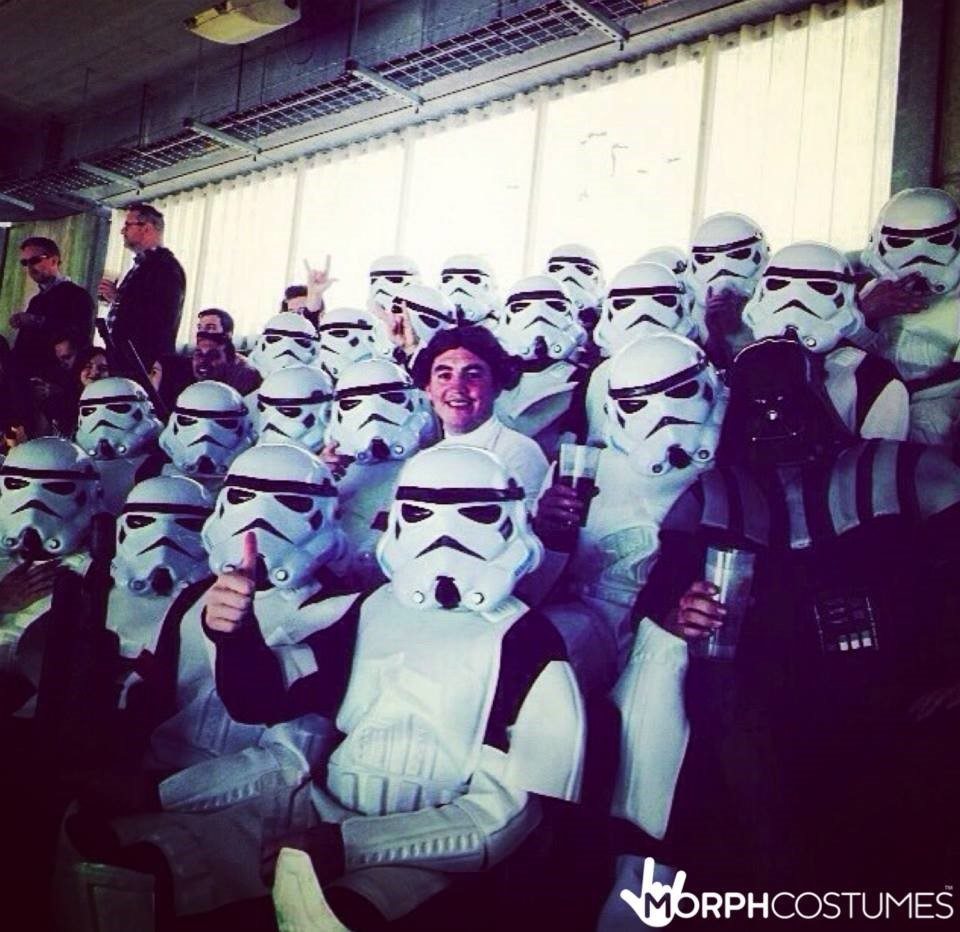 Remember when you used to use the Force?
A long time ago, in a galaxy far far away (aka a suburban house somewhere in England)...was a nerdy boy playing with the Millennium Falcon. Over the years you have probably shed your image as a spotty youth who can quote scenes from the Star Wars series verbatim, because it got in the way of important things...like getting laid. Okay so it's clear times have certainly changed, and with the growth of Comic-Con guys are able to continue being kidults almost forever (and even find a girlfriend – not speaking from experience or anything ahem). But dressing up as your favourite boyhood movie character, especially if it's of the Science Fiction genre, is still not something you can get away with even at a fancy dress party. Especially now you're tying the knot, settling down and putting away childish things – but wait! A wedding date may signal the beginning of maturity, but it also suggests the last weekend of freedom with the lads.
And a stag weekend in Amsterdam, for example, is the perfect opportunity to dress up like your favourite Star Wars character away from the rolling-eyes and girly whines of your significant other. This is an opportunity to both stand out from the crowd with a costume that isn't in the usual cross-dressing or S & M style, in favour of fun.
Now the new movie is on its way, we at Pissup really don't need to convince you why Star Wars themed Stag Dos are the way to go – but rather we wanted to show you what you need to consider when setting one up, the advantages and disadvantages of each specific theme. So this is a guide to Star Wars themed Stag Dos for all you budding Jedi stag party animals out there.
Imperial Coordination
Everyone hates the Galactic Empire but, as with other nasty organisations – both fictional and real -  when it comes to outfits the bad guys nearly always have the best kit. Sure the Empire is responsible for hunting down all the Jedi and tightening their grip over the free-peoples of the galaxy, but those shiny suits look fantastic. Perhaps you absolutely loved watching the Emperor get hurled into the abyss in the Return of the Jedi (and so you should) – but when thinking about a stag weekend theme you need to think of one thing he got right: uniform. And there's nothing cooler than a Storm Trooper uniform.
Why is uniform important on a stag do? Well for two reasons: firstly when you're running wild through Prague on a Saturday night, especially if there are a gang of you, you'll want to be able to keep up with everyone else. If you see your fellow Storm Trooper rushing across the horizon you'll be able to run after him and not lose the group. But another important reason is if you are a group which consists of different factions (people who know each other from different friendship circles) it will create a bond between you that will make your weekend something to remember!
You Rebel Scum (who stand out)
Uniformity is all well and good but what about those of you who fancy yourself as superstars in your own right? Of course there are ways of tweaking the Storm Trooper theme so that it becomes individualistic, with (as in the photo) the best man as Darth Vader and a stag as Princess Leia – but for some of you that won't be enough. Plus who wants to be evil when you can be the good guys, the Rebels? Like all dissident paramilitary groups the Rebel Alliance is packed with charismatic leaders and all the best lines in the script. Also imagine how cool it would be to walk into a bar or nightclub (or strip club) dressed as Han Solo, Luke and Obi-Wan – you'll definitely make a great first impression!
But there are huge problems with choosing this theme: the main one being, who is going to be who? How do you decide? And the second problem is numbers. If you're in group of over five or six lads, then you'll be arguing over who is going to play Lando Calrission's weird cat-fish faced side-kick. On top of all this you may find problems sourcing the different outfits. Perhaps the Rebels are best for smaller groups of lads so that you can enjoy yourself without feeling any tremors in the force (aka bad feelings from the other guys).

The Phantom Whatness?
The first three movies, by which I mean the first three episodes in the series, were generally thought to be (though not by me) uniformly bad – not up to snuff compared to their earlier incarnations. But for those of you who are serious about your nerdy pursuits, then maybe you could all go as Jedis' from  Episodes 1-3. Jedi outfits are not that hard to source and will give you the uniformity of the storm troopers while also being a kick-ass look for the weekend. Also you'll be able to carry around a light-sabre which will double as a glow-stick for when you're dancing till the morning in an Eastern European super-club. The downsides are that nobody cares about the 'new' star wars (except nerds like me), and people who don't know (i.e. girls who aren't fully clued up) will be coming up and asking why you're all dressed up like Luke Skywalker.
Robots and Monsters are Sweaty
The bar scene in Budapest may not be quite as elaborate as the one in Mos Eisley, but we can guarantee you'll get noticed if you get kitted out as any of the monsters in the series. Can you imagine how hilarious it would be to have an Ewok in your crew (you could get a dwarf to dress up like that as a prank) or even a gang of Chewies? Or perhaps you want to humiliate your stag? Well why not do a robot Star Wars theme and make him don the revealing, gold C3PO uniform for a weekend? While some suits will be easier to hire than others, they will all be riotously fun to wear.
Downsides are easy to see: if you fly to many cities during the summer months, it can be like stepping into a fiery furnace and that's why you're in shorts. Imagine spending the day in dressed in rubber or fur while the Central European sun beats down on you. Now factor in booze and having it large at clubs…and you can imagine how much you're going to sweat. Our advice would be if you're going to go full Chewbacca make sure it's for a limited time only perhaps just five hours on an evening's bar crawl through the city.
---
Do you feel the force of our suggestions? Well whatever your theme contact us and we can help you organise a stag weekend to remember.
Related and Featured Posts