04-08-2016
Riga Bobsleigh - why you have to try it!
Overview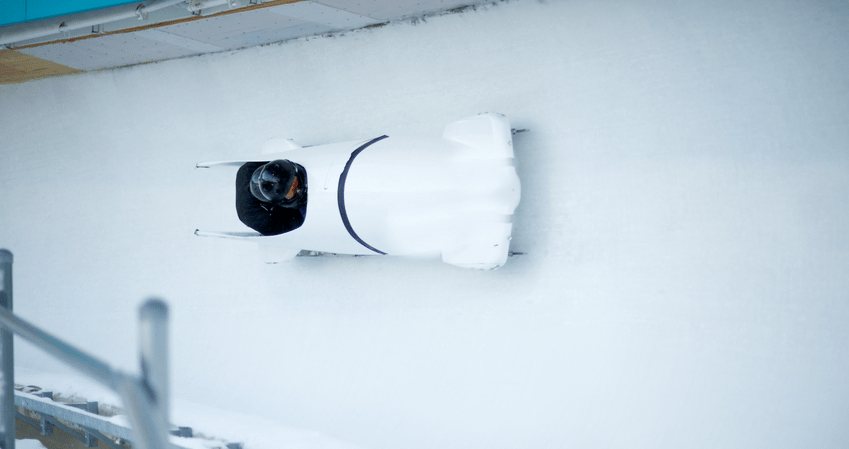 Why Riga Bobsleigh is a must!
'Sanka, ya dead?' - 'ya mon!' We all remember that exchange from the 1990s classic movie Cool Runnings, right? When John Candy trains up a group of ("failed") Jamaican athletes to compete in the bobsled race in the Winter Game? Well if you're coming on a Riga Stag Do we can make that movie come to life for you and the boys.
We have a both a Summer Bobsleigh and a Winter Riga Bobsleigh for you and the lads to try. This is a great way to foster a sense of teamwork with your mates as well as getting a hit of adrenaline; without having to exert - too much - effort. And just think: after you've sped round bends at crazy speeds you'll have worked up a thirst for a night out on the town - and we can help you have a smashing night if you book our Pissup Bar Guide.
But why try our Riga Bobsleigh activity? Well read on and well tell you. We'll give you the background  of the Latvian Winter team, the track itself, Summer options and how bobsledding works (with descriptions and links to some epic fails, and painful scenes!).
Latvians and Winter Games (reputations!)

What about Latvia's bobsleigh record? Unlike the 1988 Jamaican team, which that awesome comedy Cool Runnings was based on, Latvia is the kind of country one expects is good at Bobsleigh racing. Okay we Brits have a tendency to view anything east of Germany as being 'Russia'. And by Russia we mean full of snow and vodka. Therefore, we generally think, Latvians must be natural winter sports people…and in terms of amateur sports we would be totally right.
Despite having no real mountain ranges Latvia gets a good deal of snow during the winter, meaning that winter sports in Latvia such as cross-country and downhill skiing is very popular. Nevertheless despite this tradition Latvia has never won a Gold Medal in the Winter Games, however considering it is a tiny country that was part of the Soviet Union from 1952-1989 we should excuse the lack of medals!
But recently things have looked up for this (new-ish) Baltic nation. In 2010 Winter Games in Vancouver they won two silver medals: one for 'Skeleton', that is single-man sledding and one for 'doubles'. And in 2014 at Sochi in Russia the 4-man men's team won a silver medal. So Latvians can expect bigger and better things (hopefully a first Gold medal) in the 2016 games.
The Olympic Venue - Summer & Winter

What of the venue itself? And what can you expect when you take a ride on a bobsleigh in Riga? Well the Winter Bobsleigh track itself is, as we've said, used by the Olympic team. This is one of the few tracks in the world that's is open to both pros and amateurs (that's you!). You and the boys will get to hurtle down a track, which can get up to speeds over 110 k/p/h when riding in professional bobsleighs. And the bobsledding track, located 30 minutes drive from the city, is one of the longest tracks in Europe with 1420 metres of track that contains 16 bends - which is where the you seriously pick up speed!
When you book the Riga Winter Bobsleigh with us we'll sort you out with two rides per person. Think that bobsledding is a doddle? Think again: it may be something that's easy to pick up for professional athletes, but it does take some skill to master. Generally beginners can use what is known as 'soft' bobsled, which is easier to steer, more comfortable to sit in - but doesn't get up to insane speeds. Although for all you adrenaline junkies the Olympic bob is generally available too.
'But what about in the Summer, you ask?' Well, we've got that covered too. Forget about Cool runnings we've got hot runnings. Using the same track as you'd use in the Winter. But instead of a bob with blades attached, you'll be riding on one with wheels. As with the winter one if you book the Summer Bobsleigh in Riga with us you'll get two rides per person - more than enough to clear your head ready for the night's revelling.
How Bobsledding works (and doesn't)

The way bobsledding typically works like this: two to four team members start with the bob at the push-off stretch. The bobsleigh team is made up of a driver, who sits at the front steering the thing using steering handles and steering rings; a brakeman, who sits at the back; and two crewmen, who are in the middle. Typically the driver gets in first, the brakeman gets in last. The push off usually lasts about six seconds in total. According to HowStuffWorks after push off, how successful the bob is is really up to a combination of gravity and the driver finding 'the perfect line' in the track. That means not to high or low, to get round the track - while the crewmen use their weight to build momentum going round the bends.
What about when things go wrong? Now we've pretty much all seen those crazy videos where bobs tip over and hurtle across the tracks with the riders upside down with their helmets dragging against the snow (see this video if you haven't). Or when runners slip and can't make their way into the bob, falling flat on their arses (again: see video). Or when your wardrobe malfunctions, splitting the lycra in a very unfortunate place, as in this hilarious clip.
Don't worry: all these are highly unlikely to happen, because a) you won't be going as fast as those guys on the Winter Games; and b) there will professional instructors to make sure you don't cock up and hurt yourselves; and c) you won't do the running and jumping in the bobs - the instructors will send you on your merry way!
---
Like the sound of our Riga bobsleigh activities? Contact us and our expert party planners can help create an awesome stag do weekend that will go down in legend
Related and Featured Posts