29-09-2015
The ultimate stag fancy dress outfits
Overview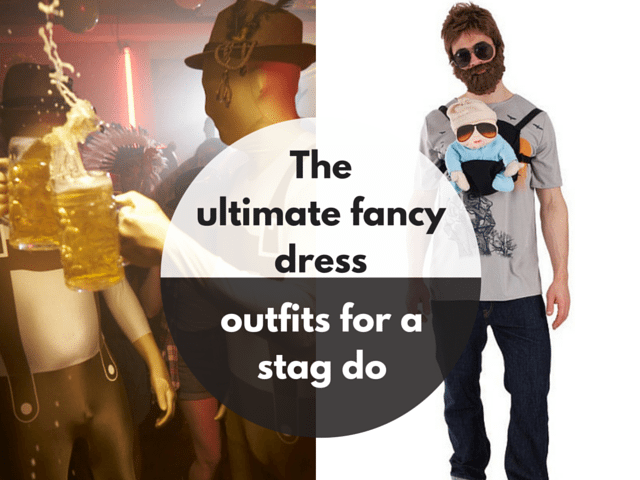 If you are planning a stag do then one of the key decisions you need to make during the planning process is what fancy dress to wear.
Let's be honest, it is so much more fun when you all dress up together than it is to go out in your normal "going out" clothes on a stag do to Prague or another popular stag do destination.
So with this in mind we asked fancy dress retailers about what outfits they recommended for a stag party and here are our top picks.
Morphsuits

Morphsuits are a great fancy dress option. Morphsuits, one of the world's most popular fancy dress retailers, sells a wide variety of awesome morphsuit costumes.
Gregor Lawson, Founder and Marketing Director at Morphsuits, believes fancy dress on a stag do should be a necessity.
"Men should wear fancy dress on a stag do because it takes it from being a good time to a great time. Part of the fun of a stag is the attention you get and you're guaranteed to get more attention.
"In my opinion it is done best when the stag is in one thing and the rest of the stag are in something else.

"This (above photograph) is my all-time favourite stag picture, Princess Leia (stag), Darth Vader (Best Man), Stromtroopers (rest of stag). The force is strong in that one."
There are a range of morph costumes available on their website from Power Rangers, Spiderman and Teenage Mutant Ninja Turtles costumes to a male blow-up doll morphsuit and a naked censored hillbilly costume.
These costumes are reasonably priced and range from £22.99-£44.99.
Condom costume
Jokers' Masquerade, who sell a range of fancy dress costumes across the UK, have a condom costume in their collection.

The one-piece condom shaped bodysuit is a really great way to stitch up the groom. For £22.99 it is a great option.
Alan Garner
Ian Tomkins, who works for Jokers' Masquerade, says, "If you think about it, Alan from The Hangover is the ultimate Stag costume.
"The entire movie is set around a stag weekend in Vegas so it's a perfect fun idea. Perhaps one for stag dos that might include overbearing uncles or a conservative father-in-law."

The Hangover Alan costume at £33.99 includes a grey t-shirt, a brown wig, bushy beard, sunglasses, black baby carrier and baby doll. The baby doll is even wearing a beanie hat and has sunglasses printed onto its face, just like in the Hangover movie.
Lady Boy costume
The Lady Boy costume from Jokers' Masquerade includes a short silver sequin dress with a fabric male genitalia poking out the front of the dress.

Ian Tomkins, adds, "If your goal is nothing more than to embarrass the stag consider decking him out in a feminine little number. If his shame threshold is relatively high in terms of not caring if his legs are out consider a fully functioning lady boy outfit. The attention you'll get is unreal."
Marvel Super Heroes
If the stag is a fan of Spiderman et al, then check out All Fancy Dress as they have a large collection of Marvel Super Hero outfits available.

In fact, you can kit out the entire stag party with super hero outfits including Spiderman, the Hulk, Wolverine, Iron Man, Captain America and Star Lord to name but a few.
The superhero costumes vary in price from £24.64-£36. You can also pick up accessories, such as Thor's Hammer, for £6.99.
Animal costumes

At Magic Box Fancy Dress there are a number of animal costumes available to stitch up the stag with, such as an adult lamb, a bear and even a hilarious crazy "Ride on" Ostrich fancy dress costume.
Some outfits cost just £19.99 and if you are heading on a Krakow stag do this winter then you will be glad to know that they are well insulated too!
Image Credit: Morphsuits, Jokers' Masquerade, Chris Tse (flickr.com)
Related and Featured Posts