27-10-2015
Wedding destinations that put the 'awe' in awesome
Overview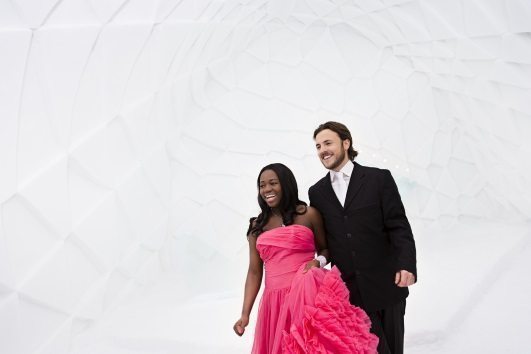 As much as you might want it to be, the "big day" isn't actually your stag do, but the day you get hitched. You might already have some pretty epic ideas about the stag do, but you might need some inspiration for some awesome wedding destinations.
So if you are a bit of a travel junkie then you should not just consider organising a stag party abroad, but should also think about getting married at a unique location that is different from the more traditional wedding.
So before organising a Budapest stag do, your attentions should be focused on making your big day special and here we take you through 10 wedding destinations that we think put the 'awe' in awesome.
Married over Manhattan
Liberty Helicopters, the sightseeing and charter service, offers couples the chance to celebrate their wedding vows in a private helicopter overlooking the most captivating skyline in the world; Manhattan.
The Married over Manhattan trip from Liberty Helicopters is an 18-20 minute flight that costs just $2,095 (approximately £1,365). The personalised ceremony will fly above the famous Hudson River all the way up to the George Washington Bridge and even catch a glimpse of the Yankee Stadium, the Statue of Liberty and the MetLife Stadium where the 2014 Super Bowl was held.

New York is one of the most romantic cities in the world, and the perfect spot for the wedding of your dreams, but if you haven't even proposed yet then try Liberty Helicopters Aerial Engagement tours, which allows you to take your sweetheart to new heights and a romantic and creative way to pop the question.
Eldorado Ghost Town
Eldorado Ghost Town, also known as Nelson Ghost Town, offers couples the chance to get married in an abandoned town in the desert.
This historic and unique location that is just outside of Las Vegas, is famed for being home to an old gold mine is actually a popular location for weddings.

For an exuberant wedding you can get married at Eldorado Ghost Town for just $1,785 (approximately £1,163) with LV Wedding Connection. This particular package includes the happy couple getting a limousine service to Nelson, a wedding ceremony in the mine, a Minister to perform the ceremony, a tour of the mine, a Bridal Bouquet, a professional photographer, a commemorative Champagne Toast for the newlyweds, a snack tray and a heart wedding cake.
Ice Hotel
If you really do want a genuine white wedding then the Ice hotel in Sweden should be at the top of your list.
This is the world's first ice hotel and what makes it even more unique is the fact that those who get married here can be safe in the knowledge that the church where you exchanged vows will have melted and returned to mother nature in the spring. The ice church, which accommodates around up to 40 people, has walls and ceilings made from snow and the altar details and benches made of ice.

The crisp Ice Church and Ice hotel's majestic main hall are truly unforgettable venues and if you want to get hitched at this magnificent venue then Ice hotel offers a wedding consultation service.
Getting married in the sky
Getting married around 50 metres in the air might seem a bit unrealistic but it has become a reality now as Dinner in the Sky offers you the chance to get married above the Grand Canyon or the Venice lagoon whilst also being able to tuck into a delicious meal.
Couples can get married just as they would in church with a priest, witnesses, family members and friends, an organ, but in the clouds. If they wish, they can start their new life with a bungee jump as well.

People can get hitched at Dinner in the Sky in 45 countries including, Belgium, Holland, Germany, Switzerland, Croatia, England, France, India, Brazil and Australia to name but a few. Dinner in the Sky is also based in the Czech Republic, which is ideal if you want to go on a stag do in Prague with your mates just before you get married, although I'm not sure how your head will feel on the day!
Carnglaze Caverns
If you want to have a wedding ceremony in the UK, but would still like it to be held at a unique location then Carnglaze Caverns in Cornwall is a great option.

Guests will be astounded by this magical underground ceremony and couples can choose to tie the knot in one of four locations in the caverns; The Rum Store Cavern, The Underground Lake, The Enchanted Dell or The Vine Conservatory.
London Eye
Imagine taking your vows 135 metres above London surrounded by friends, family and a stunning views of London as the backdrop for photographs, well that is what you can get at the London Eye.

Couples can have two rotations on the Coca-Cola London Eye as the first will involve the actual ceremony and signing of the register and the second rotation a more relaxed experience where the happy couple and their guests can enjoy some Pommery Brut Royal Champagne.
Crocodile Farm
Should you want to scare away unwanted guests at your wedding then not many gate crashers will fancy wading through crocodile infested waters at Le Bonheur Crocodile Farm at Western Cape in South Africa.
Whilst in reality the crocodiles are a safe distance away, the crocodile farm offers a unique wedding experience encompassing warm African hospitality, a breath-taking setting, and a relaxed and tranquil atmosphere. The farm's hall can fit up to 200 people for a wedding ceremony and if you are lucky enough you can even go on a guided tour of the croc infested waters that make-up the farm.
Shark tank
If you are a couple of thrill seekers then you should follow in the footsteps of some diving enthusiasts who had their very own underwater wedding in the Shark tank at Long Island Aquarium in New York.
Atlantis Banquets & Events, the catering division at the Long Island Aquarium, two or three times a year hold weddings at the Long Island Aquarium's120,000 gallon shark tank. The Lost City of Atlantis Shark Exhibit is home to 8 circling sharks – 4 nurse sharks and 4 sand tiger sharks who average 300 pounds each, as well as a Queensland Grouper, Crevalle Jacks, Garibaldi, a Moray Eel and other fish.

The length of the Shark Dive Wedding ceremony depends on the couple, but most last between 20 and 30 minutes.
At an old public swimming pool
This may not initially sound awesome, but The Decorium as it is known has transformed from a public swimming pool for the local community into London's foremost event and entertainments venue.
Room hire charges for a wedding at the venue vary from £4,100 in the week, which covers up to 500 guests, to £8,100 for weekend or bank holiday ceremonies.
The old swimming pool building has been lauded for its architecture and the venue has a number of suites that can hold weddings such as the Emperor suite and the more intimate Caesar suite.
The top of Mount Everest
Most weddings make people feel like they are on top of the world, but some people can actually say that as they have been married at the top of Mount Everest.
Whilst ascending to the top of the highest peak in the world may be a stretch too far for you and your partner you can instead get married at Mount Everest Base camp- a mere 5364 metres high!
Image Credit: Liberty Helicopters, LV Wedding Connection, Paulina Holmgren, Dinner in the Sky, Carnglaze Caverns, Coca-Cola London Eye, Atlantis Banquets & Events.
Related and Featured Posts