24-11-2015
Top 5 Beer Festivals in Europe
Overview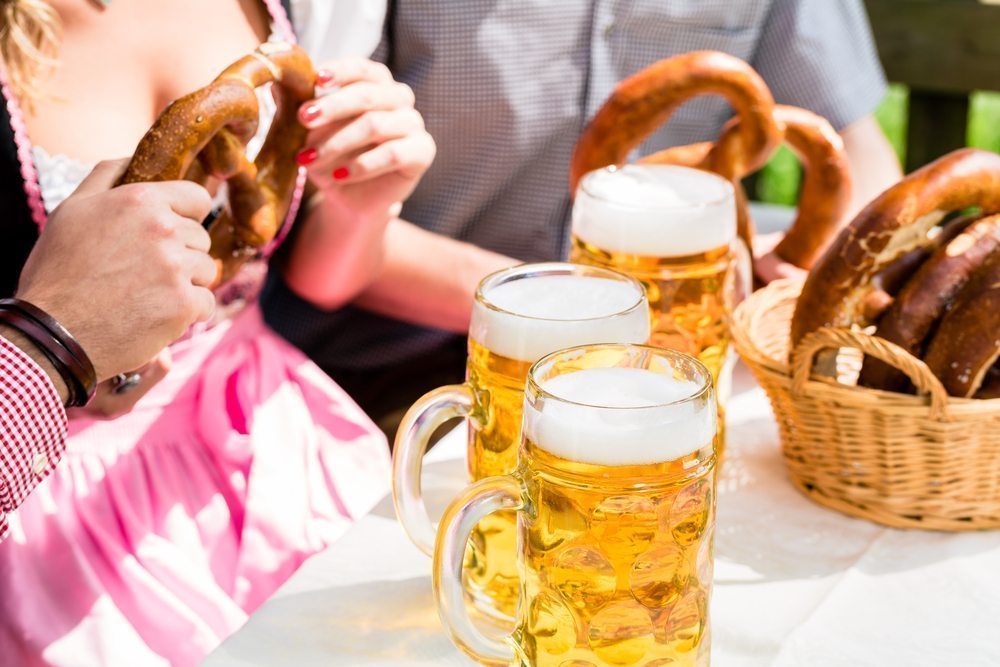 Beer is to lads what wine is to the gods. Or if you're Al Murray: what wine is for the ladies. But if we're honest about it, excepting craft ale, the tastiest stuff is made in Europe. The Germans, the Czechs - they know their beer. More than that they know how to throw a beer festival, although we're catching up in the UK.
What better way to combine a trip abroad with boozing? So below we at Pissup thought we'd give you a rundown of top 5 beer festivals in Europe (including one at home!). These are in no particular order and range from the historic greats to the newbie contenders on the beer festival scene.
1. Oktoberfest Munich

This is the OG granddaddy of all beer festivals. Accept no substitutes. There is some debate about whether Oktoberfest in Munich is a beer or a 'volk' festival. But don't worry about semantics, because here you're guaranteed to drink enough beer to last you a lifetime. According to statistics a whopping 6.9 million litres of the stuff is consumed every year at this festival. The first keg is tapped at noon on the first day by the Mayor of Munich, and the whole thing lasts for 16 days.
Historically this festival began with the celebration of Prince Ludwig to his bride. First celebrated in 1810 it used to be put on in October, but so the festival goers could enjoy better weather it was moved back to September 17th. But now it has become a globally-famous festival which is estimated to pull it about 1.1 billion euros for the German economy.
Come and feast on Bavarian delicacies, like Bratwurst, and be served huge glasses of beer by busty ladies. The festival begins on September 17th and ends on October 3rd. Try the Weiss beer and learn some Bavarian drinking songs. Don't worry if you can't make those dates - or if you want to do more than get leathered on your stag weekend away. We can sort you out and take you round some of the best beer gardens in Munich, after we can take you to a strip club where you won't need to imagine those Bavarian babes naked!
2. The Czech Beer Festival
If September and October sound too cold to you, why not fly to Prague in May and check out the Czech Beer Festival? This festival is on for 17 days and you can drink from 11am to Midnight, and entry is only 99 CZK and beer itself will be cheap, especially the local stuff of which there are 70 kinds. This has been called Prague's answer to Oktoberfest and with so much on offer you can see why.
Although this is a new festival, being barely a decade old, if you want to eat traditional Czech food and look at sexy girls in traditional dress, then you'll be happy. When the festival first opened it used to have its own currency, the Tolar, which visitors used to pay for food and drink. One Tolar, which is around £1, could buy you a beer. Prices have stayed the same but since 2013 the Tolar system was replaced by cards. The festival will give you a card on entry, which unlike other festivals won't have to be loaded with a minimum amount, you just pay for what you need.
There are a number of middle-sized and micro breweries to choose from at the festival. And even though you have a fortnight, and many tents, it's doubtful you'll be able to get through all of them. But in the main tent the organisers will be serving beers from Krušovice royal brewery. According to the festival website 'you can't taste these (these beers) anywhere else!'
Czech beer is renowned as being delicious, and if you find yourself in Prague then we recommend you go on a brewery tour. In fact these tours are highly popular on our Prague stag do weekends, so if it takes your fancy book and create your own mini festival with the lads.

3. The Festival of Good Beer - Wroclaw
Hosted on the Esplanade of the Municipal Stadium in Wroclaw, this three day festival has evolved since its inception in 2010. While Poland is stereotyped as a vodka country local beer is available at this festival as well as everything from Ukrainian to German beers. In terms of attendees the Festival of Good Beer has shot up from 10,000 to 80,000 in less than five years. Top two reasons for coming to this festival are the weather, it's held in June, and the variety of beers on offer now number just over 1,000.
As an added bonus entry is free. Be prepared to drink out of plastic cups however, so some serious beer aficionados have suggested taking your own glass. Seems like a palaver to us - but then what do we know? Well it has been rumoured that we can organise a Pissup in a brewery in Wroclaw. Only a rumour mind you! Or if you just want a stag nightlife tour that gets you pissed up, then we can organise that too.

4. Berlin Beer Week
This is a newbie on the beer festival scene, but Berlin Beer Week has already attracted 17,000 guests just last year. It may lack the gravitas of Oktoberfest but it certainly makes up for it with its cool feel and beer selection. The organisers started the festival as a means of promoting locally brewed craft beer: which is code for hipster-fuel! Alongside all these great beers will be live music and tasty street food. So adjust your horn-rimmed glasses and twiddle your Prussian style moustache and get down there!
Unlike the other beer festivals we've looked at, Berlin Beer Week doesn't have a specific location - but it does have a list of participants, who will be stocking and promoting local beer during the week. Take a look at their website for further details. If BBW (which shares an acronym with something naughty!) coincides with a stag do weekend visit to the German capital be sure to check it out and the other beer-related activities on offer.
5. Great British Beer Festival
English beer has a bad rep, you know the old saying 'drink your beer before it gets cold'. But CAMRA, the Campaign for Real Ale, decided to change all that back in 1977 and it's gone from strength to strength since. Styled as the 'biggest pub in the world' the GBBF is held every Summer in Olympia, the exhibition centre in West London. Don't worry if ale isn't your thing, there are 900 types of cider and international beers available. And it really does live up to the idea of being one big pub with traditional pub games - like darts - and lots of pub food available.
Although pricing may change in 2016 it's generally around £10 to get in with discounts for those members of CAMRA. If you decide to go you have to make a deposit of £3, to get your festival beer glass, which can be refunded or you can keep it is a souvenir. All bars are cash bars so there's no faffing around with tickets. On one day of the festival there is a competition to see who has the best hat. Winners will win prizes, and if you're as creative as some guys are on their last weekend of freedom I'm sure you'll be in with sporting chance.
Related and Featured Posts