01-02-2019
Top 7 Stag Do Destinations for 2019

The Top 7 Stag Destinations for 2019!!! Our P-ssup Top 10 Stag Destinations blog is one of our most popular posts...and for good reason, it gives you the best break-down of why each stag destination is worth a visit. But we've decided, since it's the new year and all that, to give it an update for 2019.
Our 4 CRITERION for making the list was simple: 1) PRICE OF BEER, 2) THE BABES, 3) DAYTIME ACTIVITIES, 4) NIGHTLIFE.
Pissup has over 22 top stag destinations. It hasn't been easy to boil them down to 7 top stag do destinations, but with some blood, sweat and tears we've done it!
So check out our 7 Top Stag Do Destinations for 2019 below:
1. Prague
Still no.1, a Prague Stag Do...It is the King...nay, the EMPEROR of stag do destinations!
PRICE OF BEER - The average price of a pint of larger in the Czech Republic is just under £1. But in the capital it's a little extra, and costs just over £1 for a pint, and about £3+ for drink and mixer.
THE BABES - Czech babes are smokin' and you'll do more than a few double takes while you're here. Book a Tottie Tour and gain entry to not 1 but 2 strip clubs on a night out. That's twice the amount of t'n'a.
DAYTIME ACTIVITIES - There a daytime stag activities a-plenty in Prague from th relaxing to the adrenaline fuelled. Two of our faves: sailing down the attractive Vltlava River and watch the world go by on a Strip Ship (and stare at a couple of other things too!). For the Arnie-Rambo-Die Hard wannabes there's AK-47 shooting. It kicks like hell, and it will get your pulse racing!
NIGHTLIFE - The Old Town: where most of Prague's nightlife action is located. That makes it easy, right? But there's the problem of too many bars...too little time. So why not book a Prague Bar Guide - and check out
2. Budapest
A Budapest Stag Do: Ruin pubs, crazy nightlife, and the epic Danube!
PRICE OF BEER - A pint in Budapest will set you back just over £1, so Prague nudges it slightly for beer prices!
THE BABES - Budapest was once known as the 'Paris of the East'...it may not be Hamburg or Amsterdam these days but it still has crazy VIP-style strip clubs, full of hot Hungarian honeys. Let us take you to the best lapdancing clubs: Our Full Monty tour will take you to an awesome VIP Strip Club...including a full on bar crawl to get you going!
DAYTIME ACTIVITIES - Budapest is bisected, into Buda and Pest, by a river...the mighty Danube. Sailing down that beautiful river is a must. With TiTanic you'll get to enjoy watching some sexy strippers shake their ASSets, too.
NIGHTLIFE - Nightlife is focussed in and around District 5, which is in downtown Pest. So many bars, so little time. A Budapest Bar Crawl is a must. Heading to a a ruin pub - Szimpla is the most famous - should be high on your list for the things to do while in Budapest.
3. Amsterdam
At no.3 on our list an Amsterdam Stag Do is a classic choice...with coffee shops, the Red Light Area...need we say more?
PRICE OF BEER - More expensive than Prague, and Budapest - a pint in Amsterdam could set you back between £3 and £5. Not cheap, but, like London it is a rich Western European capital... though there are plenty of happy hour-style deals to be had.
THE BABES - The Red Light Area, of course, is where most of the naughty action takes place. That's where you'll see some, ahem, ladies of the night...sex shops...plus much more. Book our Red Light Night to "sample" some of the best of this zone of decadence!
DAYTIME ACTIVITIES - For a chilled out day, with beer!, there's nothing better than seeing this city of canals than the Canal Boat Cruise. We've even included unlimited drinks. Sorted!
NIGHTLIFE - The Red Light District makes Amsterdam a top stag do destination always (despite the booze prices being at the upper end). Book our Red Light District Pub Crawl and see for yourselves! A great local guide will take you round the best spots in this notorious zone of decadence.
4. Krakow
A Krakow Stag Do is for real party animals...is a big student party town full of bars AND the strip clubs are off the chain!
PRICE OF BEER - A pint in Krakow could set you back around £1.50. That's way better than Amsterdam, but slightly more than Prague and Budapest. Good news is that it being a student town there will be plenty of bars, and good deals on booze!
THE BABES - Polish girls are hot as hell. And the strip clubs here are wild. Put two together and you have a mad lapdancing club scene! Book our Tottie Tour and we'll take you to some of the best strip clubs in Krakow.
DAYTIME ACTIVITIES - If you want to get to know this city by day, and its recent past, we'd suggest a Commie Tour. Vodka is included! If you want something more Ramboish and high-octane, then you have to try Special Forces Shooting.
NIGHTLIFE - Krakow's population grows to 120,000, with students swelling the numbers during term time. So like all great student towns there are tonnes of bars and clubs to choose from in the city's winding medieval streets. With all this choice you'll need an expert to guide your night. That's why a Bar Guide and Nightclub tour is an essential choice for stag do weekend warriors.
5. Riga
A Riga Stag Do has so many advantages - the beautiful location on the Baltic coast, hot girls, and tonnes of adrenaline-fuelled activities
PRICE OF BEER - A pint in Riga will set you back just over £2 (on average). Not as cheap as Central-Eastern European cities like Prague or Budapest, but not nearly as expensive as Amsterdam.
THE BABES - Baltic babes have a reputation for being stunners. Why not see for yourselves on a Beers, Babes & Boogie tour. Featuring, pubs, nightclub entry, and a strip club.
DAYTIME ACTIVITIES - Riga is a destination for adrenaline junkies! With Cable Car Bungee, ATV Quad Safari, Jet Pack, Olympic Bobsleigh, and more. There's tonnes of choice on our Riga Stag Activities page to get that pulse going (and kill your hangover).
NIGHTLIFE - Compared to Budapest, Amsterdam, etc, Riga the nightlife scene is a little spread out. So a Bar Guide is a must: switch off that planning part of your brain, and concentrate on drinking! For a unique experience we recommend booking the Riga Boat Party.
6. Hamburg
A Hamburg Stag Do...this city made it on the top stag destinations list for the Reeperbahn alone - which has to be seen to be believed
PRICE OF BEER - A pint in Hamburg will set you back, on average, under £3.
THE BABES - Hamburg, like Amsterdam, has its own zone of decadence - the Reeperbahn - filled with eye-opening strip clubs and sex shows. A Bar Crawl and Strip Club and we'll take you to the best clubs with the sexiest babes.
DAYTIME ACTIVITIES - Hamburg is an old port city, so a Private Boat Cruise is a great way of seeing the sights in a lazy, post-night out way. There's even an option to add a stripper. The daytime on a stag isn't all about chilling...we've got tonnes of activities to get your adrenaline pumping. Check out our Hamburg stag activities.
NIGHTLIFE - There's more to Hamburg than the Reeperbahn and it has many cool areas - like Altona - with great bars to explore. But for stags the Reeperbahn is a must visit! It gets seriously wild at night (probably a bit too crazy!). A way to navigate through this huge thoroughfare is our Reeperbahn Sightseeing Tour.
7. Bratislava
A Bratislava Stag Do is a must for cheap beer, hot birds all inside a beautiful city!
PRICE OF BEER - A pint in Bratislava will set you back, on average, under £1. Now think how much money you'll save boozing-it-up in Bratislava compared to going to any other of the above destinations...let alone a big UK city?!
THE BABES - Slovakian girls are high on the hotness scale! To see them get down and dirty book up our Partyslava Night...includes bar crawl, nightclub entry, as well as
DAYTIME ACTIVITIES - Bratislava has a great selection of daytime activities at great prices. The 110m Action Jump is a must for the adrenaline mad among you! Special Forces shooting will also get your heart racing.
NIGHTLIFE - Bratislava's Old Town district is the site of many bars and pubs...having things all in one place is definitely a plus! Book our Bar Tour and make sure sure you hit the right spots without having to think too much (except concentrating on that pint in your hands).
---
Like the sound of any of our top 7 stag do destinations? Well, get in touch today and one of our expert party planners will get back to you ASAP. They'll help you plan a stag do that will go down in legened for years to come!
What should you do now...
Serious about your Stag Do? Want to take yours to the next level? Head over to destinations, choose, and book your stag do with Pissup.

Avoid Common mistakes to which most Stag Dos fall victim DOWNLOAD our FREE Stag Do Planning Cheatsheet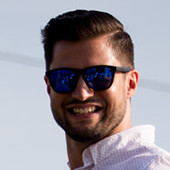 Written By Patrick Burmeier
Related and Featured Posts