20-05-2015
8 Unexpected and Totally Unique Wedding Venues for Your Big Day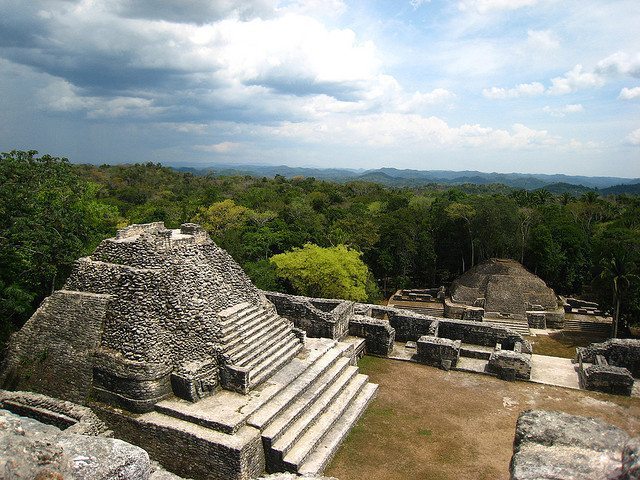 We've all enjoyed a good church wedding or a knees up at a big hotel, but celebrating with another couple for the choices they make and planning your own big day are two very different things. Your wedding should be an expression of who you are and traditional might not be it.
None of us is tied anymore to restricted options when we make a marital commitment, so unless you want to actively embrace tradition, don't think you have no other choice. Go far away, go extreme, or go small and intimate, but whatever you do — go you.
There's no limit on how far you can go with this, and here we present some truly unique wedding locations from around the world to help inspire your plans for the big day.
#1 Getting married in a cave

Bridal Cave, The Ozarks of Missouri, USA,
Randy Peters / Flickr / CC
The romance and excitement of making your vows pairs up perfectly with the sense of awe and power that erupts inside an ancient cave. Whether you've ventured into caves before or you're not really sure what to expect, it's hard not to feel inspired by the elegance and strength of these natural wonders.
There is a surprising number of caves available for use as a wedding venue. From the Bridal Cave in the heart of Missouri's Ozark Mountains to Bulgaria's famous Yagodina Cave, pick your own unique spot to suit your style and needs.
There's just no better backdrop for a ceremony promising everlasting love than a place that has provided millions of years of stalactites and stalagmites to decorate your unique wedding venue. If there's one guarantee, it's that your special day will become an unforgettable memory for all your family and friends.
Where:
Bridal Cave, The Ozarks of Missouri, USA
©2017 Google - Map data ©2017 Google
Bridal Cave
526 Bridal Cave Rd, Camdenton, MO 65020, USA
Saved
Save
4.452 reviews
Alternative:
The Yagodina Cave, Bulgaria
#2 Getting married on а pirate ship

Treasure Island Hotel and Casino
You're about to begin a lifelong journey with your new partner, so a wedding on water that can take you to some of the greatest places on earth is a great way to begin.
A yacht wedding, for example, will not only guarantee an incredible set of wedding photos; it's also a great way to kick start your honeymoon. Еverything you need, from the moment you say "I Do" to the time you return home, is with you on the yacht.
From cruising the Salish Sea with Vancouver's North Shore Mountains towering above you, to a classic riviera experience in the Mediterranean or Adriatic, your horizons extend as far as the saltwater stretches.
If you prefer a theme, have your guests step aboard the Pirate at the Treasure Island Hotel and Casino in Las Vegas and they'll have tales to tell of their own adventures for years to come.
Whatever your choice, you can't go wrong with the elegance of a yacht and the tranquility of the surrounding water as the setting for your special day.
Where:
Pirate Ship, Treasure Island Hotel and Casino, Las Vegas USA
©2017 Google - Map data ©2017 Google
Treasure Island
3300 S Las Vegas Blvd, Las Vegas, NV 89109, USA
Saved
Save
Alternative:
The Wedding Yacht, Vancouver, Canada
#3 Getting married on a bridge

The Artist's Covered Bridge
Jane Griffin / Flickr / CC
Can you imagine turning one of the world's most beautiful landmark bridges into a special reminder of your wedding day? You could look at it as building a bridge between two families or a symbol for the strength of your love, but there's no denying the fact that your wedding photos will look awesome.
You can go big and busy on the renowned Brooklyn Bridge in New York, or you can get creative with the Artist's Covered Bridge of Newry, Maine. Alternatively, there is an incredible number of small, picturesque bridges throughout Europe for a quieter, more private gathering.
Wherever you go, such tourist spots are not short of artists, photographers and galleries where images and paintings of your wedding venue can be framed for your own home. That is, until the time comes when you can revisit the bridge, then walk over it with your memories.
**Where:
Artist's Covered Bridge (Sunday River Bridge) Newry, Maine USA**
©2017 Google - Map data ©2017 Google
Sunday River Resort
15 S Ridge Rd, Newry, ME 04261, USA
Saved
Save
4.5210 reviews
*Alternative*:
Brooklyn Bridge, NYC, USA
#4 Getting married in a cemetery

Cincinnati – Spring Grove Cemetery & Arboretum "Fleischman Mausoleum & Geyser Lake"
David Paul Ohmer / Flickr / CC BY
There is good reason to embrace the full cycle of life at a wedding as it means one of the key milestones is reached: finding your soul mate. Besides the symbolism of a life spent together into old age, a beautiful cemetery can be just the piece of tranquil greenery you're looking for; a wedding day is respectful of those who are not there to see it, as much as it is a joy for those who are.
We're not just talking about small local village cemeteries, either. Big cities like London or Tokyo may have a hidden cemetery, quietly waiting around the corner to offer peace and solace amongst the hustle and bustle of busy metropolitan life.
Take the Marble Cemetery of New York. It's a true rarity in the Big Apple: this grotto between Second Avenue and the Bowery is a recently-discovered secret space teeming with flowers and fruit trees. People started getting married there when the venue wanted to raise money for badly needed renovations. Following suit is Spring Grove in Cincinnati, Ohio, which has become another popular option for a cemetery wedding.
Gothamists have even asked: "Are Cemetery Weddings The New Church Weddings?"
Where:
Marble Cemetery on 2nd Avenue, New York City USA
©2017 Google - Map data ©2017 Google
Spring Grove Cemetery
4521 Spring Grove Ave, Cincinnati, OH 45232, USA
Saved
Save
4.574 reviews
#5 Getting married in the sky

G-FORCE ONE / Image credit: Stephen Boxall/ZERO-G
Leave the ground and convention behind to check out Hot Air Balloon weddings, or if those aren't daring enough for you, there's always a weightless wedding in zero gravity.
That's right, you can now get married floating alongside your husband or wife to be with your guests bobbing around beside you. It hardly seems believable, but Zero Gravity Corporation offer weddings like these and people are already getting their space suits on to get hitched (or whatever you choose to wear).
Couple Married in First-Ever Weightless Wedding
<div class="player-unavailable"><h1 class="message">An error occurred.</h1><div class="submessage"><a href="http://www.youtube.com/watch?v=c-np0MiqArQ" target="_blank">Try watching this video on www.youtube.com</a>, or enable JavaScript if it is disabled in your browser.</div></div>
**Where:
[ZERO G**](https://www.gozerog.com/the-zero-g-experience/weightless-weddings/), Miami, New York, Austin, Las Vegas, Los Angeles, Houston, Cape Canaveral, and San Francisco, USA
*Alternative*:
Hot Air Balloon, Arizona and New Mexico, USA
#6 Getting married on a volcano

Kilauea Caldera, Volcanoes National Park
Matt McGee / Flickr / CC BY
Hawaii is a hugely popular spot for destination weddings, and for good reason. The tropical location, scenery, and activities all offer huge appeal, but there's more to the island than beaches. Hawaii is also home to active volcanoes, which produce jaw-dropping natural landscapes.
The jet-black volcanic rock creates surreal moon-like terrain that contrasts with the intense blue Hawaiian sky, and it's sure to leave you and your guests breathless. This is a place like no other and an amazing location for a jaw-dropping destination wedding.
Volcano weddings are currently on offer at the Hawaii Volcano National Park.
Where:
Hawaii Volcano National Park, Hawaii USA
©2017 Google - Map data ©2017 Google
Hawaiʻi Volcanoes National Park
Hawaii Volcanoes National Park, HI 96718, USA
Saved
Save
4.5848 reviews
#7 Getting married in a temple

Mayan Temple Ruins, Belize
Russell Harrison Photography / Flickr / CC BY
Think Tomb Raider and you'll know what a Mayan Temple looks like — steps lead up every side of its distinctive pyramid shape to a striking flat peak. You can even go inside on your wedding day for a truly memorable blessing.
Amongst a Maya civilization in Central America are spectacular ruins with panoramic views of lush jungle and verdant valleys. Getting married in a bygone temple is guaranteed to be a wedding your friends and family will talk about for decades to come.
We should add that the temples are within easy reach of a luxurious tropical resort, so you and your wedding guests can have the best of both worlds — soak up some culture before relaxing into a more contemporary holiday in the sun.
Where:
Mayan Temple Ruins, Belize
©2017 Google - Map data ©2017 Google, INEGI
Caracol
Chiquibil Forest Reserve, Belize
Saved
Save
4.844 reviews
#8 Getting married in a tree house

Treehouse Point / Image by Adam Crowley, www.adamcrowley.com
Every kid wants a treehouse at the bottom of their garden that acts as a hideaway where they can unleash their imagination. If you never got your treehouse, but want to make a dream come true, a treehouse wedding might be just perfect for you.
Nestled in deep forest 30 minutes outside of Seattle, Washington, Treehouse Point offers a large variety of treehouses for everything from basic lodging to full wedding ceremonies. If you'd like to get off the ground, but not totally into the air, this is a more earthbound choice than ZERO G.
Of course, you could always build your own treehouse for this purpose, if your own place is big enough. It's a great chance to come together with your special someone to create a place you can return to again and again to remember your vows.
**Where:
[Treehouse Point**](http://www.treehousepoint.com/), Fall City, Washington USA
©2017 Google - Map data ©2017 Google
TreeHouse Point
6922 Preston-Fall City Rd SE, Issaquah, WA 98027
Saved
Save
4.786 reviews
Make your wedding as awesome as you are
Whether you're looking for a twist on the traditional wedding or something completely out of the ordinary, there are excellent options out there. What's important to remember is that your wedding is all about you, and should also be about having an amazing time yourselves.
Now is a good idea to stop and consider all the possibilities. This list of unexpected and unique wedding venues is sure to prove there are ideas out there you never even thought possible, let alone realise you can book tomorrow.
Be unique, bold, and amazing, and your dream wedding will follow.
Related and Featured Posts